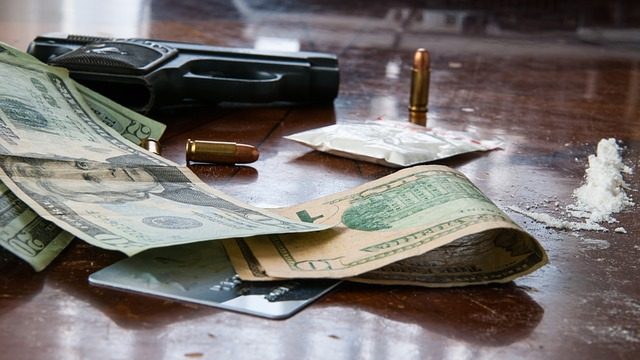 They run the lucrative black market; shipping thousands of kilograms of drugs across the world and making billions in the process.
But a drug kingpin's life if filled with fear and paranoia – with sophisticated operations and infighting to control, enemies to deal with, and authorities to evade.
Here are five of the world's most notorious drug lords.
1. Joaquin Guzman ('El Chapo')
Nicknamed El Chapo (Spanish for 'shorty'), vertically challenged Joaquin Guzman is one of the most notorious drug lords in the world; heading the powerful Sinaloa cartel.
Guzman rose through the ranks of the drug trade at an early age. He was involved in bloody altercations with the rival Tijuana cartel during the early 1990's, which resulted in the assassination of Cardinal Juan Jesus Posadas Ocampo, as well as many drug associates.
Guzman was arrested in 1993 and sentenced to over 20 years imprisonment, but made a brazen escape in 2001, which reportedly cost $2.5 million to execute. He was recaptured in 2014, but made headlines earlier last year after managing to escape a second time. He remains on the run to this day.
Guzman boasts the title of 'most powerful drug trafficker in the world,' and is believed to have imported more drugs into the United States than any other drug lord in history.
2. Frank Lucas
Frank Lucas was inspired to pursue a life of crime after witnessing the murder of his young cousin at the hands of the Ku Klux Klan, and became involved in the drug trade after moving to New York.
During the 1970s, Lucas developed a reputation as one of the biggest heroin dealers in the nation, obtaining his product from South East Asia through unscrupulous means.
In some instances, Lucas even resorted to importing drugs into the United States inside coffins of dead military soldiers who were being flown back from Vietnam.
Lucas' dealings caught up with him – he was arrested in 1975 and sentenced to 70 years imprisonment. While in prison, he became a police informant and provided valuable evidence which enabled police to make over 100 drug arrests.
His assistance led to his early release in 1981, but Luas soon found himself behind bars again after being caught trying to sell heroin.
He was eventually released in 1991, and went on to inspire the 2007 film American Gangster. Lucas remains alive today despite many dealers offering a handsome reward for his head.
3. 'Freeway' Rick Ross
'Freeway' Rick Ross was an American-born drug lord who dominated the cocaine market in Los Angeles during the 1980s.
He became known for selling the drug to members of the rival Bloods and Crips gangs, and at his peak sold an estimated $3 million of cocaine per day.
Ross was also a savvy investor; pooling his profits into property and business. His penchant for business saw his drug trade expand across the United States.
Ross was eventually arrested in 1996 after trying to purchase 100 kilograms of cocaine from an undercover police officer during a sting operation. He was sentenced to life imprisonment.
Incredibly, Ross was released in 2009 after serving just over a decade behind bars, with prison authorities noting that he was a 'model prisoner' – only to be arrested again in 2015 on suspicion of holding over $100,000 in drug money.
4. Griselda Blanco
Griselda 'The Godmother' Blanco was one of the few female drug lords in what is more commonly a male-dominated empire.
A major player in the notorious Medellin cartel, Blanco used her gender to her advantage, becoming renowned for smuggling cocaine into the United States hidden inside bras and girdles.
Blanco is believed to have played a large role in the Miami drug wars throughout the 1970s and 80s. She is suspected of arranging the execution of rival drug dealers Alfredo and Grizel Lorenzo in their own home, and reported to have been behind a mass shooting at a Miami shopping mall in 1979.
Blanco was arrested by DEA agents in 1985 and sentenced to over a decade in prison, but she continued to control her empire from behind bars.
She was eventually released in 2004, and shot dead in 2012 by a drive-by motorcyclist. Ironically, drive-by shootings were Blanco's preferred method of executing rival drug lords.
5. Pablo Escobar
Perhaps the most feared and famous drug kingpin of all time, Pablo Escobar – also known as the 'King of Cocaine' – was the head of the Medellin cartel.
At the pinnacle of his career, Escobar is believed to have been responsible for smuggling up to 80% of cocaine into the United States, making around $60 million a day.
Escobar yearned to be rich from a young age. He began developing a highly sophisticated cocaine smuggling operation during the 1970s; building up a fleet of aircraft to smuggle the drugs into the US. Law enforcers who stood in Escobar's way usually found themselves dead – and he was thereby able to evade capture for many years.
But after allegedly murdering Colombian presidential candidate Luis Carlos Galan, Escobar handed himself into authorities in 1991. He was imprisoned; but managed to escape soon after, triggering a massive search headed by a special police task force.
Escobar was located in 1993 and died during a bloody shootout.
Receive all of our articles weekly