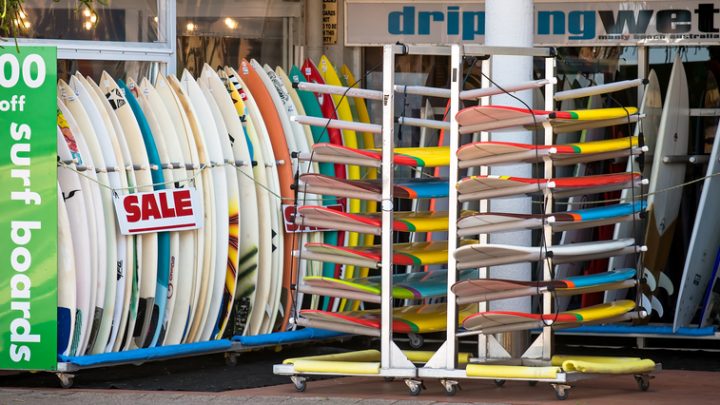 It's usually the prosecution's job to dig up evidence against the defendant – but every so often, a set of unusual circumstances can help make the prosecutor's job a lot easier.
Here are a few strange ways that defendants have been caught out.
Bonding over crime
When Melbourne man Ross Moresi had two of his prized surfboards stolen, he immediately called nearby surfboard shops to see if anyone had tried to sell them on.
A shop called Zak Surfboards called back and advised that a man called Daniel Byrne had just sold the boards to them. They even had Mr Byrne on the store's CCTV footage. Armed with this information, Mr Moresi attended a police station to report the incident and provide the suspect's details.
While standing at the desk, Moresi saw "a shady-looking character" walk up to next to him. Lo and behold, it was Daniel Byrne, reporting to the police station as part of his bail conditions for a previous crime.
The scenario made the police officer's job a whole lot easier, who turned to Byrne and said, "Mate, you're under arrest."
Byrne later pleaded guilty in Melbourne Magistrate's Court and received 120 hours of community service.
Burglar drowned by an alligator
In far more tragic circumstances, a man in the US was drowned by an alligator while fleeing from police.
22-year-old Matthew Riggins was allegedly seen with an accomplice lurking behind homes in Barefoot Bay, Florida when neighbours called the police.
Police and search dogs arrived at 2am and began looking for the men. Both suspects managed to evade the police – but unfortunately for Mr Riggins, he decided to hide near Barefoot Bay pond.
His family reported him missing the next day.
Ten days later, Mr Riggins' body was found floating in the pond with an aggressive alligator nearby. It is believed that the alligator drowned Riggins with the intention of eating him later.
The reptile was euthanized after it acted aggressively towards recovery divers.
The simplest plan works
In 1996, an inmate named George Savvas made one of the smoothest prison escapes in NSW, using the oldest trick in the book.
Ms Savvas was being held in Goulburn prison when he came up with his ingenious idea: to wear a disguise. He donned a false beard, moustache and wig and strolled through the visiting area and out of the prison.
It took eight months for police to catch Savvas, thanks to a tip-off from a member of the public.
Two months after recapture, authorities foiled a further escape attempt hatched by Savvas and infamous backpacker murderer Ivan Milat.
Savvas took his own life shortly thereafter.
Tunneling in the wrong direction
One of the history's most comical escape attempts fell apart due to a simple logistical error.
In 1975, a group of 75 inmates of Northern Mexico's Saltillo prison spent five months tunneling underground before they thought it was safe to tunnel upwards, towards freedom.
They finally broke through to the surface – finding themselves inside the same courthouse where many of them had originally been convicted!
The men were quickly caught and sent right back prison – ready to start their next attempt.
Receive all of our articles weekly