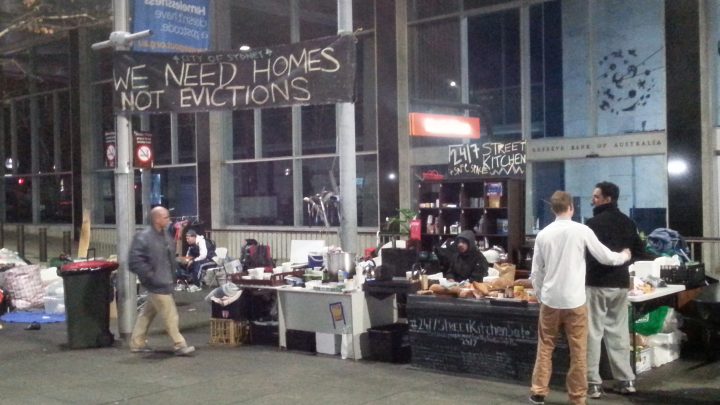 In an unprecedented move, Housing NSW has "throw out the rule book" and offered housing to the rough sleepers who've been staying overnight at Sydney's 24-7 Street Kitchen and Safe Space.
On Saturday, City of Sydney council workers and NSW police turned up at Martin Place with a number of dump trucks to evict dozens of people who were staying at the setup that's been providing food and shelter to hundreds of the city's homeless for the past six months.
During the eviction, Gary Groves, executive district director of Housing NSW, informed organisers, as well as the office of Australian Greens senator Lee Rhiannon, that the department would provide temporary accommodation to those staying there, and eventually they'd be housed permanently.
"As far as Housing goes, we forced them to absolutely come to the party," organiser of the street kitchen Lanz Priestley told Sydney Criminal Lawyers®. "And they're now housing people who have never in their wildest dreams imagined that they would ever be eligible for housing."
A safe space for the vulnerable
Sydney's 24-7 Street Kitchen and Safe Space established itself beneath the construction hoardings on the side of the old Westpac building at 60 Martin Place in mid-December last year. Since then, the setup has been providing around 400 to 500 meals a day to those in need in the CBD.
Along with meals, the operation is also providing a secure place to sleep for around 38 to 65 of Sydney's homeless population a night.
Indeed, the operation was initially established to protect vulnerable homeless women who'd reported being woken up on the street at night with men trying to sexually assault them. Once Mr Priestley heard these accounts, the street kitchen and safe space was rolled out within 48 hours.
Last minute eviction
Just hours prior to Saturday's eviction, a City of Sydney representative walked around the setup up handing out a notices outlining that the street kitchen and safe space was to be shut down as it was a "public nuisance."
By the time the council rangers and police turned up to remove "the accumulation of items" belonging to the operation, those occupying the space had already moved across to the other side of Martin Place and set up the kitchen outside the Reserve Bank building, according to Mr Priestley.
"They took what we allowed them to take," the long-time homelessness activist explained. "And when they put this deal on the table, I actually allowed them to take a lot more stuff than I would have allowed them to take."
Mr Priestley said that the street kitchen is still running 24 hours a day, but due to the provision of the temporary accommodation, they only had five people sleeping there on Saturday night, and three on Sunday.
This was not the first time the City of Sydney attempted to shut down the operation. Between last December and March, the council's homelessness unit raided it on four separate occasions.
A housing affordability crisis
Homelessness is an ever-growing problem in Sydney, which has been ranked the second most unaffordable city in the world.
The latest City of Sydney street count found that in February this year there were 948 homeless people in the city alone, representing a 28 percent increase since 2011.
On the night of the count, the city's crisis and temporary accommodation was at 91 percent capacity, and yet there were still 433 people sleeping out on the streets.
There's a glaring lack of social housing in NSW, with over 60,000 people on the waiting list state-wide. Those on the list can wait for up to 10 years before being provided with accommodation.
As far as Mr Priestley is concerned, Saturday's development is a "huge outcome" for those rough sleepers who are going to be provided with housing. "But, it does nothing to make the problem go away," he said. "The problem is still unambiguously a chronic shortage of affordable housing."
The housing department's plans
Housing NSW is an agency of the Department of Family and Community Services (FACS). A FACS spokesperson told Sydney Criminal Lawyers® that since March 23 the department has placed 24 rough sleepers from Martin Place into long term public housing.
"More people will continue to be placed in long term properties," the spokesperson said. "Since March, FACS has offered temporary accommodation to over 130 people sleeping rough in Martin Place."
The spokesperson also outlined that the department has "pop-up housing offices in key locations in the Sydney CBD, including Belmore Park, and Wentworth Park."
And as part of the 2017 budget, the state government has allocated $20 million in funding over the next four years to expand transitional housing and supports for rough sleepers. This is set to include an additional 120 properties and to help a minimum of 255 people.
It's not our responsibility
A spokesperson for the City of Sydney explained in a press release that council staff will continue to visit Martin Place to ensure rough sleepers are provided with accommodation and services.
"Although homelessness and social housing are the responsibility of state governments, the City has committed to providing three years of funding worth a total of $3.5 million to FACS," the spokesperson outlined.
Sydney lord mayor Clover Moore said in a Facebook post that the number of homeless people in the city was "incredibly distressing."
"It's the City's policy not to move on rough sleepers – everyone has the right to use our public spaces – but the construction site and hoardings are not a safe or sustainable housing option for people sleeping rough," the mayor wrote.
But Priestley doesn't buy it. "The City of Sydney has done nothing. All the initiatives have come from the housing department," he said. "They say it's a state government problem, but hang on… it has the opportunity to manage going forward and ensure there is sufficient affordable housing,"
Carrying on defiantly
By 9 pm on Saturday night, Lendlease building site workers were boarding up the final section underneath the hoarding where the street kitchen and safe space had been operating. But organisers are not about to shut it down.
There's a "critical need" for it to continue on and it will, Mr Priestley said. "Our presence drives down crime in the area. And it drives it down by virtue of the fact that people can actually go and get a feed, blankets and warm clothes 24 hours a day."
Even though the housing department has provided accommodation for the people that were residing at the safe space, the street kitchen still had around 200 people show up on Sunday night to be fed.
"There needs to be a clear reference point where people who are marginalised in the city can go to and receive services," Mr Priestley concluded. "We're absolutely going to maintain one. And until we've got a suitable alternative, we're going to maintain one in Martin Place."
Sydney's 24-7 Street Kitchen and Safe Space has an ongoing call-out for donations. They can be contacted on 0410 722 000 or through their Facebook page. And members of the public are welcome to drop off donations at the site directly.
Receive all of our articles weekly