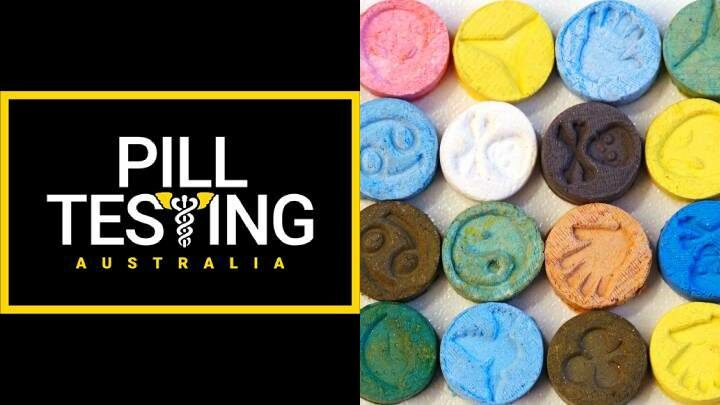 The greenlighting of a six-months trial of a fixed pill testing site in Australia's capital is a "watershed moment" in terms of how the nation treats illicit substances, according to Dr David Caldicott, a long-term advocate for the nationwide rollout of the evidence-based harm reduction intervention.
ACT health minister Rachel Stephen-Smith announced on 9 June that the fixed site trial will commence this month, at the same time as she confirmed the Labor Greens government will be further supporting a bill to decriminalise the personal possession and use illegal drugs in Canberra.
The current push for pill testing or drug checking to be implemented commenced in late 2015, after a spate of deaths at music festivals nationwide. However, Caldicott has been campaigning for legal pill testing in this country since the mid-1990s.
Pill Testing Australia will be overseeing the fixed site trial, as it did the other territory government-sanctioned trials at the Groovin the Moo festival in 2018 and 2019. Both events saw toxic drugs identified in testing, which resulted in punters choosing to bin, rather than take, them.
Saving young lives
Despite what NSW Liberal ministers say, pill testing does save lives. Since the 90s, in a range of European countries where drug checking services have been sanctioned, harms have been reduced and deaths avoided. Indeed, the EU has produced pill testing best practice guidelines.
The most obvious aspect to pill testing is it allows people to have illegal substances checked by medical experts using laboratory grade equipment, which then provides them with an understanding of what's contained within them, allowing an informed choice as to whether to take the drugs.
But there's more to drug checking than this. It allows people to have an honest discussions about their drug use and the harms involved with professionals, whilst medics get an idea of what's available on the black market, and warnings about dodgy drugs can be circulated.
In terms of law enforcement, the fixed site will operate in a similar manner to Sydney's Uniting Medically Supervised Injecting Centre, whereby police officers will understand not to harass those using the facility. In fact, the Kings Cross injecting site also began as a trial back in 2001.
A capital idea
Emergency consultant at Canberra's Calvary Hospital Dr Caldicott is in regular contact with the European drug checking operators, and due to this, the most up-to-date knowledge and techniques will be applied at the Canberra site.
Taken along with the 2020 legalisation of the adult use of cannabis in Canberra, the move to decriminalise illicit substances in the capital, and more broadly, the growing push to legalise and regulate recreational cannabis nationally, the fixed site trial marks a shift in the local war on drugs.
Sydney Criminal Lawyers spoke to ANU Faculty of Medicine senior clinical lecturer Dr David Caldicott about the impact pill testing will have in Canberra, how the European system is operating, and why the broader implementation of testing would benefit the healthcare needs of all Australians.
The Barr ministry allocated funding to carry out a six-month fixed site pill testing trial in its 2021-22 budget last October. While a fortnight ago, ACT health minister Rachel Stephen-Smith announced it will commence this month.
Dr Caldicott, what sort of difference will such a facility make to the ACT? And what sort of message is the government sending out by permitting it?
I'm not sure if characterising this welcome advance as "a message" is entirely correct.
I'm generally not party to the politics involved, but I'd rather assumed that this was just another evidence-based measure that we had proposed that had been carefully considered by numerous key stakeholders and had been found to have merit. That's usually how things should work.
If there is a message, I suppose it might be something along the lines of "we know that much of our approach to drugs in Australia is without a sound evidence-base behind it, and we have a population that is health-literate enough to understand that as a territory."
"We have the gumption to lead the way out of this out-dated morass of ideology and into something that looks more like science and medicine."
To paraphrase the Bard, "Though we be small, we are fierce."
As to what difference this will make to the territory, the answer is probably twofold.
The festival testing system allowed us to reach out and chat with people who use drugs – for them, often for the first time – in a way that's not judgemental, and that is sympathetic to their needs, if not always their choices.
Many people who speak with us have never previously had a conversation – with anyone – about their drug use.
But, of course, until recently, that could only happen when there was a festival. Now, we can have a regular conversation, even in the festival offseason, about drug use and how to avoid harm from it.
It lets us sample opinions, and the actual market itself. And, of course, instead of just festivalgoers, we're also extending our service to people who inject drugs, who are particularly vulnerable when, for example, fentanyl substitutions enter the market.
So, we're providing a more consistent, wider service, hopefully keeping people safer from decisions that until now, had less information informing them.
Pill Testing Australia will be operating the facility. How will it run? What can people expect in terms of its services and its policing?
We'll be operating the site as part of a collaboration, between a brilliant local service called Directions, as well as the strong support of ACT Health. The specific details will be announced in the coming weeks.
Broadly, the service will be regularly open every week, although not every night.
Consumers will know when they can come and safely discuss a wide variety of health issues that affect young people, including drug use, with both very well-informed peers and health care practitioners. If they want, they can have their drugs checked. 
Obviously, this sort of approach would not be possible without the collaboration of our law enforcement colleagues, who, as they did with festival testing, understand that the service in no way encourages drug use, and in fact, in many cases, results in reduced drug use.
Generally speaking, our local law enforcement officers are far more interested in larger quantity drug deals than they are in small quantities of personal possession, which is also reflected in other ACT legislation being examined currently.
The six-month fixed site is coming on the back of the two successful pill testing trials at an ACT music festival in 2018 and 2019. What was learned from these trials?
We learned a few things from the festival testing. At least, they confirmed that what we had assumed from experiences in other international jurisdictions applied equally as well to our own local community.
In no particular order, we showed that young Australians are more than happy to chat about their drug use with people that they trust and even to surrender samples for analysis. They're very interested in what is in their drugs. 
The service does not act as a "honey-pot", as often misrepresented, and, in fact, it often results in change of behaviour, in a healthy way, regarding drug use.
I deliberately use the term "healthy" rather than "good", because we really need to move away from these morally loaded terms, which are not useful in the effort to keep young people safe.
I'm a doctor. I can talk about health with some authority. The morality debates I am happy to cede to our religious leaders, but it's not clear to me that in Australia 2022, they are best represented or prosecuted by our elected representatives.
You've been campaigning for the provision of drug checking services at festivals and in the community since the 1990s. A number of European countries have been running these services since then. And you're regularly in touch with the operators over there.
So, almost three decades on, how are pill testing-drug checking services operating in the European setting?
Hah. You're dead right. We've been chasing down a local system for about as long as the Netherlands has actually been providing one – maybe five years less.
The granddaddy of them all has been the Dutch DIMS system, which is the exemplar that many which have followed have based themselves upon.
The leaders who are best established and most confident in the service they provide themselves are the ones that are most generous in their advice, time and inclination to collaborate.
And that's been very much the case with the agencies that have been providing these services for the longest in Europe.
Our own lead chemist with Pill Testing Australia, Professor Mal McLeod from the Research School of Chemistry at ANU, has been awarded a Churchill Fellowship to visit with them and see how they do it.
Without exception, the established services have been fantastically accommodating and supportive. So much of what we are bringing to Canberra will represent global best practice.
In Europe, where pill testing or drug checking is established, it is integrated into the healthcare service.
Where that's the case, they have a very strong understanding of the nature of their local drugs market, an understanding that evolves as quickly as their market.
They have a health-based response to the illicit drug market and, as a consequence, have far better health outcomes.
The ACT health minister announced the rollout of the six-month trial this month, along with the determination to decriminalise the personal possession and use of drugs in the capital.
How are things looking from here for the rollout?
Getting the initial nod often represents much of the heavy lifting in any of these policy advances. But once you get it, more folk are keen to become involved, as they should.
Our original working group for the festival service was small – maybe half a dozen strong.
It was designed to be an agile group of focussed, like-minded individuals, determined to put "project" before personalities or publications or anything else that was "non-project".
Currently, we have scores of people enthusiastic to be involved – and why not? This is the only project of its kind in the country.
And I celebrate that, while feeling a little nostalgic for the early days, where it didn't take so many meetings to get things agreed and done.
And lastly, Dr Caldicott, this fixed pill testing facility is currently a six-month trial. But given the evidence from overseas, it's more than likely it will prove itself of benefit in terms of public health
So, what are you ideally envisioning will happen going on into the future both in terms of the single site experiment but more broadly, on a national scale?
It represents a bit of a watershed moment for us and for drug policy in Australia.
We are party to the implementation of policy because the science and evidence supports it, and not because of an ideology or a political preference. And I can tell you, in Australia at least, that's something unusual.
As with our festival testing, there's no real reason to suspect that our outcomes will deviate significantly from our expectations.
We expect that we will have a far better understanding of what's happening in the drugs market in the ACT, and that people who use drugs will have far less fear about approaching and talking to people who know a lot about drugs.
More specifically, a wider adoption of services such as our own in alternative jurisdictions, will give us far more granular details on the state of the Australian drugs market, detail designed to serve the healthcare needs of Australians.
More broadly, this serves as an example of how far groups that decide to pull together for a common cause, on contentious issues like drug law reform, can come, if they can put their differences aside, and pull on the same side of the rope.
This has long ceased being a "win" for any of the individuals involved over the years in the project.
For all of us who have now been involved in the project over the years, we think that this is a victory for everyone and anyone who has provided the moral support for thinking about drugs in a different way in Australia.
Receive all of our articles weekly