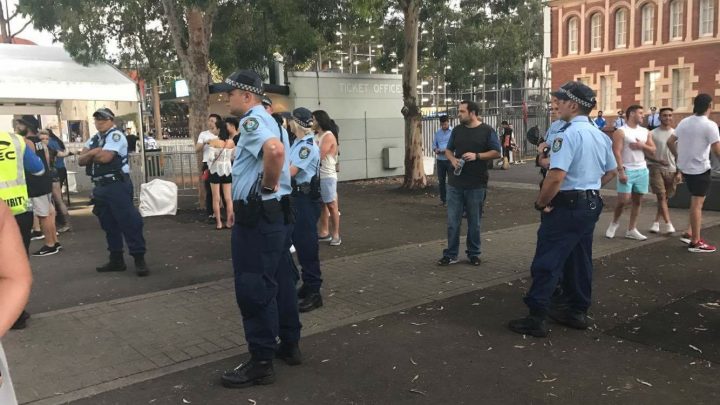 Another music festival, another death from a drug overdose – and the festival season is just beginning.
19-year Callum Brosnan from Baulkham Hills is dead and three other young adults are in critical conditions after suspected drug overdoses at the "Knockout Games of Destiny" dance festival at Sydney Showground on Saturday night.
Callum was found at Sydney Olympic Park railway station in the early hours of Sunday morning and passed away shortly after arriving at Concord hospital. Two woman, aged 19 and 25, and a young man are being treated in the hospital's intensive care unit..
A total of 130 people sought treatment during the festival and 16 were hospitalised for suspected drug overdoses.
Just the latest
The incident follows the deaths of a 23-year-old man and 21-year-old woman from drug overdoses at the Defqon.1 festival in September.
The pair were airlifted to nearby Nepean Hospital on that occasion, but died soon after arrival.
The Australian Drug Observatory's Dr David Caldicott called those deaths, "… a tragic loss of life, particularly in the case that we are not doing in Australia everything that we can be doing to stop young people dying".
Dr Caldicott was the emergency doctor at the pill testing tent at Australia's first government-sanctioned trial that took place at the Groovin the Moo festival in Canberra on 29 April this year..
128 patrons voluntarily had their drugs tested at that event. Five tossed their drugs into amnesty bins after receiving the results of the testing. The drugs of two festival-goers were found to contain a potentially deadly additive, meaning the service potentially saved the lives of two people.
"If we can turn around and say, we've done everything that we can to stop this happening, then that is a tragedy. But, we can't say that in this case. And that's even more tragic", Dr Caldicott told Sydney Criminal Lawyers®.
The deaths at Defqon. 1 followed several other recent overdose deaths young of people at music festivals across Australia.
Head in the sand
In the wake of Defqon. 1, NSW premier Gladys Berejikian remarked, "Young lives were lost for no reason."
She flatly ruled out the introduction of pill testing and reaffirmed her zero-tolerance approach to illicit substances. "Anyone who is advocating pill testing is giving the green light to drugs", she asserted.
Ms Berejiklian assembled an 'expert panel' to advise her on how to save young lives, but made clear she would not implement any recommendation for pill testing.
Her government introduced a new offence whereby dealers face a maximum penalty of 20 years in prison if their drugs are proven to have caused the death of another, and she committed to intensifying the police presence at festivals.
In short, she vowed to continue the failed 'war on drugs' without compromise, regardless of whether her own panel recommended allowing people to have their drugs tested for deadly additives.
Yesterday, Ms Berejiklian made clear her head remained in the sand while young people die, telling the media,"Of course we want young people to have fun but don't take an illegal substance, it can kill you".
But the fact of the matter is, young people will continue to take illicit substances regardless of what politicians tell them, and despite the penalties that apply.
The premier continued by rehashing her position that, "… we know that pill testing won't work because it'll give people a green light to taking substances, which in the end could still kill them".
Pill testing
But the fact of the matter is, pill testing does work.
It reduces the potential for harm by allowing users to make informed decisions about whether to take their substances and, if so, how much to take.
It also acts as a market regulator, making it less likely that dealers will include deadly fillers in the substances they sell or have vastly differing purity levels. Indeed, studies have found that suppliers are less likely to sell inferior, inconsistent or adulterated substances if they are aware their drugs will be tested, because selling such products can lead to negative feedback and reduce the potential for further sales.
Pill testing has been shown to save lives in several European nations – including the Netherlands, Switzerland and Germany – where such services have been provided since the 1990s.
Recognising the importance of the harm reduction measure, the European Union has produced official pill testing best practice guidelines to ensure users are properly protected.
And in Portugal, risk-management services attend major festivals to provide advice about drug use through psychologists, mental health assistants, and medics, as well as provide pill screening services. Since the initiative began, there have been zero deaths from overdoses.
How does it work?
Pill testing services facilitate the on-the-spot testing of substances using laboratory-grade equipment.
A doctor or pharmacologist takes a sample of the pill, puts it through the testing procedure, and makes the results available within a short period of time – usually within 30 minutes.
The potential user can then make an informed decision about whether to take the substance, and they can also speak with medical staff about what they're taking, or about their drug use generally.
Staff can provide information pamphlets and direct users to other services, including rehabilitation programs.
Police still patrol venues to ensure patron safety, but generally turn a blind eye to personal use.
Pill testing saves lives, but it seems Ms Berejiklian is more concerned about being seen as 'tough on crime' by continuing the expensive and dangerous war against drugs.
If you have been charged with a drug offence, call us anytime on 9261 8881 to arrange a free first appointment with an experienced criminal defence lawyer.
We offer affordable fixed fees for all drug possession cases.
Receive all of our articles weekly