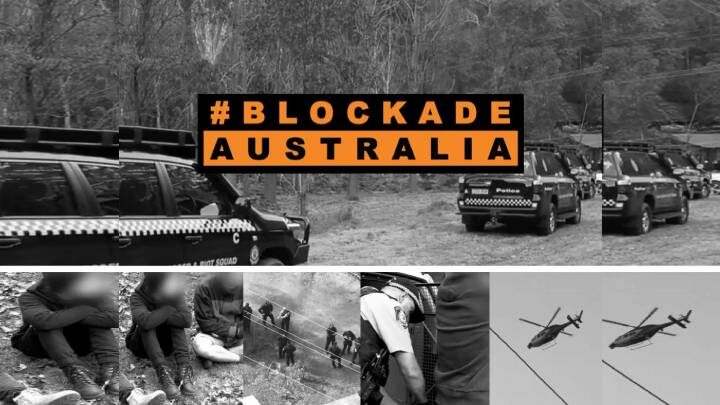 NSW authorities continue their crackdown on climate protests, as those raising the alarm about the climate emergency escalate their response to the unwillingness of those holding the reins of government to take adequate action in regard to mounting crisis.
Blockade Australia is one of the key climate groups operating at present. Since last November, it's carried out a series of nonviolent direct actions designed to disrupt the economic supply chains of the fossil fuel industry as it only pays attention to the people when its profit margins are threatened.
To the chagrin of those profiteering from climate degradation, Blockade carried out two weeks of successful disruptions at the Newcastle Coal Port last November, which was when the NSW judiciary began its new habit of denying nonviolent climate defenders bail and even sentencing them to time.
As Newcastle ended, BA announced a series of nonviolent climate actions in Sydney, "the economic centre of the country", which begins next Monday. And that's why a pair of NSW police officers dressed in camouflage were staking out its camp on a property in the NSW town of Colo last Sunday.
But when these officers were sprung spying, instead of coming clean as to what they were doing on the private property, they attempted an escape in an unmarked car with plainclothes officers, just prior to dozens of police descending upon the camp, only to produce a warrant after the fact.
"Spying without a warrant"
"The tactic is to stifle, detain and harass a climate movement that's been growing in numbers and momentum with a planned mobilisation coming up," said Zoe, a spokesperson for the mobilisation to resist climate inaction. "It's a typical way for a state to respond to serious opposition."
"Later that day the police were pushing the line that the officers 'feared for their lives', which is pretty interesting considering they were the ones with the guns," she continued. "They were illegitimately spying on people and not even obeying their own laws."
Zoe was present during the raid on the Colo property. She advised that on being discovered, the unidentified officers repeatedly refused to reveal who they were, whilst their rescue vehicle actually hit some of the activists.
So, when some of the group surrounded the unmarked car, it seemed sincerely justified.
Not too long after the vehicle was halted via the letting down of a tyre, dozens of officers descended upon the property to detain the 40-odd "hippie-looking people" in a confined area for hours on end, whilst waiting for a warrant to be produced in order to facilitate the operation.
"They only got the warrant later in the day after they'd detained people. There were about 60 cops on the property," Zoe told Sydney Criminal Lawyers, adding that seven people were arrested, with two subsequently denied bail and left in prison to await their next court date on 12 July.
A justified reaction
Questions have been raised around what authority police had to deploy armed officers to spy on nonviolent activists on private property, why officers didn't identify themselves, the dangerous driving of the car, and the fact that the raid was already in progress when the warrant arrived.
"What we have here in NSW is a regime where the police on the mere suspicion of somebody organising a protest apparently sees it as their responsibility to enter a property to investigate whether a crime may or may not be committed," said NSW Greens MLC Abigail Boyd.
NSW police acting commissioner Paul Dunstan stated later in the day that "those police that were attacked by that group this morning feared for their lives,".
But as Zoe makes clear, they weren't the armed and unidentified actors who were discovered surveilling people on private property.
According to Boyd, there have been conflicting police versions of events, particularly around what happened to a tyre on the unmarked car. A Blockade Australia supporter, however, has confirmed that an activist let down the tyre via its valve, after the car had knocked into a number of civilians.
"I'm not at all surprised that campaigners were shocked by the police being on their property but also that they might have reacted in a negative way," the Greens MLC continued. "This is not the sort of state I want to live in, where police can come onto your property without just cause."
"Extraordinary police overreach"
Following Newcastle, Blockade Australia carried out another series of nonviolent disruptive actions at Sydney's Port Botany in March. And it was then that NSW police established Strike Force Guard to specifically focus on climate defenders, as was the case with Sunday's surveillance.
To accompany the crackdown, the Perrottet government enacted harsh anti-protest laws, making it an offence to disrupt roads, bridges or tunnels, as well as to obstruct entry to major facilities, such as railway stations. The new crimes carry a maximum penalty of 2 years in gaol and/or a $22,000 fine.
Sunday's raid is a "really extraordinary outcome from what are the most draconian laws that we've seen in any Australian state or territory," Boyd stressed.
"Now we know it's emboldened police to actively investigate peaceful activists before they've even put in train their plans for a protest."
Boyd is tabling a disallowance motion on Thursday, aiming to see recent changes to the regulations determining which roads and major facilities are caught up under the new regime are revoked, as "they're incredibly expansive" and "empower the police to shut down any peaceful protest".
Collective climate denial
The tide turned in relation to how NSW courts are dealing with climate defenders when Blockade Australia activist Sergio Herbert was sentenced to 12 months prison, a sanction which has since been dropped, over the group's actions in Newcastle last November.
Then Blockades' Max Curmi was sentenced to 4 months in April over a direct action at Port Botany, while Fireproof Australia's Andrew George was sentenced to 3 months for running onto a football field during an NRL match holding a flare. These two sentences have also been overturned.
Zoe outlined that one young man took off into the bushland in fear as the raid took place. And being from the city, he had no experience of that sort of terrain, and was still missing more than 16 hours later.
However, despite pleas, NSW police refused to send in the NSW Special Emergency Service to look for the man or to even allow his fellow activists to search for him.
The police force is merely acting in accordance with its mandate as an agent of state, Zoe continued, as it protects Australia's interests via "maximising exploitation in the pursuit of corporate power, global supply chains and doing what it can to stifle safe and legitimate climate action."
"We're going to continue to forge ahead with serious opposition and resistance even as Australia responds with escalating repression," the climate defender said in conclusion.
"On 27 June, we will be in Sydney. We will be disrupting the collective climate denial order, because it's the responsibility of all to disrupt the climate denial which is the true existential threat to us all."
Receive all of our articles weekly