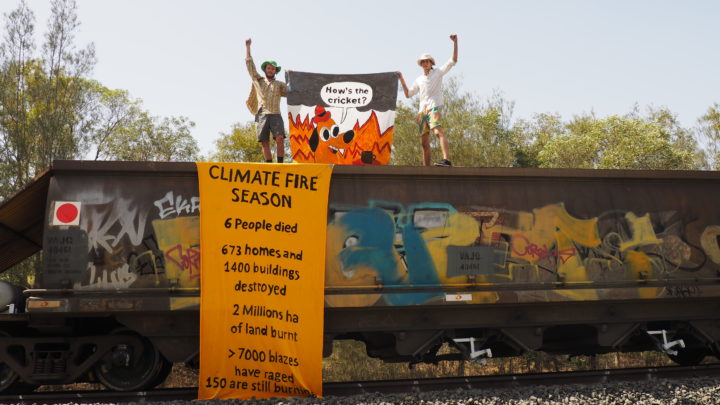 Rising climate crisis awareness has been evidenced of late by the increasing numbers turning up on the streets demanding change. And it's been fairly obvious from the start, that fossil-fuel addled politicians were going to respond with harsher penalties, rather than heed any public calls.
For the most part, Queensland has been the epicentre of this struggle. Extinction Rebellion activists have had a heavy presence on the streets of Brisbane, while the so-called left-wing state government has been drafting new laws, so Queensland police and courts can crackdown harder.
A significant uptick in these repressions, took place on 3 December, when police arrested two young men – Jack and Spoons – for climbing onto a coal train in Wynnum and preventing its departure, while, just for good measure,  Emma Dorge, was also arrested, simply for being present.
But, the clincher came when these three XR Southeast Queensland (XR SEQ) members were denied bail by Cleveland Magistrates Court. The protesters were rather told that they were going to be remanded until their court date on 19 December.
Remanding arrestees for nonviolent civil disobedience is an unprecedented move in Queensland. And although, a snap action led to a lawyer lending pro bono assistance, which resulted in the Wynnum Three being released on bail, this incident still reveals authorities gearing up to get tougher.
Stripping away at rights
"We stress that this kind of reaction from the magistrates, as well as politicians, is a symbol of an increasingly authoritarian state that has battened down on activists, who are actually protecting our environment and our future," said XR SEQ spokesperson Emily Jane.
"It's also a representation of a corporate-backed and lobbyist influenced government that's protecting corporate interests, and not the individual citizens that it's supposed to be protecting," she further told Sydney Criminal Lawyers.
To underscore her assertion, the university graduate cited a recently-released 2019 report by global civil society alliance CIVICUS that details that on 4 December it downgraded Australia's civic space from "open" to "narrowed".
The global monitor explained that the downgrading is due to "rights to freedom of association, peaceful assembly and expression" increasingly being violated, which includes the current aim being taken at "climate activism".
The Wynnum Three "had been withheld without being offered bail for actions that if they'd been done outside of the context of being related to Extinction Rebellion", Ms Jane added, "the action would have been seen as a small crime, with a fine being applied."
Manipulating the system
One of the two male activists in their early 20s – who climbed up onto the Aurizon freight train with the aim of blocking its passage to the coal loader owned by New Hope Group – was charged with the serious assault of a police officer, along with trespassing and obstructing a train.
XR SEQ asserts that this is the third time one of its nonviolent activists has been charged with assaulting an officer. And according to Jane, these false charges are being used as a tactic by police, so they can denial bail. However, on the previous occasions, the charges were eventually dropped.
"This action on the coal train was live streamed, so the whole thing unfolded before hundreds of people's eyes online," Ms Jane made clear. "This is simply a manipulation of the legal system in order to repress civil liberties."
Supreme Court revokes remand
Emma Dorge was arrested, taken into custody and remanded for being within the vicinity of the train protest, so she could talk to reporters. And this saw her charged with trespass and thrown into the watchhouse, before being transferred to the Brisbane Women's Correctional Centre.
Eventually, she was released last Friday evening at around 10.30 pm, after the state Supreme Court overturned the decision of the magistrate to keep her locked up pending her hearing. And luckily for Jack and Spoons, they too were released from the high security Arthur Gorrie Correctional Centre.
Ms Dorge has already been arrested on a number of occasions this year on minor offences connected to obstructing traffic whilst demonstrating in public trying to raise greater general public awareness around the climate emergency.
"I'm definitely not going to stop until our demands are met, and we see some action on the climate crisis, because there's no future with the way the world is going," she explained back in October. "As I see it, there's really no option to stop."
We know what happened to the dinosaurs
Not long after Australian activists started taking to the streets en masse to protest government inaction on climate, the eastern states began burning on a scale that hasn't been seen before. Indeed, this began in July, which, as we all know, is the middle of winter.
As Queensland had its ridiculously early start to the fire season, and activists increasingly took to the streets, the Palaszczuk government drafted and then passed a swag of new anti-protest laws so it could more easily lockup activists, who bemoan the loss of habitat and homes.
While Australian PM Scott Morrison appeared on national radio just a few weeks back and assured the nation that there are no links between the raging bushfires and rising greenhouse gas emissions in the atmosphere. This is despite scientists the globe over stating otherwise.
Mass week of action
"We see this crackdown on civil liberties – instead of climate action – as a representation of a lack of priorities," Emily stressed. "And in terms of how we see it playing out, we know that more people are choosing to rebel."
In response to recent events, SEQ XR have declared this a Mass Action Week. It will comprise of two major direct actions. The first is Wednesday's Graduation Climate March meeting at 5 pm at the Queensland Performing Arts Centre to share speeches and then make its way to state parliament.
While on Friday at 8 am at Kurilpa Point Park, there's the We're on Fire – It's Time to Protest meet, which will involve climate activists playing a sarcastic game of cricket, as that's all politicians seem to be interested in doing as the country burns down around them.
"We're organising every second," Ms Jane concluded. "People won't continue to simply walk into extinction as the government would like them to do for corporate interests. And people are waking up and they're joining us and other climate movements to demand action.
"Because if they don't, there'll be hell to pay."
Receive all of our articles weekly