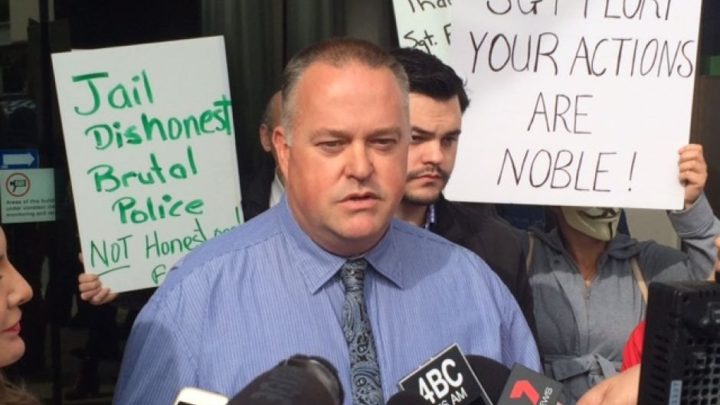 In late February 2010, the Crime and Corruption Commission (CCC) received a public interest disclosure letter relating to the conduct of two police officers that then Queensland police sergeant Rick Flori asserted had been involved in official misconduct.
The letter stated that in late 2009, a police officer referred to in the Queensland Supreme Court as officer B had been observed by two other police officers to be giving fellatio to officer A in the District Duty Police Officer's car, which was parked at a Red Rooster fast food restaurant.
Flori further put forth in his statement that B, a female officer, had been involved in a "stupid prank" in the past, however this was simply swept under the carpet. And he outlined that he and other officers believed this woman was unjustifiably being given special treatment by district duty officers.
When a crime is not misconduct
Since engaging with the oversight body that was then referred to as the Crime and Misconduct Commission (CMC), now former police officer Mr Flori maintains that he was subjected to bullying in the workplace that he should have been protected against under state whistleblower laws.
After initiating legal procedures against those officers allegedly perpetrating the reprisals, an application was lodged by state authorities with the Queensland Supreme Court challenging whether Flori's letter was in fact a proper public interest disclosure.
And on 3 May this year, Justice Helen Bowskill found that the officers involved hadn't committed official misconduct – although a jury might have found their actions were a criminal offence – so Flori was not protected from workplace reprisals under the whistleblowing laws of that state.
Questionable protections
Needless to say, Mr Flori was rather perturbed. On behalf of a number of colleagues, he'd made a public interest disclosure under the provisions of the Whistleblowers Protection Act 1994 (QLD) (the WPA), only to find that the protections provided didn't apply to him in the eyes of the court.
So, on 17 October, the former police sergeant appealed the findings of the initial trial division hearing to the Queensland Court of Appeal, basing his argument on six grounds that after further scrutiny really boiled down to two.
The first of these two grounds was that the contents of Flori's February 2010 letter was information that amounted to conduct defined as official misconduct as outlined in two subsections of section 14 of the Crime and Misconduct Act 2001 (QLD) (the CMA), but the initial judge didn't consider this.
The provisions of the CMA these days are now set out in and have been replaced by the Crime and Corruption Act 2001 (QLD).
The second ground that held significance in the appeal was that in making her ruling, Justice Bowskill failed to consider whether Flori could have reasonably believed that the conduct he was reporting to the police watchdog was official misconduct, as set out under section 15 of the WPA.
Constituting official misconduct
Three Queensland Court of Appeal justices considered Mr Flori's case. The panel comprised of Justice Hugh Fraser, Acting Justice Michael Buss and Justice James Henry. And their Honours major deliberations were around whether the reported incident was official misconduct.
As Justice Fraser set out in the full findings delivered on 3 December, section 15 of the WPA authorises public interest disclosure about official misconduct, which is defined under section 15 of the CMA, as either a criminal offence or a disciplinary breach providing grounds for termination.
Flori's legal team pointed to subsection 14(2) of the WPA, which states that scenarios in sections 15 through to 20 of the WPA warrant public information disclosure "if the person honestly believes on reasonable grounds" that they possess information that reveals these behaviours.
Their Honours considered reviews carried out prior to the drafting of the WPA, as well as the explanatory notes that accompanied its tabling in parliament. And these specified that the point to the legislation was to encourage the exposure of corruption, whilst protecting those who reveal it.
According to Justice Fraser, the requirement that disclosures are reasonably grounded is to protect against accusations "made purely out of spite". But, this doesn't require a whistleblower to have "a detailed knowledge" of the law, so as to completely determine the legal implications themselves.
And taking these factors into consideration, his Honour continued, it's completely reasonable for Mr Flori to have made a disclosure to appropriate authorities about what he reasonably believed was a breach of the law and in turn official misconduct.
Therefore, the court ruled this ground should be upheld. So, the protections set out in the WPA against reprisals do apply to Flori in this case. And he's now at liberty to seek damages against the alleged bullying he suffered at the hands of former colleagues.
Justice reinforced
The first significant ground of appeal no longer had to be proven. It involved subsections 14(b)(ii) and (iii) of the CMA, which outline that official misconduct can be a breach of trust by a person in an official position or a misuse of material acquired whilst being in that position.
Their Honours found that the alleged sexual conduct in public of the officers had breached the trust of their positions, and the use of the police car was indeed a "misuse of material". And this conduct, if proven, could constitute a criminal offence or a reason for dismissal.
So, the setting aside of the initial judge's decisions were further strengthened by these statements, especially as her Honour had come to the same conclusions in her final findings. And now, Mr Flori is free to continue his civil action against the Queensland police officers and the QPS itself.
The cost of justice
After setting aside the earlier judgement and allowing Mr Flori's appeal, as for the covering of the court costs, Justice Fraser said that both parties involved had up to 14 days to lodge "submissions in writing, not exceeding three pages, as to the appropriate costs orders".
Mr Flori told Sydney Criminal Lawyers that even if Queensland authorities are ordered to cover all court costs, "it won't cover the expenses that it's cost" him. But, he said it was such an important matter that he felt he needed to do it regardless, "to get the right result".
Receive all of our articles weekly