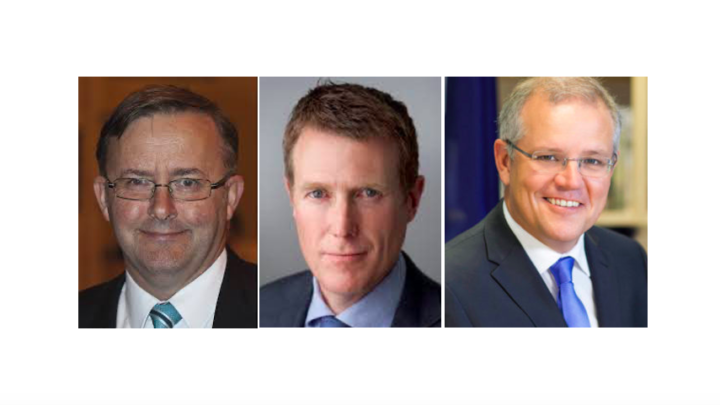 As an estimated 110,000 women and allies were set to mobilise nationwide on Monday to call for an end to gendered violence and the silence surrounding it, attorney general Christian Porter pulled a strategic move in filing to sue the ABC over an article regarding rape allegations made against him.
And as the March for Justice rallies were winding down in 42 locations across the country, prime minister Scott Morrison implied in parliament that it was a "triumph of democracy" that the protests calling for action "against violence directed towards women" weren't "being met by bullets".
Meanwhile, NSW police commissioner Mick Fuller has suggested it might be time to embrace a technological approach to rising sexual assault in his state, by rolling out an app where people register their consent to any sexual conduct.
These responses coming from some of our nation's most powerful men aren't really that surprising – except, perhaps, for the level of absurdity that some of them have reached.
But what has been an unexpected outcome this week is the reawakening of the opposition from its prolonged slumber.
Check mate
Porter has moved to sue the ABC and journalist Louise Milligan over a 26 February article that outlined the historic rape claim without identifying him as the alleged perpetrator. It ran five days before the AG publicly outed himself. His argument is he could be identified via the piece.
The nation's top lawmaker filed the defamation case in the Federal Court, ruling out a jury and guaranteeing a judge-only trial. This follows a number of high-profile cases that have taken this favourable route.
The AG actually criticised this practice as "forum shopping" back in late 2019, stating that he was aiming to legislate reforms against it.
Commentators have critiqued the move to sue as a way of preventing an independent inquiry into the alleged 1988 sexual assault. The inquiry is being called for as NSW police can't proceed with an investigation as it has no admissible statement from the woman, who took her own life last June.
The attorney general has flat out refused to consider standing down or stepping aside whilst an independent inquiry could take place, but, on Monday, Porter announced he's willing to delegate certain parts of his role to others, so there's no conflict of interest regarding the defamation case.
Fumbling scandals
Morrison's handling of multiple rape claims over recent weeks has been appalling. He told the nation that he had to consult his wife on how he should consider Brittany Higgins' allegation of being sexually assaulted by a Liberal staffer in Parliament House in 2019.
The prime minister said his wife told him to think of his daughters, which then enabled him to empathise with the victim. However, when it came to the Porter allegations, he basically said nothing would be done, seemingly without any attempt to contemplate the claim.
The head of state has repeatedly acted in a way that implies he's taken the burgeoning women's movement as an afront. And when asked if he would meet the demonstrators on the lawns of parliament, he said he'd invite a couple of them into his office, rather than front the masses.
The crux of the emerging women's justice movement is a call for an end to gendered violence.
So, for Morrison to praise the fact that the massive demonstrations weren't met by government-sponsored violence – namely, bullets – as in other countries, seems like nothing but a veiled threat.
Consent tracking
BOCSAR released figures on Tuesday that show over the last three decades sexual assault incidents have increased by 213 percent. While over the 24 months to last December, the only major crime to have increased was sexual assault, which has risen by 10 percent each year.
The less said about Mick Fuller's phone app solution to this crisis the better. Although, the idea has been widely dismissed, as the issue of consent is a bit more complicated than the act of checking into a café in relation to COVID tracking.
Labor rising
"The prime minister needs to listen," federal Labor leader Anthony Albanese said in parliament on Monday afternoon, "to listen to what women are saying about what is happening in this building and outside. They said enough is enough."
Unlike his counterpart, Albanese attended the March for Justice out the front of parliament on 15 March. And when he returned to parliament, the opposition leader erupted into a ten minute speech that not only chastised Morrison, but revealed Labor is stepping up to the plate.
"We need an independent inquiry into the allegations that have been made against the attorney general," the Labor leader said.
"The idea – as the prime minister has said – that we can just move on, that what has been happening over recent days and weeks can be unseen and unheard, is just not fair dinkum."
Albanese embodied the sentiment of protesters, as he laid the blame for inaction on gendered violence not only at the Coalition, but at his own party's feet and then went on to call for substantial societal change.
Indeed, those lamenting the loss of any real opposition since the last election should take heed.
Although, one could be forgiven for thinking deputy Labor leader Tanya Plibersek – seated to Albanese's left as he spoke – might have been better placed to have delivered such a speech.
Receive all of our articles weekly