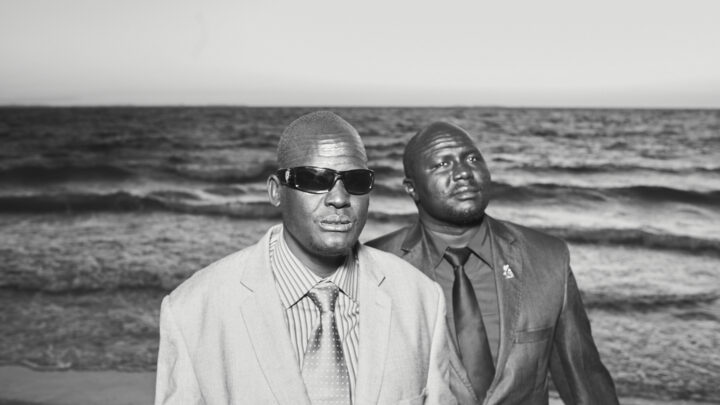 "My dear asylum seeker," sings South Sudanese musician Gordon Koang on his 2019 single Asylum Seeker, "We know you're waiting for your permanent protection visa. We know you've been waiting for a long time." He then goes on to advise that they "better be patient".
And Koang ought to know, as he spent close to six years waiting for his permanent protection visa, after arriving in Australia in December 2014 with his cousin and fellow musician Paul Biel. The pair were set to play a series of gigs, and they took the opportunity it afforded to seek asylum.
Affectionately known as the "King of Music" back in his homeland, Koang is a Nuer man from the Upper Nile region of South Sudan. And when the nation that had only recently gained independence fell into civil war in late 2013, Koang's people were targeted by ruling party forces.
Six years later, Koang and Biel now live in the Melbourne suburb of Frankston, and they've been making a name for themselves on the local music circuit.
However, Gordon continues to wait for his wife and children to join him here in Australia, as they're currently in a Ugandan refugee camp.
Peace, love and unity
This time last year, Sydney radio stations had Koang's first English language single Stand Up (Clap Your Hands) on high rotation. It was soon followed by the release of second single Asylum Seeker. And this month saw the release of Koang's eleventh studio album Unity.
Koang's sound is markedly different from the other music being played over the FM dial. At its heart is Koang's thom, which is a box-like stringed instrument, while Biel accompanies playing djembe. And these days, the pair are backed by a five piece band.
Having been born blind, Koang first picked up his instrument of choice at the age of eight. And he was soon playing on the streets of the South Sudanese capital Juba, where he gained notoriety, which led to his becoming a national pop star and conducting overseas tours.
And despite having to flee his homeland, spending six years in legal limbo waiting for his permanent residency and continuing to be separated from his family, Koang's songs are surprisingly upbeat and convey a positive message.
Music in Exile
Melbourne-based not-for-profit Music in Exile works with asylum seeker and migrant musicians. Founded by indie label Bedroom Suck's Joe Alexander, the Music in Exile project has been instrumental in getting Koang onto Australian radio playlists and helping him build up his band.
Sydney Criminal Lawyers spoke to Gordon Koang about the message he seeks to convey, how he came to reside in this country after South Sudan fell into civil war, and why he maintains that patience is necessary whilst seeking asylum.
Firstly, you've just released your new single, Kone Ke Ran. It's sung in Nuer, which is the language of your people.
There's a story behind that song. Gordon, can you tell what that is?
I composed this song about a guy I know. A very humble man. He's been working in the UN helping people who have been traumatised by the war that began in South Sudan in 2013.
This guy is working in a refugee camp in Ethiopia. His name is Simon Bernshaw. He's a counsellor, talking to the people whose friends and family have been killed.
When I heard this guy, I decided to compose a song about him, because when tribal war broke out in South Sudan, the government was killing one ethnic group. And he was a person who decided to help these people fleeing from the war to the camp.
When I came here in 2014, I first moved from Uganda to Ethiopia, and then from Ethiopia to here.
Kone Ke Ran appears on your new album Unity, as does the song Asylum Seeker. It too has a story behind it, as you spent six years seeking asylum in Australia.
What is it like "waiting for your permanent protection visa" in this country?
It was very difficult. We came to this country as a guest: me and my cousin Paul Biel. We came from Uganda to Ethiopia to here.
Back then, in 2014, we didn't have a friend or any family here. And it was a difficult time.
We asked people if there was any office in Victoria for asylum seekers. We met a man named John in Dandenong. And he showed us the office. So, we applied for the interim visa. We had no friends. We only knew the lawyer.
We went to the city and got our bridging visa. And then we went to the Asylum Seeker Centre in Dandenong. They asked us what we wanted. And we told them we needed to make a connection with someone who needs our services as musicians.
They connected us with a man who came to Dandenong. He wanted to know what we play. We told him we play the thom, and we play for love, truth and unity.
He asked us to play him a song, and we did. He said we were very good, and he would make some connections for us.
Then we did some performances in bars and on the street. He said that because people knew us and they liked our sound, he would make some more connections. So, we then performed in schools and universities.
At the time, it was difficult to compose a song in English. I didn't know how because back home in South Sudan there is no chance for a blind child to go to school.
We heard from the Asylum Seeker Centre about English classes. They put me in the class. There was a man named Mark and a woman named Gwen. And they taught me. Then I composed a song.
That song I composed was the Asylum Seeker song. I composed it because if you come to another country and you need to seek asylum, you need to be careful, you need to be comfortable and you need to love people. Then if they know that, they will give you what you need.
And you need to have patience to wait for the government, because it's not you alone who has come to the country. There are a lot of people who came before you and people are coming always.
The government is working hard. You need to be patient. Patience helped Paul and I. And we got our permanent residence last year.
It's a very hard situation when you have to wait. You don't know if it will come or if it will fail. You don't have a job. You don't have a certificate to get a job here in the country. So, it's difficult.
South Sudan is one of the youngest countries in the world, having gained independence from Sudan in 2011.
But, soon after independence, it fell into a civil war, which it only just came out of this year. You and your family are Nuer, which left you in a vulnerable position.
How was watching your country fall into conflict? And how did you manage to escape?
When the war broke out, I was in Canada. It was a music tour, because at that time I would sometimes go to other countries to perform my music.
In 2012, we came here for three months. We performed in Perth, Adelaide, Brisbane and Melbourne. Then we went back. In July 2013, we went to Canada. We performed in Ontario and Ottawa.
We decided to go back. We bought our ticket and needed to stay one week in Uganda. We were to go back to South Sudan on 16 December, but then the war broke out on Sunday 15 December 2013. So, we decided not to go there.
We spoke to our family in South Sudan. They ran to the border. They came to Uganda. When we heard that they arrived at a refugee camp in Uganda, we rented a car and went to them. The UN helped them. They got a tent, food and medicine.
When they got their place, we told them that because South Sudan had become a worse country, we would find a way to go to Australia.
In 2013, we left our children and we came here. When we got here in 2014, we were told we could perform, get some money for our children, and if we wanted to seek asylum then we could.
We performed, we got some money and got a lawyer. He helped us with the visa. Then we got a bridging visa. It was very difficult.
Your wife and children are still in the refugee camp back in Uganda. How are they coping?
They're now sitting in that refugee camp, waiting for us. Last year, we decided we were going to visit them. But there was no way once the coronavirus came and all international flights stopped.
Do you expect them to come to Australia?
For sure. When we get some tickets and we get money to pay a lawyer to help us to bring them here, it would be nice. It's very stressful for a family when for a long time they've not been in the one place.
My wife gave birth to my daughter on 26 January 2015. I left her when I came here and now this coming 26 January, she'll be six years old.
When she speaks to me on the phone now, she says, "Daddy, when are you going to come and visit us. When I was born you were not here. I'm a big girl now. You don't know me."
You live in the Melbourne suburb Frankston now.  What is life like for you here in Australia?
My life in Australia is good, now that I have my connection with music.
At first it was very difficult. Now it is nice. We thank God. And we thank Australia because they gave us our residence.
Back in South Sudan, you're referred to as the "King of Music". When your song comes on the radio here, it's quite distinct from most other music you hear. And you play a thom, which is an uncommon instrument in Australia.
Can you tell us about the thom?
The thom is the traditional instrument for the Nuer. They were using it long ago in the ancient world. They would play it when they were taking care of the cattle.
If you put them in one place and you're gathering them, and you know there are no other animals coming to get them, then you sit in front of your house and play your thom.
I learned it from my cousin. At that time, I was eight. When I heard the thom, I asked my cousin how he played it, because I am blind and cannot see. He told me where to put my hand to play it. And when I touched it, I loved it.
At that time, it was a five string. Then I taught myself for a month. And when I knew it, I put another string on, because it would bring more sound. It became a six string for me. Professionals use six strings. I have been using it since 1988.
How would you describe South Sudanese music?
In South Sudan, there are 64 tribes. They each play different ways. When I came here, I thought my music would be different to Australian music.
When we found Music In Exile, they created the band for me. At that time, Paul played the djembe and I played the thom. But it wasn't strong enough. Joe Alexander told us that we needed a band.
Joe said we needed a bass, an organ, a violin, a drumkit and a conga. Then our music would be very rich, as my thom needed more instruments to go together with it.
If I try to describe the music from South Sudan from here, there is no difference, because music is one way traffic. What you're singing, the older people did before you. And what you're playing is what the coming generation will do.
There is only a little bit of difference, because when I was in South Sudan, there were six girls who used to sing with me, and six boys who were dancing. It was very good. It was a huge band.
But we did it over here too, because we are seven people in the band in Australia. They know what I'm doing always. When I show it to them, they pick it up quick.
I am the one who composes the songs. I compose them in my dreams. And in the morning or the afternoon, when I wake up, I have it in my heart and then I play it on my thom.
When it becomes good, and I create the lines for the bass and drum, I give it to them, then they play it perfectly.
And lastly, Unity is your eleventh studio album. What's the message you're trying to convey through it?
When I was growing up, I knew that I was different from my family, because they can see, and I cannot. When you know you're different to others, then you need to know how you will survive.
I asked my mother and father what I can do to make me happy, because I am different from my brothers and sisters. All the other people went to work, but I needed a way to move forward.
My parents told me I needed to have love, peace and unity with all my brothers and sisters. Even now in my heart, I love them so much.
My father and mother have died, but they gave me a very good idea, because I couldn't survive if I didn't have unity with others.
I used to smile to the people, because then they will know my love, because they don't see my eyes, and I am not seeing them.
Now I am separated with my family. Unity can give people peace and love. If they work together, they will bring good things into the world.
Also, if I want to clap, then I need to bring my right hand and left hand and put them together in one place and it will bring sound. If I try to clap with only one hand, it will not bring any sound, and it will keep quiet.
So, I decided to compose all my songs to bring unity, love and peace. This is the best. It is coming from my heart. And I got this advice from my family when I was growing up.
Main Image: Gordan Koang and Paul Biel
You can stream or purchase a copy of Unity here.
Receive all of our articles weekly