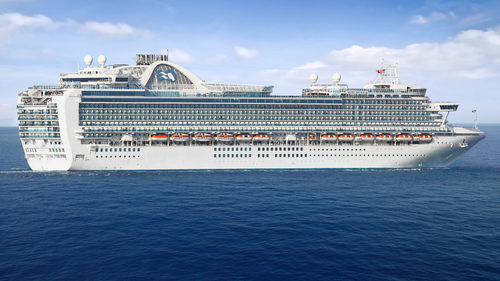 In early April 2020, as the Covid-19 infection rate and death toll linked to the Ruby Princess kept climbing, New South Wales Police Commissioner Mick Fuller promised a full criminal investigation into the circumstances that led to the plagued cruise ship being allowed to dock in Sydney Harbour, and its 2,500 passengers to enter the country without testing or quarantine.
In total, about 900 cases were linked to the infected cruise ship and there were 28 deaths. In fact, prior to the second wave of the pandemic in Melbourne, the Ruby Princess was the source of Australia's biggest coronavirus cluster.
"Inexcusable", "inexplicable" and "serious mistakes"
The New South Wales government too, launched its own inquiry, led by experienced Sydney barrister Bret Walker. The Special Commission of Inquiry into the Ruby Princess has now concluded and in a scathing report released last week, the Walker-led inquiry found that state health officials made "inexcusable", "inexplicable" and "serious mistakes' in the way the Ruby Princess was handled, specifically by assessing the ship passengers as "low risk", and to "do nothing" despite all the expert advice at hand.
It has also been revealed Department of Agriculture officers did not follow proper processes when inspecting the Ruby Princess, neglecting to complete health checklists as required by a national protocol. The Department has since launched another investigation into its own team's actions.
Defiance of Public Health Order
But the Report also states that the decision to let passengers disembark and travel onwards both domestically and internationally also defied a Public Health Order. Regulations in force at the time required all cruise ship passengers entering NSW from any other country to self-isolate in suitable accommodation for 14 days. The measure was implemented as Australia's international borders closed on 17 March 2020.
Apology is 'cold comfort'
As a result of the inquiry findings, Premier Gladys Berejiklian issued a public apology. At the time, she said she was still to read the full report thoroughly. But that's cold comfort for the families of those who lost their lives, and who are still seeking answers and accountability.
So far, not one a single person – not Health Minister Brad Hazzard, nor any of the health officials involved, nor Agriculture staff involved have been suspended, fired, fined, or even disciplined, let alone prosecuted for engaging in an unlawful or negligent act causing grievous bodily harm. While originally there was some finger pointing at Australian Border Force (ABF) staff, the Walker inquiry has exonerated them.
It's important to remember that there were several inquiries launched into the Ruby Princess, including a criminal inquiry, led by New South Wales police, and a parliamentary inquiry. These are still underway and may provide further answers or other perspectives.
In the meantime, those affected by the Ruby Princess outbreak are taking matters into their own hands. Graeme Lake is one of them. He celebrated his wife's 75th birthday aboard the Ruby Princess, but he and his wife only started to display symptoms of the coronavirus after they arrived home in Queensland. Mrs Lake died in hospital 10 days later.
Class action by Ruby Princess passengers
Mr Lake is just one of the 800 passengers pursuing a class action lawsuit.
The suit, which was filed in the Federal Court in July, alleges that Carnival Corporation, owner of the Ruby Princess, breached consumer guarantees, were negligent and failed in their duty of care in protecting passengers.
The greatest complaint by passengers is that they were not told the virus was aboard the ship or how to protect themselves from possible risk of infection.
Not only did 28 people die, others were intensive care for months, on ventilators, fearing they would die.
What is a class action?
A class action – or "representative proceeding" as it is formally known – is a court proceeding where the claims of a group or "class" of persons are brought by one or a small number of named representatives. In other words, a class action is a court case in which a group of people sue a single party.
There will usually be one or two 'lead plaintiffs' who represent all of the people involved in the class action. All of the other claimants in the class action are known as 'group members'.
The purpose of a class action is to prove negligence or failure of duty of care obligations, and to seek compensation.
In Australia, a class action suit can be filed in the Federal Court or the State Supreme Courts.
Receive all of our articles weekly