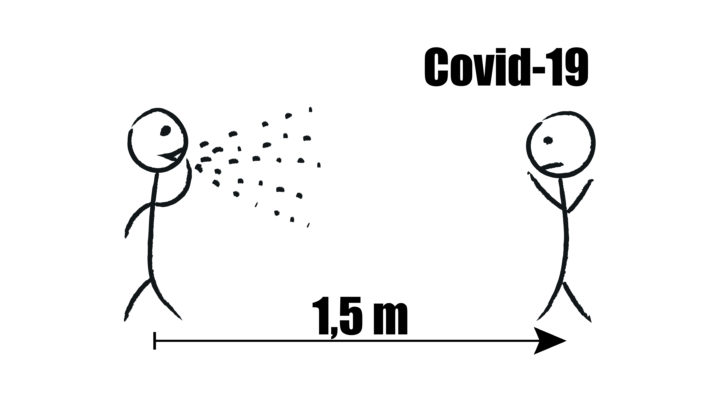 On 24 March 2020, a 21-year olf man attended Coffs Harbour Police Station and approached a 71-year-old female officer, before deliberately coughing on her and claiming to have COVID-19, while his friend filmed the incident.
When asked if he was joking, the man assured the officer he wasn't, claiming to have just come from Coffs Harbour hospital where he tested positive to the virus – which has infected more than 2000 Australians.
The video of the incident was then posted to Facebook.
While police made inquiries about the man's claims, the police station had to be closed down, and isolation protocols put into place.
The footage has since gone viral, racking up tens of thousands of views and outraging commentators, the vast majority of whom were disgusted by the young man's cruel and foolish prank.
It's unlikely the man is laughing now, as he has been charged with stalking or intimidation with intent to cause fear of physical or mental harm, as well as resisting or hindering a police officer in the execution of duty.
The offence of stalking or intimidation
Section 13 of the Crimes (Domestic and Personal Violence) Act 2007 prescribes a maximum penalty of 5 years in prison and/or a fine of $5,500 for any person who stalks or intimidates another person with the intention of causing the other person to fear physical or mental harm.
For the purposes of the section:
causing a person to fear physical or mental harm includes causing the person to fear physical or mental harm to another person with whom he or she has a domestic relationship,
a person intends to cause fear of physical or mental harm if he or she knows that the conduct is likely to cause fear in the other person,
the prosecution is not required to prove that the person alleged to have been stalked or intimidated actually feared physical or mental harm, and
an attempt to commit the offence is enough to establish the offence.
'Intimidation' is defined by section 7 of the Act as:
conduct (including cyberbullying) amounting to harassment or molestation of the person,
an approach made to the person by any means (including by telephone, telephone text messaging, e-mailing and other technologically assisted means) that causes the person to fear for his or her safety, or
any conduct that causes a reasonable apprehension of injury to a person or to a person with whom he or she has a domestic relationship, or of violence or damage to any person or property.
The court may have regard to any pattern of violence (especially violence constituting a domestic violence offence) in the person's behaviour when determining whether conduct amounts to intimidation.
Defences to the charge include:
Resisting or hindering police
The offence of resisting arrest and/or hindering police in the execution of their duty is laid out in section 546C of the Crimes Act 1900, and comes with a maximum penalty of 12 months imprisonment and/or a $1,100 fine.
Conduct that may amount to resisting arrest includes refusing to be handcuffed, struggling and attempting to get away. Conduct that may amount to an assault – including kicking or punching at police – may also constitute resisting.
The defences of self-defence, duress and necessity also apply to this offence.
New police powers to enforce social distancing and self-isolation
Under new legislation passed in recent days in an attempt by the NSW Government in an attempt to stop the spread of Coronavirus, NSW  Police have new powers to arrest anyone not practicing social distancing or not adhering to mandatory self-isolation.
New South Wales Police can now issue fines of up to $1000, to a person or up to $5,000 to a corporation for not practicing social distancing. New police powers also extend to people in self-isolation not adhering to the appropriate confinement protocols. Fines for breaking the law can be as much as $11,000, and a maximum prison sentence of six months also applies.
70,000 officers across New South Wales have been trained to be on the look out for anyone not doing the right thing.
In some parks around New South Wales, picnic benches have been closed off with tape. Some supermarkets and other retailers have put marks on their floors to ensure that people stay the appropriate distance apart. Beaches are empty, shopping centres are deserted.
People seem to finally be getting the message. And there are solid scientific reasons to suggest that if we continue to stay at home and avoid interaction with others, then we have a good chance of 'flattening the curve' which would mean that hopefully, life could return to normal relatively soon.
Receive all of our articles weekly