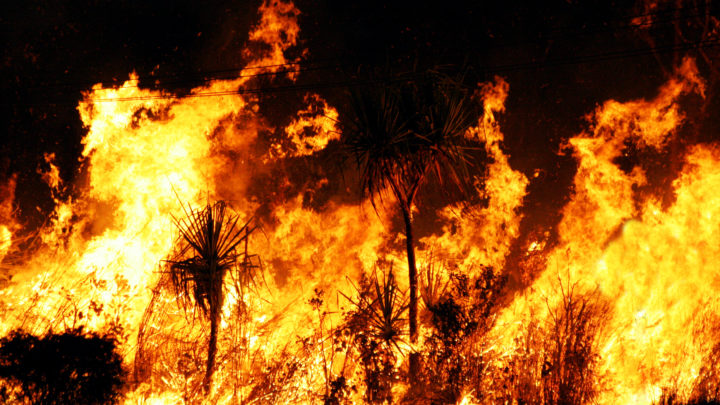 As bushfires broke out in the eastern states in early September, it occurred that something might be amiss. But, five months later, as both NSW and Victoria declare states of emergency for the coming weekend, it's glaringly obvious that something is rotten in the state of Australia.
Concerned global citizens were rightly crying foul over the Amazon being ablaze last year, while the 2018 wildfires in California drew concerns over the rising intensity of such disasters in the face of changing climate conditions.
However, the scale of those overseas catastrophes pale in comparison when it comes to the deluge in NSW. Since 1 July last year, 4 million hectares have burnt, which compares with 900,000 hectares in the Amazon in 2019, and 800,000 hectares in California the year prior.
Meanwhile, good old Scott Morrison was filmed on Thursday walking into the fire-devastated south eastern NSW town of Cobargo and trying to force handshake photo opportunities onto disgusted locals, who ended up chasing him out of town with insults and a goat.
But, amid all this chaos, destruction and pollution and despair, one thing seems very clear, and that's the leaders in the Canberra bubble – the city with the worst air quality in the world on Wednesday – aren't fit for purpose to run a nation trying to grapple with dramatically morphing weather.
Dinosaurs basking in the meteor
Right before Christmas, there was a huge furore over Morrison having taken off to Hawaii for a family holiday, whilst the nation was enduring an unprecedented bushfire crisis. This was followed by a very public guilting about his having to cut his trip short by a couple of days.
Yet, what an unforgiving public was unaware of at the time was that Mr Morrison was taking his vacation early because in January he's on a coal-related business trip to India that had been squared up with that country's PM Narendra Modi back in October.
Since then, Adani Ports chief executive Karan Adani has invited the Australian PM to visit one of the world's biggest coal ports in western India, known as Mundra. And Mr Adani explained that going into the new decade, there will be no holding back on his country's demand for Australian coal.
The chief executive added that there's no reason to worry about that rising demand, as his company will be carbon neutral by 2050, even though its "total coal production will be growing", because "it will be offset with the amount of investment" it's said to be making into renewable energy.
Who is he working for, anyway?
As treasurer in 2017, Morrison appeared in parliament wielding a chunk of coal declaring it was nothing to be feared. His predecessor then set about changing the Native Title Act, so as to allow the much-disputed Adani coal mine to go ahead in Queensland's Galilee Basin.
When it looked like he would lose the election last May, Morrison rushed through the final federal government approval for the Carmichael coal mine.  And when he was miraculously swept back into power, Queensland Labor proceeded to push through the final state level approvals as well.
Right before the current bushfire crisis really kicked in around mid-November, our prime minister addressed a Queensland Resources Council luncheon and he told industry figures that he's currently designing laws to make it harder to block new coal mines.
Morrison wants to make it illegal to carry out secondary boycotts, which is when a campaign is organised so members of the public stop dealing with a company, so it stops doing business with another.
Indeed, passing new laws to silence the outcry has been the general response from Australian governments to growing calls for action on climate. And Morrison's proposed laws seek to catch a wider net of activists, as secondary boycotts also involve those who don't show up on the streets.
But, did the nation ask for it?
Since the federal election last May, the talk of climate in/action has really picked up. And as the drought and bushfire crises intensify, there's been a lot of finger pointing in the direction of those "quiet Australians", who the PM claims voted him back into office.
However, we've seen this kind of election result elsewhere. The UK has since voted Boris Johnston back into power. And, of course, we can all turn to the United States and wonder what its populace was thinking back in 2016, when it voted Donald Trump into office.
As renowned activist George Monbiot recently posited the reason why these reactionary politicians have been voted into office isn't because the masses have suddenly come to favour their agendas that include ripping "down environment protections" and warring on institutions that restrain them.
Rather, what he puts forth is that a "new politics, funded by oligarchs, built on sophisticated cheating and provocative lies, using dark ads and conspiracy theories on social media, has perfected the art of persuading the poor to vote for the interests of the very rich".
And, according to the social commentator, just as those in power have developed strategies to con the public into voting for them, there exist antidotes to such techniques. And he sees the dismantling of this system through a process of decentralising power back into the people's hands.
Popping that bubble
So, in the reckoning of Monbiot, Australia – amongst other nations – needs to go through a radical change where decision-making power is no longer concentrated to a handful of politicians, who've only got the interests of the fossil fuel industry in their sights.
Australians, and other citizens of the world, need to start reining in valid decision-making power because as long as it remains in the grasp of the 1 percent and its lackeys – who are working from a limited outlook of a single generation –  the planet will continue on its path to destruction.
Receive all of our articles weekly