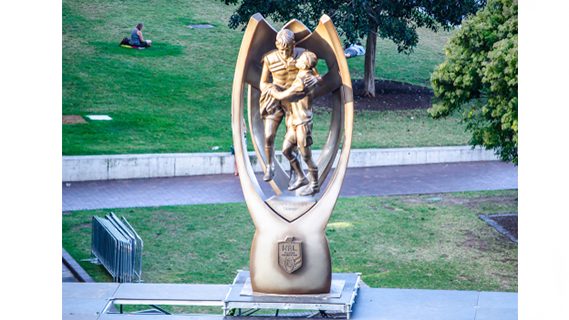 The NRL top brass have been taking an increasingly tough stance on players accused of criminal offences in recent times.
Now, CEO Todd Greenberg has announced that star player Ben Barba faces a life-long ban from the game after being accused of domestic violence.
The story so far
In case you missed it, Ben Barba, one of Australia's most controversial rugby league players was allegedly caught on CCTV having both verbal and physical altercations with his partner Ainslie Currie at a Townsville casino over the Australia Day long weekend.
In a bid to save her partner's position, Ms Currie reportedly met with North Queensland officials, to no avail. After the footage emerged, Barba was promptly sacked by the Cowboys for what the club described as 'a significant breach of the terms of his contract'.
It's not the first time Barba has put his career in jeopardy. In 2013, he was stood down by the Bulldogs in order to enter rehabilitation for gambling and alcohol issues. At the time, the player was also under investigation for domestic violence allegations.
Despite being a highly talented player, Barba was also suspended for 12 games after testing positive for cocaine while playing with the Cronulla Sharks in 2016. And he recently had a successful stint in England, before returning to the Cowboys for this season.
He has been terminated before even playing a game.
'We've run out of tolerance'
Following years of negative publicity over players behaving badly, the NRL is a football code in crisis.
In the past several months, major sponsors have pulled millions of dollars in funding. There have been allegations of match-fixing. And young people are shying away from the game in droves.
Research has even emerged which suggests a strong link between State of Origin Games and increases in Domestic Violence incidents.
By December last year, there were five separate allegations of sexual assault against NRL players, some of which are still before the courts. Barba too is now the subject of a police investigation.
In the wake of the domestic violence allegation, Mr Greenberg signalled what has been hailed as a 'new era', making it clear that 'we've run out of tolerance… particularly for violence against women.'
Barba faces the very real prospect of a lifetime ban from the game, with Greenberg explaining that as a result of his termination from the Cowboys, the player was de-registered and would not be registered again.
Most of the NRL's public statements around the Barba sacking have been about a culture of intolerance for violence against women, failing to meet community expectations, and 'protecting the game'.
And many feel these kind of sentiments should be expected from one of the country's major sporting codes.
NRL will provide 'support'
Greenberg has also promised the NRL "will provide every level of support to victims and we will provide all the education we can to our players."
What this means in practice is not certain, but many hope that help should be provided for Barba to deal with his personal problems.
The NRL, perhaps under the circumstances, had no choice but to come down tough on Barba, because of the seriousness of the situation and his past history.
However, it is important to remember that tough measures are one thing – but they don't always act as the successful deterrent they are intended to be. Sacking Barba might be a positive PR move, but there's also a danger it sends an alternative message to other players: 'If you're engaging in misconduct, just don't get caught'.
And of course the fact is that the allegation against Barba is just that: an allegation. Every person is entitled to the presumption of innocence, regardless of the history, and a glimpse at CCTV footage should not be the 'be all and end all' of the matter. It is ultimately for the criminal justice system to decide Barba's guilt or innocence.
Changing lives
That said, many feel the NRL has a very real opportunity here to bring about change by sending a strong message to would-be offenders that domestic violence will not be tolerated.
Family violence has been described as 'Australia's shame'. While governments at every level pour millions of dollars into crisis shelters, support services and new 'early identification' initiatives every year, it remains a hige problem.
According to the Facebook Page 'Destroy the Joint', 69 Australian women's lives were ended violently last year by men.
We can only wish for a positive outcome here – beyond badly behaving players being penalised or punished – but a genuine effort towards helping to reduce domestic violence.
Receive all of our articles weekly