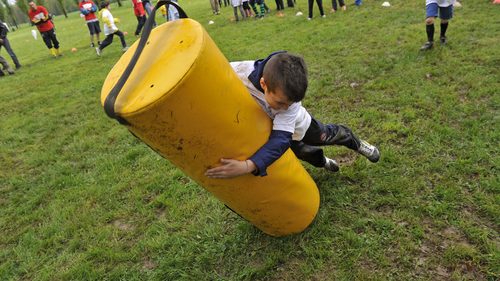 The Australian Rugby League Commission, which controls and administrator the game, has announced a trial of new rules for junior players in a bid to stem the tide of kids leaving the sport.
The shake-up is being described as the "most radical" in the sport's 110-year history, as the embattled code tries to rebuild its image and "put the fun" back into the game at a grassroots level.
Kids are quitting the game in droves
Data suggests that a staggering 40,000 juniors nationally — out of 140,000 — quit rugby league last year, mostly due to negative experiences and poor perceptions of the sport and its players. In response, a new code-wide strategy will be trialed in Queensland next year.
Under the new rules, under 6 players will not engage in tackling, instead playing a non-contact version called Tag League. They will learn to tackle as part of the code's TackleSafe program before moving into the traditional contact form of the game in the under-7s.
In another unprecedented move, junior footy players aged 6-12 will not play for competition points or premierships next season. Grand finals will apply only to the under-13s and older, as the code's most powerful decision-makers look to bring fun back into grassroots rugby league.
The reaction from parents has been mixed, but key QRL and NRL stakeholders believe the strategy is critical to regenerating the sport and boosting participation. If the Queensland trial is deemed successful, the new rules are likely to be implemented nationwide in 2020.
Aiming to attract more players
Eighteen months of research by the code shows that "negative experience" is primarily driving families and kids away from the sport. Twenty-five per cent of junior league players quit the sport because of selection issues and on-field neglect. Fifteen per cent of families have concerns with safety and welfare.
Certainly tackling and the long-term effects of repeated concussions have long-caused concern. Former State of Origin Player James McManus is taking legal action against the Newcastle Knights over the club's handling of his concussions. McManus played 166 NRL games for the Knights before retiring on medical grounds at the end of the 2015 season.
More than 70 retired AFL players battling neurological impairments linked to head knocks have also banded together in a class action against the code. Both cases will could have significant ramifications for Australian sport.
But while the NRL says it is not banning tackling completely, it has modelled its new strategy on something the Kiwis have been doing for many years. In 2003, the New Zealand Rugby Union introduced "Rippa Rugby", a developmental game of tag rugby played by six-year-olds and primary schools.
The removing of grand-finals, say league bosses, is an attempt to reduce an environment which has become 'excessively competitive', and is designed to take pressure off the kids particularly from adults, and just let them have fun.
The underlying message is they hope the rule changes will encourage more parents to sign up their children. But what appears to be glaringly missing from the conversation, is the code's reputation, which lies in tatters as several players face criminal charges over incidences involving violence against women.
Five players facing charges
St George Illawarra player Jack de Belin has been charged with aggravated sexual assault after allegations involving a 19-year-old woman. Paramatta Eels player Jarryd Hayne faced court over allegations he sexually assaulted and injured a woman in the Hunter valley.
Manly Sea Eagles' Dylan Walker has pleaded not guilty to assaulting his fiancee at a home on Sydney's northern beaches. And Penrith reserve-grade halfback Liam Coleman has been charged with indecently assaulting a woman in an alleged incident along with Wests Tigers player Zane Musgrove.
Just a few months ago, two Canterbury-Bankstown players were charged with obscene exposure after 'Mad Monday' celebrations at the end of the season, and over the past several years there have been a string of other incidents including one involving an NRL player and a dog, accusations of gang rape, and a drug trafficking scandal.
Reputational damage
The reporting of the allegations has negatively impacted the perception of the game, with children and their parents seeing a number of role models on the wrong side of the law.
And it appears some sponsors have had enough, with Jayco walking away with its lucrative sponsorship earlier this year, and reports of many other sponsors looking to follow suit.
The NRL's gender advisor, Catharine Lumby, has called for the NRL to be tougher on players who have run-ins with the law, suggesting that those convicted of domestic violence or sexual assault never being allowed to play again and players facing criminal charges banned from the field until they are cleared.
"I think sport is right at the heart of Australian culture … Sporting codes need to hold themselves to a higher standard than the community," she says.
At present, the NRL's integrity unit investigates allegations and assesses the severity of player breaches. The league waits for clubs to impose sanctions and if they aren't satisfied they can apply tougher penalties. Some players have been stood aside in the past but it's not a consistent rule.
And while the new rules for young players might go some way towards making the game less dangerous and more fun, ultimately it is their parents who make decisions about which sports they play. Unless the code does something radical to clean up its image too, it's likely to face further declines in popularity.
Receive all of our articles weekly