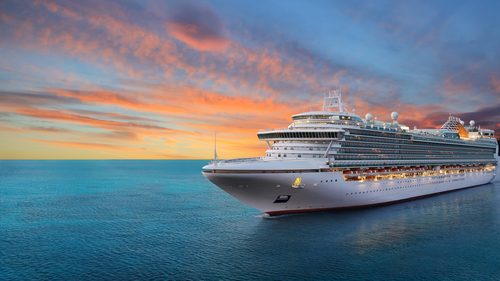 A former director of cruise ship company Cruise & Maritime Voyages has been charged with multiple fraud offences arising from allegations she transferred a total of $2.4 million from a company bank account into her personal accounts without authorisation.
62-year old Susanne Hunter is required to appear in Downing Centre Local Court for allegedly making over 400 unauthorised transfers between January 2014 and September 2017.
The alleged fraud was reported to police after an internal investigation by the company suggested that money had been misappropriated.
"An internal investigation into accounting irregularities at Cruise & Maritime Voyages uncovered some concerns regarding the handling of company funds while the business was under the management of Mr Grant Hunter, CEO and his wife Mrs Susanne Hunter", a company spokesperson told the media.
The charges against Mrs Hunter include fraud under section 192E of the Crimes Act 1900 (NSW) and money laundering under section 193B of the same Act.
Her husband has not been charged.
The offence of fraud
Section 192E of the Crimes Act sets down a maximum penalty of 10 years in prison for any person who obtains property belonging to another, or obtains any financial advantage or causes a financial disadvantage to another, where this is done dishonestly by any deception.
To establish the offence, the prosecution must prove that:
By a deception, the defendant acted dishonestly, and
These actions created a financial advantage over another person's property, or caused them to suffer a financial disadvantage, and
The actions were intentional or reckless.
If the prosecution is unable to prove each of these elements beyond a reasonable doubt, the defendant is entitled to an acquittal.
In assessing the seriousness of any fraud offence, the court is required to take into account a range of factors including:
The amount of money involved,
The length of time over which the offences were committed,
The motivation for the crime,
The degree of planning and sophistication, and
The extent of any breach of trust.
The offence of money laundering
Section 193B of the Crimes Act prescribes a maximum penalty of 10 years in prison for any person who deals with the proceeds of crime, being reckless as to whether the proceeds were derived from crime.
The maximum penalty increases to 15 years where the person dealt with proceeds of crime, knowing the proceeds were derived from crime.
It increases to 20 years where the person dealt with proceeds of crime, knowing the proceeds were derived from crime, and intending to conceal that the proceeds were from crime.
'Proceeds of crime' is defined as property that is substantially derived or realised, directly or indirectly by any person from the commission of a serious offence
'Serious offence' is defined as:
Any offence that can be prosecuted 'on indictment' (ie in a higher court)
Supplying a restricted substance, or
An offence committed outside NSW that would constitute the above if it were committed within the state
'Deal with' includes:
Receiving, possessing, concealing or disposing of,
Bringing or causing to be brought into NSW, by electronic transfer, and
Engaging directly or indirectly in a transaction, including receiving or giving a gift.
Mrs Hunter is yet to enter formal pleas. She is at liberty on bail pending her next court date.
Receive all of our articles weekly