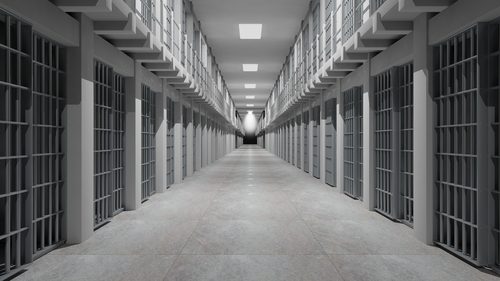 The Queensland Government has announced that it will spend $111million over the next four years, returning two privately run prisons to state management.
The Arthur Gorrie Correctional Centre and the Southern Queensland Correctional Centre (SQCC), two high-security prisons, are currently run by private operators. However the Government will now take over these contracts in response to recommendations from the Crime and Corruption Commission's Taskforce Flaxton, which last year conducted an investigation into the entire Queensland prison system.
The post-investigation report was scathing as a whole, finding a string of systemic issues, that put prisons 'at risk of significant corruption.'
These included over-crowding, excessive use of force, misuse of authority, introduction of contraband and inappropriate relationships all within prison walls. The report also found that the number of assaults on staff was higher at privately run facilities, due to lower staff numbers and therefore less supervision.
The South East Queensland Correctional Centre is run by Serco.
The two operators: Serco and GEO
Serco came under fire in 2017 after the release of the Paradise Papers which detailed that Serco's UK lawyers expressed written concerns that their client had been engaging in fraud, covering up the abuse of detainees at Australian detention centres, and even mishandling radioactive waste. The firm described Serco as a "high-risk" organisation with a "history of problems, failures, fatal errors and overcharging".
Internationally, the company runs prisons in the UK and New Zealand. In Australia it has been operating for more than 15 years, managing prisons in Western Australia and Queensland as well as 11 immigration centres. It also holds several defence contracts and is currently building a mega-correctional facility near Grafton in New South Wales.
The Arthur Gorrie Correctional Centre is run by a company called GEO. Last year GEO hit headlines when horror stories from inside the Arthur Gorrie Correctional Centre came to light in the media. An ABC documentary called 'Inside Australia's Private Powder Keg prison' revealed that a chief inspector of prisons report detailed the extent of overcrowding and problems associated with it. The report said that roughly half of prisoners were in 'doubled-up' accommodation. The report also revealed a 500 per cent increase in serious assault and a 700 per cent surge in sexual assault between 2013 and 2016.
In recent years in the US, GEO has been the centre of a number of lawsuits over the money it pays detainees to 'work' within facilities.
The company has been the subject of civil suits in the United States by prisoners and families of prisoners for injuries due to riots and poor treatment at prisons and immigrant detention facilities which it has operated. The cases are making their way through the courts.
Privatisation of prisons and detention centres in Australia
Australia has been privatising prisons for around 20 years, with mixed results.
Originally the whole idea of privatising prisons and detention centres was to save Government money, but a report by the Productivity Commission in 2012, found that while the two states with the highest spending on prisons were the ACT and Tasmania, which have no private prisons, third on the list was Victoria, which has the most private prisons, and the state that spent the least was the Northern Territory which has no private prisons.
The figures demonstrate no clear relationship between privatising prisons and tax payer savings.
Duty of care to inmates
Certainly, many who advocate for the rights of prisoners, others working in the justice system and many prisoners themselves would attest to the fact that the quality of care in private prisons is not necessarily better either. In fact, it's been said many times that the private operators are simply 'profiting from people's misery.'
System needs a complete overhaul
There have long been calls for Australia, as a nation, to find better ways to deal with those who break the law, including investing programmes aimed at better rehabilitation and recidivism. Overseas models, such as the initiatives undertaken in Norway have had great success. Crime rates are so low, prisons have been shut down.
So, whether the Queensland Government's move will actually improve overall conditions in the Arthur Gorrie Correctional Centre and the South East Queensland Correctional Centre remains to be seen. But many consider that the decision to return the facilities to state management is a band-aid solution for a broken system that needs a complete overhaul.
Receive all of our articles weekly