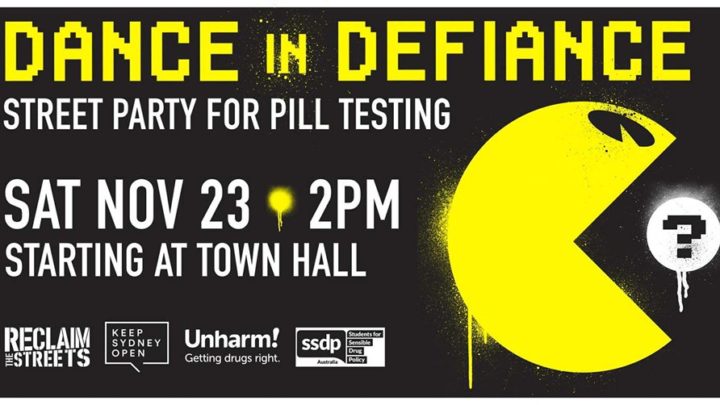 Music festivals are supposed to be a time of celebration, where young and old can attend and forget about their everyday lives for a while. There's music, dance and a general coming together and feeling good about being alive.
But, over the last two decades, authorities have been cracking down on these events, due to some patrons partaking in illicit substances. And rather than preventing drug use, what's happening is people are dying unnecessarily, and police are also making young people strip off in front of them.
It's no secret that the drug of choice at these events is MDMA. It's also common knowledge – if you care to take a look – that it's one of the least harmful drugs around.
People are occasionally dying after taking it due to a lack of quality control, meaning its either mixed with toxic substances or produced at too high a dose.
That's where pill testing comes in. It's been proven in Europe, and locally in the ACT, that this harm reduction intervention saves lives. There were multiple drug-related deaths last season without it. But, all premier Gladys Berejiklian could say regarding its implementation was, "No, no, no, no, no."
The coroner's sensible approach
The NSW deputy state coroner Harriet Grahame undertook an extensive investigation into the deaths of six young people at NSW music festivals. In her recently released report, she recommends pill testing be rolled out at festivals and at fixed sites within the community.
Magistrate Grahame also recommended that the use of drug dogs at festivals be completely ditched. The reason being is that they encourage festivalgoers to partake in harmful and potentially fatal drug taking practices – such as panic ingestion, preloading and double dosing – to avoid detention.
The coroner also suggests that strip search use be wound back. Rather than forcing teenagers to get their kit off in front of armed strangers to see if they've got a single pill on them, she suggests police only perform this invasive practice if they reasonably suspect they've got a full-scale dealer at hand.
However, NSW police commissioner Mick Fuller has been out in force this week defending his officers use of what many have referred to as state-sanctioned sexual assault. "A little bit of fear" of the cops is what young people should be feeling, he asserts, as they make their way to a big day out.
Mobilising for harm reduction
The Dance in Defiance mobile street protest is being held at 2 pm this Saturday 23 November at Sydney's Town Hall. It's calling for the roll out of pill testing and the end to drug dogs and strip searches at festivals, so that we don't have another multiple tragedy on our hands.
Five young people died at NSW music festivals last summer. And all Gladys said was "just say no", as the death count climbed higher, from the first two victims onwards. So, bringing in evidence-based pill testing might just wash a little bit of that blood off the hands of Macquarie Street dinosaurs.
The street party for pill testing is being hosted by Keep Sydney Open, Reclaim the Streets, Unharm and Students for Sensible Drug Policy. Sydney Criminal Lawyers spoke with Keep Sydney Open campaign director Tyson Koh about why the street action is so desperately needed.
Firstly, the Dance in Defiance mobile protest march is set to commence this Saturday at Town Hall. It's in response to the recommendations of the state coroner. Tyson, how significant are these recommendations?
The recommendations are incredibly significant. The coroner's office has forensically investigated the deaths of the young festivalgoers like no one else has.
The coroner received testimony from the people who have been affected, health experts and law enforcement. So, these recommendations should be respected. 
Unfortunately, what we've seen is an unwillingness on the part of both the state government and the NSW Police Force to take on board the findings. And that's incredibly disappointing. 
As you've just hinted, premier Berejiklian maintains her no pill testing stance, while police commissioner Fuller has spoken out in support of his force's mass strip search program. What are the implications of them coming back like this?
It reflects the pure arrogance of the state government and the police commissioner. What are these people experts in? Gladys comes from a background in finance. The police commissioner isn't a health expert. 
These people hold very powerful roles and are expected to take on the advice of experts working on the ground. So, for them to brazenly ignore them is quite foul. 
Dance in Defiance is to be held this Saturday. What's it all about? And what should mobilisers expect on the day?
This is a protest, there's no doubt about that. The aim of the protest is to send a message to the government, and also the police commissioner, that people aren't willing to accept their ignorance on this issue.
The main target of the government and law enforcement has been young people at music festivals. So, for us, it makes sense to have a bit of fun with this protest. 
This is a very serious issue. There's no doubt about that. But, at the end of the day, music festivals are about people having a good time. It's about self-expression. So, we want to reflect that style in this rally. 
There will be speeches. And of course, there will be lots of music, DJs and dancing as well. 
These events usually draw a pretty big turnout. So, you'll be meeting at Town Hall and marching to a mystery location? 
Correct. We're starting off at Town Hall at 2 pm. And we'll be moving on from there. 
Keep Sydney Open was a response to the lockouts. The Berejiklian government has stated it will be scrapping them – except for in the Cross – by the end of the year.
The premier's even acted like she's doing the city a favour, despite her party having implemented them in the first place. What's your take on the announcement that the lockouts are going to be rolled back?
First things first, the lockout laws haven't been rolled back. The government hasn't officially responded to the report that was handed down by the committee into the lockout laws. But, that being said, it's expected that the laws will be partially repealed within the next couple of months. 
The government has been under a lot of pressure. These laws were brought in five years ago. And because of our campaign, people still talk about it. People are still really upset. 
We've given a lot of people out there who value nightlife, as well as a lot of people in the industry, an avenue to express their dismay at the government, which reached a fever pitch around the time of the last election, where we demonstrated an ability to threaten the state Liberal government. 
The combination of the pressure that our campaign has put on government, as well as the articulate and rational arguments that we have been putting out over the last half decade have forced the government to reconsider their stance. 
Last week, the NSW parliament finally passed its music festival bill. There was a lot of outcry about the original licensing scheme the government was trying to implement. The new bill has been heavily amended by Labor.
Tyson, what sort of impact will this legislation have on the industry?
It's no longer a licensing regime. The government wanted to introduce a new licence for festivals that was going to be incredibly burdensome, as far as costs and paperwork were concerned. And that didn't happen. 
What's happened is there's been a few tweaks to how festivals have to comply. The main one is festivals have to be more diligent about their safety management plans, which isn't necessarily a bad thing. 
A huge win was removing the penalties for festival operators that potentially could have seen them go to gaol for circumstances beyond their control. So, that's very positive. 
The main thing is that the government is now committed to convening a roundtable of the industry.
There's a running theme – whether it's music festivals, lockout laws or pill testing – that the state government is notoriously bad at consulting stakeholders. But, because of the push from Labor, now the government is committed to a roundtable. 
And lastly, Dance in Defiance is about calling for the implementation of pill testing at festivals and beyond. Your organisation and the other hosts – as well as a myriad of other organisations – want to see this health intervention rolled out.
Tyson, how important is it that we see pill testing this festival season?
For us, this is all about keeping people safe, and allowing people to have fun. The push for pill testing at festivals and at fixed locations is backed up – almost unanimously – by health organisations. 
The rally is being staged with Unharm and Students for Sensible Drug Policy, who work tirelessly in ensuring that the harms around recreational drug use are minimised as much as possible. 
Pill testing is not about telling people it's OK to take drugs, it's an evidence-based approach, which has been proven to save lives, both overseas, particularly in Europe, and in Australia at the Groovin' the Moo festival. 
But, aside from that, music festivals and nightlife have been much maligned by the heavy-handed approach of the state government and NSW police, who seem to be all about flexing their muscles.
This is witnessed in their use of sniffer dogs at the entrances to festivals and train stations, as well as humiliating innocent people by strip searching them, when in the overwhelming majority of cases, nothing if found. 
For us, it's about civil liberties, as well as public safety, and shining a light on police practices that do more harm than good. That's a view that's now been backed up by the state coroner. 
We want to drag Gladys and the police commissioner into the 21st century with evidence-based policies. 
Receive all of our articles weekly