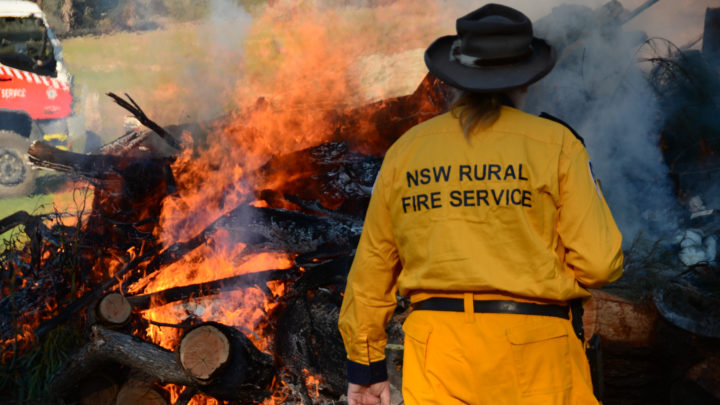 Climate scientists have linked the length and intensity of the current bushfire season – and the extremely dry conditions that have led to it – to human-caused climate change. According to them, the fire crisis is all down to the continued mining, burning and exporting of coal, oil and gas.
So, you have to give credit to how effective the misinformation campaign those on the right of politics are operating in this country, as it's led a large portion of the population to believe that the Greens are somehow behind the unprecedented bushfire catastrophe.
Our current PM has long been blatantly pushing coal. He turned up in parliament with a lump of it three years ago, and in November, he appeared before the Queensland Resources Council and explained that he'll be passing further laws to prevent public challenges to coal investment.
However, somehow, the Adani-backing conservative political forces in this country have got many believing that another party – which isn't in power and was established to conserve the environment – laid the foundations for the 6 million hectare burn due to its opposition to hazard reduction.
The truth behind the fake news
The leading proponent of the hazard reduction burns myth seems to be Barnaby Joyce. And despite numerous experts having debunked the claims, the Nationals MP is still appearing in the media propagating the idea that "green caveats" are leading to the blazes.
Former Fire and Rescue NSW commissioner Greg Mullins wrote in the Herald back in November that the conditions leading to these fires are part of an "established long-term trend driven by a warming, drying climate". And he emphasised that this is not part of a normal cycle.
"Warmer, drier conditions with higher fire danger are preventing agencies from conducting as much hazard reduction burning," the ex-top firefighter said. "Blaming 'greenies' for stopping these important measures is a familiar, populist, but basically untrue claim".
And Rural Fire Service commissioner Shane Fitzsimmons told the ABC just yesterday that while hazard reduction burns are not a "panacea", his department had met its hazard reduction targets in the lead up to the current season.
So, what's really going on?
The Australian Greens has made very clear on its website that it actually supports hazard reduction burns. It states that this has always been part of Greens policy and this hasn't changed of late.
Meanwhile, the NSW Liberal Nationals government has a bill before parliament that if passed will provide that planning authorities will no longer be required to take into consideration the impact of exported coal emissions when assessing whether new mining operations can go ahead.
NSW Greens MLC David Shoebridge has been quite vocal in pointing out that he and his colleagues are not opposed to hazard reduction burning. And Sydney Criminal Lawyers had a chat to him about what he thinks is really going on.
Firstly, there are all these assertions going around about the Greens being to blame for the bushfire crisis as it's the party's policy to reduce hazard burning. David, is there any truth behind this?
I've been a Greens MP for the better part of 10 years, and not once have I advocated or voted for limiting the amount of hazard reduction. I've worked with more than 200 Greens councillors in that time. And none of them have either.
We fully understand that hazard reduction plays an important part in fire management in NSW. However, it's only one part of a very complex response to the increased fire danger that's being driven by climate change.
So, what can we put these claims down to?
We're seeing an adaptive misinformation campaign driven by the right of politics. They're climate change denying politics is unravelling in front of their eyes. The community has seen the truth with these dreadful fires.
And in a search for a scapegoat, they've latched onto this untruth.
Earlier today, you posted a message about the NSW government wanting to take hazard reduction away from environmental agencies. Can you talk on that?
This is a push from the National Party to centralise hazard reduction in a primary industries portfolio.
For hazard reduction to be done effectively, you need to understand the ecology of the forests that you're managing. This can only be done through an environmental portfolio.
And there's a long track record of environmental portfolios undertaking hazard reduction with a clear focus on public safety.
So, in your understanding, what's the real reason behind this unprecedented bushfire season?
There's no doubt that climate change has seen our forests having record dry conditions.
Forests that had reduction burns in the last 12 to 24 months have still been so dry that they've gone up in flames, and not acted as a break to these dreadful fires.
We've also seen such intense heat conditions that there's been what are known as crown fires.  Regardless of the fuel on the ground, these involve the crowns of the eucalypts bursting into flames and then leaping from crown to crown.
It's because of the intensity of heat and the record dry conditions. This is the reality of climate change.
And lastly, David, what needs to happen in order to prevent catastrophes of this scope going into the future?
The first order of business now is to assist those people who have lost their homes and are facing the devastation from the current fire season.
But, while we're doing that, politicians need to finally start acting on climate change and taking the steps to make our future more secure.
That means legislating to end the extraction of thermal coal. But, it also means properly funding firefighting services, and not continuing the unsustainable reliance on volunteers to deal with these catastrophes.
It is a little-known fact that in the nine years that this Coalition government has been in power, they've reduced the number of paid firefighters by 110, which I find inexcusable.
This is part of their philosophical view that volunteers should be fighting these fires, not paid public servants.
Receive all of our articles weekly