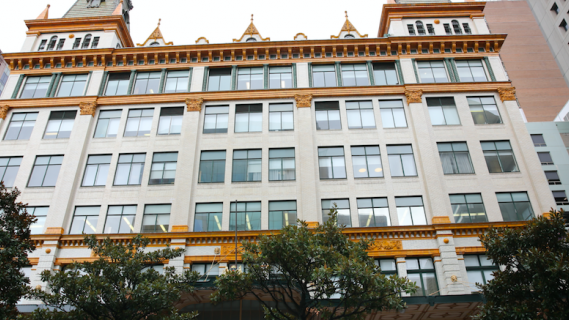 Our Videos and Blog post below is about the Downing Centre Local Court.
The Downing Centre Local Courts are located at 143-147 Liverpool Street, Sydney, which is diagnally opposite the southern end of Hyde Park near Museum Train Station.
The building now known as the Downing Centre was originally built as a department store for Mark Foy's in 1908.
It was a two-storey structure which was intended to cover the entire block intersected by Liverpool, Elizabeth, Goulburn and Castlereagh streets but was only partially completed and covers about four-fifths of the block.
The John Maddison Tower which houses a large number of civil courts including District Courts and Compensation Courts sits on the southern part of the block.
In 1924, architectural firms were commissioned to design eight additions and alterations and the building was extended to become eight-storeys high.
Mark Foy's was taken over by Grace Brothers in 1980 who traded there until 1983.
The building was converted into a court complex in 1985 and, in 1991, was named the 'Downing Centre' after Robert Reginald Downing (1904-1994) who served as Attorney General, Minister of Justice and Vice-President of the Executive Council from 1941 – 1965.
The Local Courts are located on levels 4 and 5 of the Downing Centre.
Each courtroom is normally used for a specific purpose.
Court 4.4 is the Registrar's Court and is where most state charges are first listed.
So, for example, if a person is charged with a state offence such as drink driving, assault or drug possession the case will normally first come before an administrative officer known as a 'Registrar' who will direct the case appropriately.
If the person wishes to plead guilty in the Registrar's court, the case will normally be tranferred before a Magistrate in court 4.5 – which is the 'list court' where a large number of short cases come before a Magistrate.
Court 4.6 is a custody court which means it has an area which securely contains persons brought into the court from custody. It is also one of the 'hearing courts' which is where defended hearings take place. A defended hearing is when witnesses come to court to give evidence and the Magistrate decides whether a person is guilty or not guilty.
Courts 4.2, 4.7 and 4.8 are also normally used as hearing courts.
Court 4.3 is usually where various applications are heard, such as applications for Apprehended Violence Orders and appeals against licence suspensions, traffic infringements and various other fines.
Court 5.1 is where the list of hearings for the day comes before a Magistrate, who determines whether the hearing is to go ahead and, if so, sends the case to one of the hearing courts.
Court 5.2 is where the more-serious criminal cases usually go, often before they are sent to the District Court on level 3. Those cases are usually prosecuted by the Office of the Director of Public Prosecutions (or 'DPP') rather than by police.
Court 5.5 is a Commonwealth Court and deals with matters under the Commonwealth Crimes Act and other Federal cases such as tax fraud, customs act offences and social security offences.
The Local Courts in NSW are usually 'open courts', which means that anyone can walk in and watch the proceedings. The exception is when thecourt is 'closed' for cases involving children and sexual assault.
The Cafe Downing is located at the entry of the complex and the general public is subject to security screening before entering the courthouse.
The cells are located in the basement where criminal lawyers can confer with their clients in custody.
Various services are located on level 1 such as the MERIT office and police prosecutors.
The Probation and Parole Service and Legal Aid are located on level 4, and the transcription servce and library are on level 6.
The external architecture of the Centre uses white bricks with yellow and green detailing. The entrance contains a large circular 'Mark Foy's' logo made from coloured tiles and there are numerous pieces of artwork behind glass displays on both sides.
If you have to go to court, there are far worse places to go than the Downing Centre.
Receive all of our articles weekly