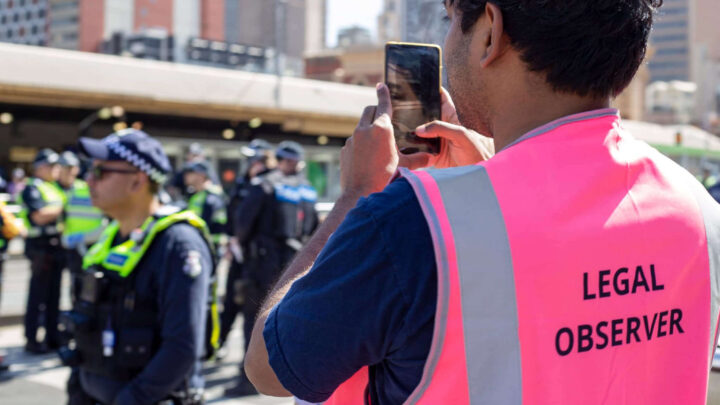 The enhancement of law enforcement powers over the COVID-19 pandemic period has dramatically changed the social landscape to the point where police officers have been empowered to maintain that the majority of the civilian population remain indoors for lengthy periods of time.
And nowhere has this been more apparent than in the city of Melbourne, where the populace is currently in a stage four lockdown, which incorporates an 8 pm to 5 am nightly curfew, along with civilians not being allowed outside of their homes without one of the very limited permitted reasons.
Meanwhile, in Sydney and Brisbane, even though restrictions were lifted months ago there's been a concerted effort on behalf of state police forces to keep a lockdown-style prohibition on protests, despite malls, bars, sports stadiums and public transport being overrun with people.
The COVID lag
The most obvious instance of police twisting the circumstances of the pandemic to limit public protest was the successful attempt by NSW police to have the state Supreme Court issue an order to prohibit a 28 July Black Lives Matter rally to be held at Sydney Town Hall.
NSW Police Commissioner Mick Fuller led the charge against the protest, claiming a similar Melbourne rally in June had led to an outbreak of coronavirus cases in public housing towers in that city, despite the experts having debunked this theory on a number of occasions.
And while Justice Mark Ierace ruled on 26 July that the Sydney BLM protest couldn't go ahead due to COVID concerns, he did note that a Sydney protest similar in scope and timing to that in Melbourne hadn't led to "any transmissions… in spite of there being at least 10,000 people in attendance".
Then when organisers of the 28 July rally turned up at the Domain to stage a COVID compliant action, it became apparent that police were enforcing a pandemic rule that bans outdoor gatherings of over 20 people "for a common purpose" regardless of any social distancing that takes place.
The political space for protest
Established in 2011, Melbourne Activist Legal Support (MALS) is "an independent volunteer group of lawyers, human rights advocates, law students and para-legals" that ensure the civil and political rights of activists are upheld.
MALS does this by sending out Legal Observer Teams to monitor police at protests, running workshops informing activists of their rights and providing legal support.
The MALS' site notes that over its time in operation public order policing in Melbourne has become "increasingly paramilitary".
And of late, while the group hasn't been required to attend many protests due to pandemic restrictions, MALS is part of a coalition of legal groups running the COVID Policing site, which has been keeping an eye on how police nationwide have been operating under their enhanced powers.
Sydney Criminal Lawyers spoke to long-term MALS Legal Observer Team leader ilo about the difference between being independent and neutral, how rights in a statute and rights on the ground can differ, and why maintaining the political space for protest is vital.
Lately, in Sydney and Brisbane, it's been observed that authorities have been cracking down on protests using the pandemic as an excuse.
Down in Melbourne, it's a bit different as you're now in lockdown. But the policing there during the pandemic has raised a few eyebrows, especially around the hard lockdown of the public housing towers.
ilo, what are your thoughts on the current attitude of Australian authorities in regard to protest and policing?
In Victoria, we've seen a police-led response to the health crisis, which is concerning for a lot of reasons.
That's especially so over the hard lockdown of the public housing flats in Flemington and North Melbourne.
You could see the amount of police being deployed there during the health emergency. And it really paints an overall picture of what we're seeing down here in Victoria.
The COVID crisis has led to less vigilance in terms of police powers. So, a lot of things that were unacceptable for police to do or say this time last year, are now permissible.
And this is eroding some of the civil liberties that we take for granted.
During the interim period between the first lockdown in Melbourne and the second that you're now in, would you say the police were taking a heavier approach to protests?
In the interim, we didn't see a lot of protests. There was the Melbourne Black Lives Matter protest, which was an interesting case for the police, because it was highly attended.
The police were overwhelmed in regard to being able to police it and enforce the restriction on the gatherings of more than 20 people. So, instead they fined the organisers.
In that case, they found themselves overwhelmed, so they took a different approach from Sydney, where it was a lot more hands on.
But, since the Black Lives Matter protest, the rhetoric from police has been a lot more restrictive than before.
MALS runs Legal Observer Teams that provide third-party monitoring of policing at protests and rallies.
How do these teams operate? And what sort of impact would you say they have?
We provide independent third-party observer teams. We have a pool of trained observers and we call out to them when we have an event. People put their hand up to come along.
We monitor police behaviours, and any interactions between police and protesters. We monitor arrests. We monitor any use of force. And we provide legal information to protesters that are there.
We also do a lot of work beforehand, such as liaising with officers to let them know that we will be there.
We're quite impactful. There's a lot to be said for protecting the political space in which protesters and activists operate in.
Legal Observer Teams around the world do a really good job in protecting that space to make sure it doesn't shrink.
So, there's accountability, and we bring a bit of a deterrent effect upon the police.
You've been leading these teams for five years in Melbourne. What sort of changes in policing have you noticed over this time?
I've noticed a militarising of Victoria police. Over that five year period, we've seen Victoria police buy more weapons, some of which are yet to be deployed.
They've been displaying a greater show of force towards protesters. And there's been a bit more of a crackdown on what they consider to be far-left or far-right protests.
I've seen more of a closing of those political spaces over the last few years. So, our role has grown.
We've gotten a lot more call-outs and there's a greater need for us to be out there, as those spaces have been closing.
As mentioned, MALS provides third-party observation. So, how does your organisation operate in terms of deciding upon which rallies to attend? And would you say MALS maintains total independence?
Protesters can reach out to us and we see if we can get a team together. MALS has been operating for a long time, so we've grown some great networks and relationships with a lot of the activists and movements.
We're independent to any activist or any organising body, so we don't get involved in organising any of these rallies or protests. But I wouldn't say we're neutral.
There is a difference between neutrality and independence. We're not neutral. We are on the side of human rights and opening up that political space for protest.
So, we stand on that side. But we are independent of any of the organising bodies that do that work.
MALS also provides legal rights training. What are the most important things demonstrators should be aware of in terms of their rights when attending rallies?
We do legal rights training. We call it Know-Your-Rights Training, which is for activists and the community in general. But that question is hard to answer, as legislation differs in different states.
In general, what we are looking for is for people to understand the difference between what it says in the law and what ends up happening in practice.
Protesters and the general public often think that just because they're in the right and they know the law, that they can say a few words that will make a police officer back off. But that isn't the way it always works.
Police officers have a lot of discretion. So, knowing your rights and then applying them are two different kettles of fish.
And lastly, ilo, MALS has been providing this service for almost a decade now. And you've been on the frontline for many years.
Up here in Sydney, many activists are concerned over the COVID-restrictions hangover that seems to be happening in regard to the policing of protests and the presence of officers on the street.
Do you have concerns about what's happening in your city along these lines?
I am concerned. The extended powers the police in Victoria have now is concerning, because what we've seen in the past, when we've given police powers so openly and freely like we have now, is that it's hard to roll them back later.
MALS is concerned that a lot of the protest restrictions that we have now will stay on post-COVID – however that will look.
We're concerned that the right to protest, and the freedoms we had before to go out on to the streets to have a rally and march might be closed down post-COVID.
There is a coalition of legal organisations that are concerned. MALS is part of that coalition, which is called COVID Policing.
It's been gathering information about incidents concerning policing strategies over the course of the COVID crisis.
There's a number of us concerned about how and when these restrictions will leave. And we're hopeful that we can go back to the old ways with that political space that we used to have.
Images supplied by MALS
Receive all of our articles weekly