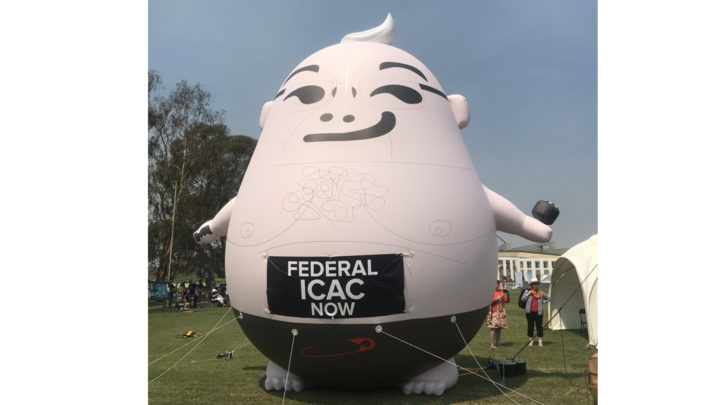 As thousands of climate protesters gathered out the front of Parliament House in Canberra this week, hovering above them was a 6-metre-high bespectacled effigy of a familiar Australian figure that's been dubbed Bullshit Boy.
As one gazes upon this image of what appears to be an Anglo Australian man with a little tuft white hair on the crown of his head, what springs to mind is he's full of hot air. This is both symbolically – as his name implies – as well as literally, because he's a blimp.
Appearing without a shirt on and in a huge safety-pinned black nappy at this week's People's Climate Assembly (PCA) in the capital, Bullshit Boy represents the lies that the Morrison government has been propagating.
The brainchild of social activist group Wake the Fuck Up Australia (WTFUA), the Bullshit Boy blimp is yet another sign of how fed up the Australian people are with the current government, which is propping up fossil fuel moguls at the expense of the entire planet.
Federal ICAC now
The huge blimp that was towering over the PCA gathering this week had a sign hanging across its belly that read, "Federal ICAC now". And this is one of the key campaigning points of the Wake the Fuck Up Australia group.
Currently, the National Integrity Commission Bill 2018 (No. 2) – which seeks to establish a federal anti-corruption watchdog – is before the lower house. Greens Senator Larissa Waters reintroduced the legislation into the Senate last September, where it passed with the support of Labor.
However, as expected, the Coalition – with the majority in the lower house – blocked the bill for debate, so it's now waiting to lapse. Indeed, Senator Waters said during her second reading speech that it was the sixth time the Greens have introduced such a bill over the last 10 years.
And in response to the persistent campaigning for a federal ICAC, the Morrison government promised to establish an anti-corruption body known as the Integrity Commission prior to the last election. However, it duly forgot about this much-derided version, when it returned to office.
An overreaction with prejudice
Meanwhile, back at the PCA protest, several activists were taken into custody for obstructing traffic. The initial arrest occurred on 4 February, and it involved WA First Nations man Daniel Taylor. He sat on a vacant road, lit a flare, and waited for it to burn out, before placing his hands above his head.
The authorities arrested him over the solo nonviolent action and charged him with arson. WTFUA members have been lending him support, as they maintain it's a trumped-up charge. And the PCA also organised a place for Taylor to stay, as his bail conditions prevent him from returning home.
Sydney Criminal Lawyers spoke to Wake the Fuck Up Australia founder Alex Devantier about the need for a federal ICAC, the PM's bewildering prioritisation of freedom of religion over all other rights, and the figure behind the giant blimp.
Firstly, Wake the Fuck Up Australia has been mobilising against the erosion of democracy in this country. Alex, can you elaborate on how the principles on which this nation is supposed to be founded are being undermined?
Through pure corruption, and ministerial standards not upheld.
Currently, you're in Canberra out the front of Australian parliament at the People's Climate Assembly rally. The PCA is a coalition of activist groups demanding the government does something about the climate emergency.
How is the week-long event going? And why would you say such a large-scale rally is needed at present?
It's about time we declare a climate emergency. The event is going fantastically. We got bigger numbers than we thought this morning, just for the vigil. And there's at least 1,000 people here at the moment. We're expecting way more by 12 pm.
As part of the Canberra action, your group has produced a 6-metre-high blimp, known as Bullshit Boy. Although, it does seem to share similarities with a well-known public figure. Could you fill us in on who Bullshit Boy is, and what he stands for?
Bullshit boy was built because we're demanding a federal ICAC. We thought this was the best way to get that across, with the novelty side of it. He's wearing a banner that says, "Federal ICAC now." And it's Scott Morrison.
It's because of his compulsive lying. His obfuscation. Everything about the man is just wrong. So, that's how we came up with Bullshit Boy.
So, how would you describe the PM's performance over the summer in regard to the bushfire crisis?
Absolutely pathetic. He's completely out of his depth.
The WTFUA website outlines that you want the political class to "return to the fundamental principles of representative and responsible government". In your opinion, what would that look like compared to what we've got today?
That would look like a federal ICAC. The reason they're getting away with all of this fraud and misappropriation of funds and so on, is because they know that they don't have to answer to anybody. And they certainly don't think they answer to the people.
Morrison promised to establish a federal anti-corruption watchdog prior to the last election. What happened to that?
Absolutely nothing. But, the point would be that it has no teeth. Barnaby Joyce requested that if the Integrity Commission was formed, then it should not have retrospective powers. What does that say? That says it all, really.
So, the federal ICAC you're pushing for is not what they were offering?
Absolutely not. Our federal ICAC would have teeth. It would be able to gaol politicians, who have done fraud straightaway.
Your group also wants to see the Religious Discrimination Bill thrown out, which is not an uncommon desire, as there's a lot of people opposed to what's being dubbed the Bigot's Bill.
And there are others out there who are just unsure as to why the PM is prioritising freedom of religion at this point in time. How do you account for what's going on here?
I can't see any use to the legislation whatsoever. It's a total trump-up by Pentecostal Christians who think that they need protection. But, from who?
If you look at the statistics, it's not happening. When was the last time you have seen somebody discriminated against in this way? I can't remember it happening. I've never seen one.
We've got anti-discrimination tribunals for a reason. And this legislation overrides all of that and turns our anti-discrimination laws into a mockery in every state.
And lastly, your list of demands includes raising Newstart and the full legalisation of cannabis. Considering we've got a government in power that doesn't seem to respond to the wants of the people in anyway, how do you foresee the kind of changes you're pushing for coming about?
I can see them all coming about via these actions, and letting the politicians know that we're not just going to stand by and let them defraud us, or make the wrong decisions in the interests of the coal lobby, who are directly inside Morrison's office. We know that for a fact.
It's going to take more and more actions. This isn't the only action to be taken by the People's Climate Assembly. We've got more coming up, as we know he's not going to change his mind on this.
Receive all of our articles weekly