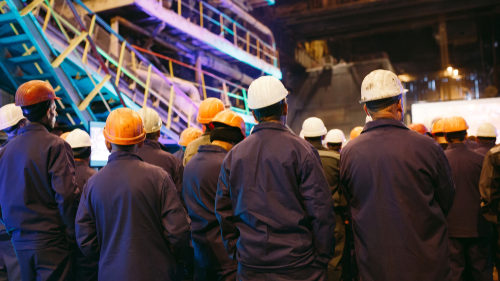 Australia has some of the most restrictive industrial relations (IR) laws in the Global North. In contravention of international labour standards, these anti-protest laws determine when actions can take place, provide enhanced abilities to stifle them, and curb unions from supporting each other.
How this translates is work stoppages in this country are at their lowest level in the post-war era. In the current political climate, industrial disputes have now decreased by 97 percent from the numbers they were at in the 1970s.
The ongoing suppression of industrial action has been directly linked to flatlining wages. At present, wage growth has been stunted at around 2.5 percent a year since 2010. This compares with an over 13 percent peak five decades ago.
And it's against this backdrop that the Morrison government last week successfully passed the Ensuring Integrity Bill 2019, which according to the ACTU, "represents an attack on working people, which has no precedent in the western world".
Indeed, this union-busting bill extends the reach of government, as well as enables a "person with a sufficient interest" – perhaps an employer – to interfere in the internal running of unions, which can lead to officials being disqualified and workers' organisations deregistered.
A targeted assault
"The Morrison government is clearly motivated by an ideological hatred of unions," an Australian Council of Trade Unions spokesperson told Sydney Criminal Lawyers.
"Despite having not released any election policy on industrial relations," they continued, "the government made it clear immediately after the election that it was happy to be a mouthpiece for the employer groups and business lobby when it came to IR policy."
The Ensuring Integrity Bill passed through the lower house on 31 July. Opposed by the ALP and the Greens, the legislation is now under senate committee review and won't be voted upon in the upper house until late October.
Originally introduced into parliament last year, the bill stalled due to a lack of crossbench support for the unprecedented measures. And on its return to the Senate, it will once again rely on crossbenchers, with four out of the six required to vote in its favour to see it passed.
The nation's largest peak body representing unions asserts that the proposed "integrity" laws would have a huge impact on a worker's ability to be legitimately represented or assisted in workplace matters at a time when issues around harassment and safety are systemic.
"Unreasonable interference in the operations of unions reduces their capacity to bargain and win better wages and conditions for workers, compounding the problems of wage stagnation and wage theft," the ACTU spokesperson outlined.
Disqualifying union officials
The Fair Work (Registered Organisations) Amendment (Ensuring Integrity) Bill 2019 proposes to amend the Fair Work (Registered Organisations) Act 2009 (the Act). Schedule 1 of the amendment legislation does this in relation to disqualification from office.
It initially provides two new definitions. The first is a "designated finding", which is a finding that entails a person having committed a criminal office against, or having contravened civil provisions under, various industrial acts, which it defines as "designated laws".
New section 222 of the Act allows for the industrial relations minister, the commissioner and that "person with a sufficient interest" to apply to the Federal Court for an order to disqualify a union official from their position.
Sufficient interest, the bill's explanatory memorandum sets out, has been judicially interpreted as "an interest beyond that of an ordinary person and includes those whose rights, interests or legitimate expectations would be affected by the decision".
And new section 223 stipulates under which circumstances the court can issue a disqualification order, which includes a designated finding, multiple failures to prevent union contravention of laws, or having committed a serious criminal offence.
While much has been made of the provisions relating to criminal offences, the ACTU spokesperson pointed out that "under this bill, union officials could be barred from holding an office because they breach civil provisions of the Fair Work Act, which are grossly out of step with the rest of the world".
Cancelling unions one by one
Schedule 2 of the Ensuring Integrity Bill amends the Act, so as to provide a streamlined process to cancel the registration of a union. This would allow the minister, commissioner, or a "sufficient interest" person to apply to the Federal Court to see a union deregistered.
Grounds for deregistration include the organisation, part of it or its officials or members not complying with designated industrial laws. And this could easily entail workers taking industrial action that steps outside of the highly restrictive work stoppage laws that are already in place.
"Participating in stop work action over safety concerns held by workers for their own and public safety," the ACTU spokesperson explained, "could result in deregistration of a union". And the recent industrial action taken by hospital staff in NSW is an example of where this could apply.
Further broadening reach
The third schedule of the union-busting bill sets out a new framework, whereby those same parties can apply to the court to have an outside administrator sent in to take over the running of a "dysfunctional" union. This can include when multiple breaches of industrial laws have occurred.
And the final schedule provides new limitations around the amalgamation of two or more unions. Its provisions allow the Fair Work Commission to make a ruling on whether the joining together of unions is in the public interest, as in whether it will have an adverse effect on the economy.
An ongoing attack
ACTU secretary Sally McManus stated back in early 2017 that she has no problem with workers breaking "unjust" laws in terms of taking industrial action. And it's these breaches of draconian work stoppage restrictions that the integrity laws are aimed at.
Industrial relations minister Christian Porter announced in late June that the Liberal Nationals government is undertaking a review of the nation's workplace laws. And it's thought that this business focused inquiry will result in the drafting of further repressive industrial measures.
As far as the ACTU spokesperson is concerned, big business interests see the Morrison government "as a chance to further erode workers' rights and find new ways to slash pay and conditions".
"Workers deserve a government which puts their interests ahead of multinational companies and the very richest Australians," they concluded.
Receive all of our articles weekly