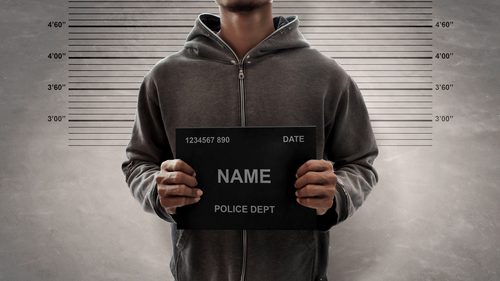 Australian Federal Police are seeking the public's help to find ten of Australia's most wanted fugitives in the land, who are said to be hiding amongst local communities.
Crime Stoppers warns these dangerous people could be your neighbours, work colleagues or faces you see regularly at the local shops and pubs, as it is 'quite simple' for people to fly 'below the radar and assume lives in a new town or a city'.
Australia is a big country with plenty of places to blend in, and it can be relatively easy for those suspected of criminal offences to move to another town, city or state and take on a whole new identity.
Captured criminals
Drug runner Bradley Murdoch was on the run for four years before he was captured, charged with and convicted of murdering British backpacker Peter Falconio, as well as a string of other serious crimes.
Convicted murderer Malcolm Naden spent seven years on the run in New South Wales before being tracked down by police in 2011, after they offered a $100,000 reward for his capture.
Social media, digital surveillance and working relationships between inter-jurisdictional police departments, as well as the proliferation of CCTV, are all said to be making it harder for fugitives to stay on the run.
Crime Stoppers appeals for help
Crime Stoppers has thanked members of the public for being instrumental in the capture of crime suspects.
Last year more than half of the fugitives listed in the 'Rogue Radar' appeal were captured, thanks to tip offs from members of the community.
This year's Rogue Radar features 10 of Australia's most wanted fugitives – all of whom are considered armed and dangerous.
Two of the men are wanted in Victoria – Graham Potter is facing two counts of murder and has been in hiding from authorities since 2008. While Johnathan Dick is wanted for murdering his brother with a samurai sword at a shopping centre car park in Melbourne last year.
New South Wales
Police are looking for New South Wales man Cody Coppock, who is suspected in an aggravated break and enter, and has "Gallegos" tattooed on his forearm.
Paul Steadman is wanted for the alleged sexual assault of a boy in Bathurst.
Newcastle man Harley Bennett was recently arrested after going into hiding in 2010, when he allegedly committed an act of aggravated sexual assault in company and breached parole, and Paul Paterson is on the run after breaching parole following an alleged serious assault of his two-year-old stepdaughter in 1996 in Wachope.
Other states
In Queensland, Arron Michael Blenkinsop is being sought for drug trafficking – he was last seen in Cairns.
And in South Australia Jonathon Robert Simmons is being hunted after allegedly committing 10 deception offences in Adelaide. He is suspected of obtaining more than $50,000 from a fraudulent website scam.
Convicted drug trafficker Keith Porter is also on the list, as is Pham Nguyen who is wanted for conduct endangering life – police believe he threw petrol onto a female driver last year, causing her to crash into a pole.
Crime Stoppers has released photos and descriptions of the most wanted on its website, in the hope that members of the public may recognise them and be able to provide details of their whereabouts.
Receive all of our articles weekly