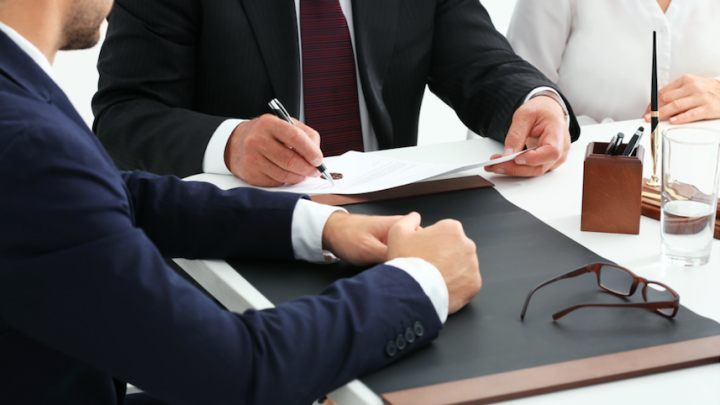 There comes a time when most of us will need a lawyer, whether to buy or sell property, recover a debt, or something that can be even more stressful such as a family or criminal law issue.
So it's good to know that the Law Society of NSW has put together a search facility where you can locate the right lawyer, whatever your situation may be.
The Find a Lawyer page is an online directory of all NSW lawyers and law firms who currently hold a practising certificate.
An Australian practising certificate is a licence that allows a person to provide legal services. All practising NSW lawyers must hold one, and renew it annually. It certifies a lawyer has satisfied their training requirements, and agreed to abide by the profession's strict rules and codes of conduct.
Up-to-date and easy to access
The lawyer search engine provides three tabs, so you can either search for an individual solicitor, a law practice or a mediator. And you can even download the Find a Lawyer App for Apple or Android devices.
In regard to mediators, the practitioners listed are members of the Law Society of NSW that have indicated they're also mediators. The Law Society doesn't check their mediator qualifications, so, they recommend that you do prior to engaging with them. And it's also wise to shop around.
The listing of lawyers on the site is constantly being updated, so you can rest assured that most NSW solicitors can be found on there. But if you do have any trouble finding a solicitor, you can contact the Law Society Registry directly, and they can help you with your query.
Solicitor Referral Service
But, if it's your first time trying to locate a lawyer for a specific legal matter, it can be a little daunting. So, the Law Society of NSW provides a Solicitor Referral Service, to make things that much easier.
The database contains around 1,600 private law firms, who've registered their details, the areas of law they specialise in, as well as any other relevant information. This allows the Law Society to easily find a firm to meet your individual needs, and respond with some recommendations promptly.
The Law Society will locate up to three solicitors for you that are easy to locate, and offer services in the areas of law that you require.
And if you ask, they can also include special criteria in the search, such as firms with solicitors, who make home, hospital or prison visits, can take after hour calls for criminal matters, are fluent in languages besides English, or have female solicitors on hand.
The ins and outs
While the referral service is free, the private firms and solicitors you're referred to will charge their normal fees. So, you should ask about the costs of a first appointment before booking, as not all listed firms have free initial consultations.
There's further information about how law firms charge here.
You can contact the referral services by phone on (02) 9926 0300 Monday to Friday between 9 am and 12 pm, and 1 pm and 4 pm. Or you can email a request to referral@lawsociety.com.au. Remember to include your request criteria and contact details.
And you can also complete an Online Referral Request form.
Once your request has been processed, you'll receive a referral letter, via post, email or fax. It will outline the three recommended firms. Then it's up to you to contact them. But remember, the firms are under no obligation to provide you with their legal services.
What is an Accredited Specialist?
In the legal profession an Accredited Specialist is a practising lawyer who has demonstrated a high level of ability in that area.
This scheme operates to help the general public with identifying lawyers with proficiency in different areas of law.
Once a lawyer has fulfilled the scheme requirements, they're permitted to use the words "Accredited Specialist" in their nominated area of speciality after their names.
Only individuals can become Accredited Specialists. Firms cannot.
But, why should you use an Accredited Specialist?
Well, they're highly qualified and experienced. An Accredited Specialist must have practised law full-time for five years, and worked in their area of legal speciality for at least three years.
To become an Accredited Specialist, a lawyer must have passed the Law Society's rigorous, multi-staged assessment process.
And these lawyer must renew their specialist credentials on a yearly basis, along with maintaining their level of skills and knowledge within their area of expertise.
Finding an Accredited Specialist

To find an Accredited Specialist you can visit the Find a Lawyer page, and narrow down your search to the area of law you need. You can simply use the arrow in the Accredited Specialist field, and search for the following areas of law:
Advocacy
Business and Personal Tax Law
Business Law
Children's Law
Commercial Litigation
Criminal Law
Dispute Resolution
Employment and Industrial Law
Family Law
Government and Administration
Immigration Law
Local Government and Planning
Planning and Environment Law
Mediation
Personal Injury
Property Law
Wills and Estates Law
The Pro Bono Scheme
The Law Society of NSW Pro Bono Scheme can put individuals in contact with law firms that are willing to provide services free of charge or for a reduced fee. The services can range from legal advice, documentation preparation and representation in court.
To be eligible for the scheme an applicant must have initially applied to Legal Aid for assistance and been refused. And proof of this is required. An applicant must also satisfy scheme assessments, and have a matter that holds merit and/or reasonable prospects of success.
The type of matter that you have must also be covered by the scheme. A list of matters that are covered, along with a list of those that aren't are available here.
Matters that are covered include criminal law, divorce and employment law. While matters, such as child support disputes, defamation and motor vehicle accidents are not.
However, the Law Society's pro bono solicitor does have the discretion to accept matters outside of the guidelines.
To apply, you can complete an online Application for Pro Bono Referral form, or you can print the form and send it into the Law Society, along with any other required documentation.
After-hours criminal law assistance
The Law Society of NSW also has a list of private lawyers that are willing to provide legal assistance after hours for criminal matters. The list is for the public's convenience, and is by no means a recommendation, or endorsement, by the Law Society of the listed firms and solicitors.
Sydney Criminal Lawyers®, one of the leading criminal law firms in Australia, has a 24 hour hotline on (02) 9261 8881 for those in need of after hours assistance. The firm offers a free first appointment to anyone who has a criminal or traffic case and is going to court.
Receive all of our articles weekly