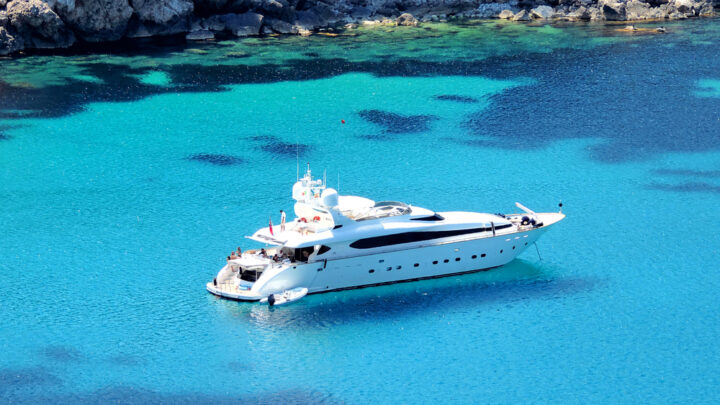 While thousands of people have been told they cannot leave the country, a Sydney businessman has been given permission to pick up a luxury yacht in Europe.
When the Federal Government shut Australia's international borders in March, it made it very clear that only Australian citizens, residents and immediate family members could come into Australia, and that they must self-isolate on arrival.
Furthermore, the Government banned overseas travel for the majority of Australians stating that no one is permitted to leave the country, unless they have been granted an exemption – which is possible on grounds of urgent personal business, compassionate reasons, travel for critical business or industry, travel in the public interest, and the provision of humanitarian or medical aid.
But, as we have witnessed time and again, the actual enforcement of all the new Covid-19 laws is frustratingly inconsistent. There are thousands of Australians who can't travel to family and loved ones overseas, even in the most dire circumstances, and yet a Sydney businessman who is well connected with the Federal Government was recently granted an exemption to travel to pick up a new luxury yacht in Europe.
Travel is ok for some, not for others
Jost Stollmann, the former chief executive of ASX-listed Tyro Payments, was given permission to leave Australia at the end of May and is now waiting out the pandemic on board his yacht in the Greek islands.
Having lived in Australia since 2004, and granted citizenship in 2011, Mr Stollmann is subject to the ban on citizens and permanent residents leaving the country without permission from the government.
While the Australian Border Force has not publicly commented on the specific case, it's understood that Mr Stollman is steadfastly against the Government's current controls over travel, calling them "incomprehensible and intolerable" because they violate Australians' fundamental right to freedom of movement.
He also expressed concern that there has been little public debate or judicial due process over these laws.
He's not the only one, although clearly the ban is no longer affecting him.
Thousands of Australians remain separated from family and loved ones
There are hundreds of Australians currently separated by Covid-19 restrictions; not just by inter-state border closures, but the international border shut down too.
Between March 25 and August 16, Australian Border Force (ABF) received requests from more than 100,000 Australians for international travel exemptions. The agency granted about one-third. Some requests are still being processed because ABF has requested more information, while nearly 11,000 have been refused permission to travel.
In the meantime, there are more than 18,000  Australians stranded overseas, unable to get flights due to the Federal Government's cap on international arrivals. Last month, Parliament voted to half the number of flights permitted each week into Australia in order to better manage quarantine for new arrivals.
Department of Foreign Affairs and Trade (DFAT) officials told the Federal Government's Covid-Safe Australia committee last week that they had received complaints about some airlines cancelling economy class tickets and replacing them with business and first class seats, – in effect, pushing up international airfares to make the price unaffordable for many. DFAT, of course, is powerless to intervene in the commercial operations of these airlines.
No clear timeframe for re-opening
And there is no end in sight. For many, the toll on their mental and emotional wellbeing has been enormous. At this point in time, there is no clear deadline for inter-state or international borders reopening.
State leaders are maintaining a 'wait and see' approach to borders and, so far, the Federal Government's only commitment to changing its stance on international borders is that in Stage 3 of the national CovidSafe Australia plan, it would reconsider the policy and potentially open borders to New Zealand.
This is cold comfort for the families and loved ones who remain separated, vulnerable and in limbo.
Receive all of our articles weekly