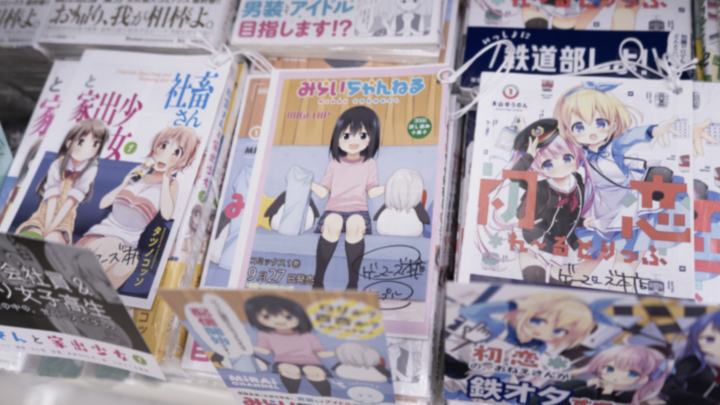 When do cartoons become so offensive the criminal law needs to step in?
'Lolicon' is a subgenre of Japanese manga and anime that some have argued constitutes child pornography, which is known as 'child abuse material' in New South Wales law.
Here's an outline of the rules that apply under our criminal law when it comes to this obscure Japanese genre.
What is Lolicon?
'Lolicon' is a Japanese contraction of the phrase "Lolita complex".
In Japan, lolicon is often used to describe a person with a sexual preference for young girls or childish-looking adult women. Lolicon manga and anime are cartoon depictions of childish-looking female characters called lolis  often in an erotic manner.
Lolicon has proven popular both within and outside Japan, sparking serious concerns that it glorifies paedophillia and constitutes a form of child pornography.
In 2020, Australian Senator Stirling Griff criticised the Australian Classification Board for allowing lolicon manga and anime to be imported into Australia. The Senator described the genre as depicting "child exploitation" and called for a review of the ratings regulations.
Some scholars of Japanese culture have argued that the appeal of lolicon to fans isn't consistent with real-life child exploitation. Manga researcher Yukari Fujimoto argues that lolicon's desire "is not for a child, but for the image itself," and that this is understood by those "raised in the Japanese culture of drawing and fantasy".
Cultural historian Mark McLelland argues that lolicon is "self-consciously anti-realistic" with little relationship to real-life children, instead existing as an exaggerated, cartoonish depiction of an infantile femininity.
Whatever the intention of consumers, it is very likely that the production, distribution and possession of lolicon media in Australia violates the criminal law.
Child Abuse Material Offences
Lolicon is likely to breach a number of serious criminal offences at both State and Federal level, which cover the possession and production of  child abuse material.
Section 91H of the Crimes Act 1900 (NSW) outlines the offence of producing, disseminating or possessing child abuse material, which comes with a maximum penalty of 10 years imprisonment.
"Child abuse material" is material which depicts or describes in a way that reasonable persons would regard as being offensive:
A child that is the victim of torture, cruelty or physical abuse, or
A child engaged in a sexual pose or a sexual activity, or
A child in the presence of another person that is engaged in a sexual pose or sexual activity, or
The private parts of a child.
In determining whether material is offensive to a reasonable person, the following matters must be taken into account:
The standards of morality, decency and propriety accepted by reasonable adults
The literary, artistic or educational merit (if any) of the material
The journalistic merit (if any) of the material
The general character of the material
Lolicon media likely fall within the definition of child abuse material does not just encompass depictions of real children, but also fictional characters and drawings depicting someone who appears to be under the age of 18.
In the case of McEwen v. Simmons, the NSW Supreme Court upheld a child abuse material conviction where the material accessed cartoons of children from The Simpsons engaging in sexual interactions.
The issue in dispute was whether the cartoon characters fell within the definition of a 'person' under the NSW offence.
The Court ultimately found that offence was made out because 'person' includes fictional or imaginary characters, whether or not they are a realistic representation.
"Lolicon" imagery is likely to be "offensive" to standards of reasonable persons, particularly given the national controversies over the sexualisation of children and our national classification guidelines prohibiting this material (see below).
It could be possible that lolicon media would fall within the defence of having "artistic" merit, however without a good test case to compare it seems unlikely that this defence would be available.
The Criminal Code Act 1995 (Cth), which applies throughout Australia, also contains several offences prohibiting the production, distribution and accessing of material that sexualises children.
Under section 474.22 of the Code, it is a criminal offence to use a carriage service, such as the internet, to:
Access child abuse material;
Cause child abuse material to be transmitted;
Transmit, make available, publish, distribute, advertises or promote child abuse material; or
Solicit child abuse material.
There is a further offence under s474.22A of the Code regarding the possession or control of child abuse material via a carriage service, which applies whether a person intended to access the material or not.
Section 471.19 prohibits the use of a postal or similar service for child abuse material, while section 471.20 prohibits possessing, controlling, producing, supplying or obtaining child abuse material for use through a postal or similar service.
Each of these offences carries a maximum penalty of 15 years imprisonment.
Similar to the NSW offence, Federal offences apply to all "depictions" of people under the age of 18, including cartoons, dolls and even written descriptions of sexual activity.
Selling or possessing prohibited material
More minor offences also apply to lolicon as material which would be refused classification under Australian classification laws.
Media which is to be sold, exhibited or distributed in Australia must first be classified by the Australian Classification Board.
Under both film and publication guidelines, material which includes "descriptions or depictions of child sexual abuse or any other exploitative or offensive descriptions or depictions involving a person who is, or appears to be, a child under 18" must be refused classification and will be prohibited nationally.
The Classification (Publications, Films and Computer Games) Enforcement Act 1995 (NSW) contains several offences relating to the sale or exhibition of prohibited publications or films.
These include:
Keep On The Right Side Of Law
As should be clear, fans of Japanese anime and manga should steer clear of lolicon in order to reduce the risk of serious criminal consequences.
If you have been accused of sharing, having, sharing or making child abuse material, call Sydney Criminal Lawyers anytime on (02) 9261 8881 to arrange a free conference with an experienced criminal defence lawyer who will advise you of your options and the best way forward.
Receive all of our articles weekly
Author
Jarryd Bartle
Jarryd Bartle is an Associate Lecturer in Criminology and Justice Studies at RMIT University and a consultant for the
Bridge of Hope Innocence Initiative
, which investigates claims of wrongful conviction and advocates for systemic reform to protect against miscarriages of justice.