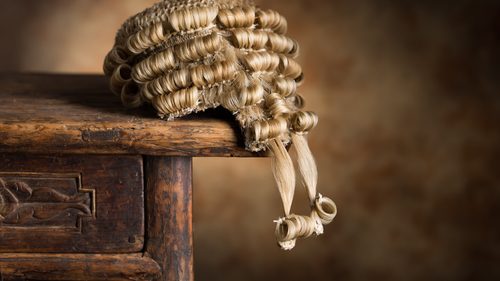 The legal profession across Australia's is mourning the death of its longest serving barrister, Brian Bourke AC who passed away aged 88 after a short illness.
Tributes have been flowing on social media for the man known for many things, but perhaps most of famously for defending Ronald Ryan, the last man to be hanged in Australia.
In 1967, Ronald Ryan was given the death penalty after being found guilty of murdering a warden during an escape from Pentridge Prison. Many years, Brian Bourke described his condemned client as the "toughest man I've ever known" because he faced the gallows without fear.
Shortly before his retirement in October last year, Mr Bourke, known as "Bourkey" to colleagues and friends, had a chambers on Melbourne's Lonsdale Street named after him – an honour which both amused and filled him with pride.
Modest humanitarian
Mr Bourke is remembered as a modest man who shunned accolades.
He refused to take silk (Queen's Counsel or Senior Counsel) throughout his entire career, as he did not believe in the title.  He famously told the Victorian Bar that the money "silks" were paid was "bordering on obscene"… and that "the Queen has quite enough Counsel; and I'm Irish."
He practised law continuously for more than 57 years and leaves behind a legacy of advocacy on human rights and social justice issues. In 1998, he was one of the first Victorian barristers to be recognised as a "Legend of the Bar".
Passionate about AFL
Mr Bourke was also a passionate AFL supporter.
He served as a football administrator and became a lifetime AFL member, having served as president of the Sydney Swans, when it was the former South Melbourne Football Club. He served on the AFL Tribunal from 1976-82 and the AFL Appeals Board in the 2000s.
Bourke was the first Amnesty International member from Australia. The group's first local meeting was held in his barrister's chambers, and he was made a Member of the Order of Australia (AM) in the Queen's Birthday honours last year.
An outpouring of tributes to the legendary barrister and humanitarian  following the news of his passing over Easter.
Rob Hull, the director of RMIT's Centre for Innovative Justice, wrote on Twitter: "Vale Brian Bourke. A wonderful barrister, a real fighter for the underdog, and a true gentleman. Will be sadly missed."
Fiona McLeod SC, Victorian barrister and immediate past president of the Law Council of Australia, tweeted: "Farewell Bourkey. Never too busy to guide a youngster like me #auslaw #ausbar @AustBarAssoc".
Fellow barrister Peter Morrissey SC, said Bourke was generous with his time and always happy to appear for free for people who needed it.
"He was very approachable to all walks of life, whether they were rich or poor. He was universally loved by the magistrates, by the lawyers and by everyone in the system."
Unlikely barrister
Becoming one of Australia's most well-known barristers was not always on the cards for Brian Bourke.
He didn't complete high school, and at the end of grade 11 went to work for the State Lands Department.
It wasn't until years later that he completed year 12 and was admitted as a solicitor in Victoria in 1953. Initially, he specialised in licensing, liquor laws and crime and authored the first edition of Liquor Laws (Victoria) in 1962.
Brian Bourke's legacy is one of hard work, dedication and commitment to the legal profession and he will continue to be an inspiration to generations of lawyers to come.
Receive all of our articles weekly