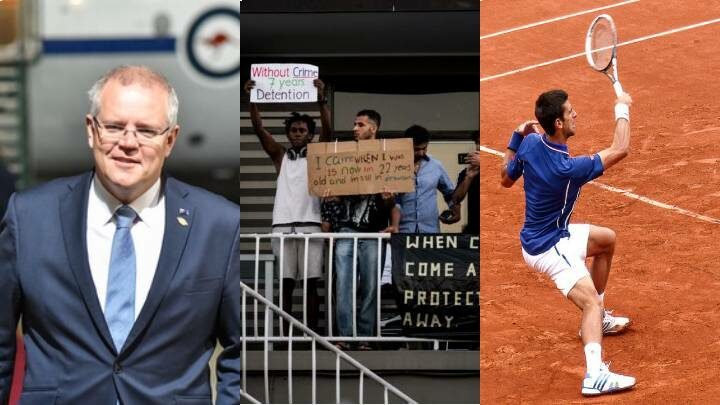 The deportation of the world's number one tennis player, Novak Djokovic, on the spurious ground that he had the potential to provoke antivaxx sentiment, rather than any stated mission to do so, was political theatre par excellence, as the PM, once again, played on growing social divisions.
But the Morrison government's performance also revealed the "god-like powers" the immigration minister has under the Migration Act 1958 (Cth), which permit the minister to cancel a visa on a whim, regardless as to why an official or a court has granted or reimposed it.
Section 133C(3) of the Migration Act (the Act) permits the minister to cancel a visa if they consider its holder has satisfied one of the cancellation grounds under section 116 of the Act, and if they also consider it "in the public interest" to do so.
While Section 116(1)(e) of the Act permits the minister to cancel a visa when they're satisfied "the presence of its holder in Australia is or may be, or would or might be, a risk to… the health, safety or good order of the Australian community". This was the ground applied in the tennis star's case. 
Now, we all know the PM's right-hand man, immigration minister Alex Hawke, cancelled Djokovic's visa, but what's lesser known is it was his boss, Scott Morrison, who laid the foundation for this saga when he oversaw the passing of these very laws back in 2014, as he held the immigration portfolio.
Where the bloody hell are we?
Then immigration minister Scott Morrison introduced the Migration Amendment (Character and General Visa Cancellation) Bill 2014, which inserted section 133C into the Act, and added the current "health, safety and good order" clause into section 116.
This bill contained a swag of further draconian measures designed to eject people from the country, including the revising of section 501 to allow for noncitizens who've been sentenced to at least 12 months prison time to be automatically deported regardless of the crimes and actual time served.
The character test in 501 has since led to the mass deportation of mainly residents, with the biggest cohort being New Zealanders. And when the number of noncitizens falling under the reach of 501 started to run down, immigration turned its eye to section 116 to continue the process.
In relation to the section 116 powers used to turf out Djokovic, Morrison said in 2014, "the amended provision will provide that noncitizens on temporary visas, who pose even a low level of risk, will be eligible for visa cancellation".
Since the PM reopened the Christmas Island immigration gulag in April 2019 – in a kneejerk reaction to the passing of Medevac laws – it's mainly been used to warehouse noncitizens being deported on character grounds, who often wait in limbo without knowing when their final departure will come.
A criminal portfolio
Human rights barrister Julian Burnside told Sydney Criminal Lawyers in 2018 that he considers "every prime minister and immigration minister since October 2002 – with the possible exception of Chris Evans" –  guilty of crimes against humanity, under section 268.12 of the Criminal Code (Cth).
Burnside was referring to the mass incarceration of asylum seekers and refugees in offshore detention centres on Nauru and Manus Island.
Section 268.12 carries the crime against humanity of imprisonment or other severe deprivation of physical liberty. And it was enacted in late 2002, in accordance with the International Criminal Court's Rome Statute, which entered into force in this country in September that year.
In terms of former immigration minister Chris Evans, the Labor MP told a parliamentary committee at the time he held the position in 2008, that he considered he had too much power in the role due to Howard era amendments. And this was before the Djokovic powers existed.
"I have too much power, in terms of the power given to the minister to make decisions about individual cases," Evans said. "I'm uncomfortable with that, not just because of concern about playing God, but also because of the lack of transparency and accountability for those decisions."
However, it would appear that in holding the same position, Morrison felt his power failed to reach far enough. And he sought to deliver consistency in the "personal ministerial decision-making powers across both the character and general visa cancellation powers".
Downtown prison with a view
When the Morrison government cancelled Djokovic's visa, they placed him in Melbourne's Park Hotel, which has served as an immigration prison for dozens of former offshore refugee detainees since late 2019.
These asylum seekers and refugees have been held in indefinite detention for going on nine years, and while thousands were once held in offshore facilities, around 90 percent have since been resettled here and overseas, leaving the last few in detention with no idea why they're still there.
"I don't know why," detainee Mehdi Ali told Democracy Now last week from inside the Park. "It could be for the sake of a policy, so they can point their fingers at us as sacrifices, and no one giving us any deadline and no one telling us when we get out of this indefinite detention."
Ali, a 24-year-old Iranian refugee, has been held in indefinite detention by Australia since he was 15 years old.
This nation adheres to the nonrefoulement principle contained in the 1951 Refugee Convention, which prohibits states from returning refugees to the country from which they fled, when it entails a genuine risk of irreparable harm.
Morrison, as immigration minister, signed Ministerial Direction No. 65 into being in December 2014, which specifically states that the section 501 powers will not be used to contravene nonrefoulement obligations that this nation has been a party to since it ratified the convention in 1954.
However, this means that certain stateless individuals and refugees have since been languishing in indefinite detention.
On 30 September last year, there were 117 individuals in Australian immigration detention facilities, who'd been there for over five years.
And after human rights lawyer Alison Battisson located a legal loophole that permitted one such long-term detainee to be released into the community, the Morrison government passed the Clarifying International Obligations for Removal Bill, which ensured indefinite detention is permitted.
Arbitrary powers may increase
In the wake of the final decision to cancel Djokovic's visa, Australian Lawyers Alliance (ALA) has put out a statement highlighting how arbitrary local border policies and immigration laws are.
"The broad discretion given to the minister means that political considerations drive decisions that can seriously impact people's lives," ALA spokesperson Greg Barns SC said. "It is astonishing that we have allowed one person to have this level of unchecked control and extraordinary power."
The barrister, who's provided counsel in immigration cases, outlined that the powers of both the migration minister and border control officials have been growing exponentially over time with "no corresponding increase in transparency or accountability".
However, Morrison and Hawke are currently pushing for new laws, under the Migration Amendment (Strengthening the Character Test) Bill 2021, which was introduced last November, after a similar set of laws was voted down in a separate bill of the same name the month prior.
The new laws would provide the immigration minister with further discretionary powers to cancel the visa of a noncitizen if they've been convicted of certain offences here or overseas, regardless of the sentence applied. This would mean common assault would be captured in certain circumstances.
"This government's obsession with harsh border policies combined with its arbitrary approach to visa cancellation and detention has created a debacle this week," Barns concluded his statement, "but, more importantly, has destroyed the lives of thousands of people for many years."
Receive all of our articles weekly