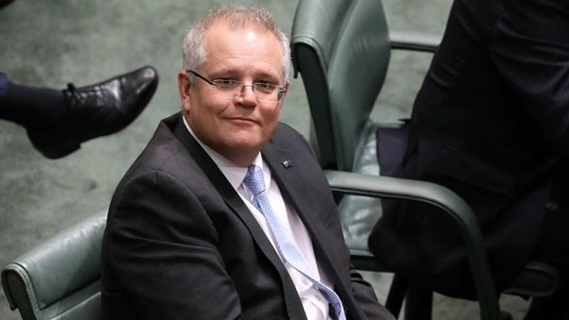 "Apocalyptic in tone. It brooks no compromise. It's all or nothing. Alternative views are not permitted."
One could be forgiven for thinking these statements were a description of Scott Morrison's religious beliefs, if they weren't actually his own words.
As he preached at a podium before a room full of his fossil fuel mates at a Queensland Resources Council lunch last Friday, the Pentecostal PM was actually referring to the rising climate activist movement in Australia, or as he put it, a "new breed of radical activism".
The prime minister hinted at the impact Extinction Rebellion is having, when he spoke of a "new absolutist activism" that's been mobilising in "Queensland and elsewhere". And he added that its members think they've got "an unlimited licence to disrupt people's lives".
But, these street demonstrators were not the main target of Morrison's diatribe. This time he was taking aim at "an escalating trend in the form of secondary boycotts", which is a much broader net that would include the efforts of many of the PM's favoured "quiet Australians".
We the corporates
A secondary boycott is when activists put pressure on one company, so it stops doing business with another. Significantly, this sort of activism resulted in financial institutions globally boycotting investment in Adani's Carmichael coalmine, which saw the project dramatically scaled down.
"Environmental groups are targeting businesses and firms who provide goods or services to firms they don't like," Morrison told the old fossil fuel order. He even pointed to this form of activism as being a more "insidious threat than the street protests".
The Liberal leader announced that he and attorney general Christian Porter are currently drafting legislation that would enable "these indulgent and selfish practices" to be outlawed. And later that same day on 3AW, he pointed to an existing ban that prevents secondary boycotts by unions.
In spruiking this new direction that he plans to take mounting anti-protest laws, the PM yet again signalled that his government legislates with the interests of big business and corporations in mind, while the "quiet Australians" sit by silently, as their rights further dwindle.
Corporate security
The prime minister is hardly alone is his disdain of climate activists. As always, Peter Dutton had something nasty to chime in. The home affairs minister told Nine News last Friday that he wants protesters to foot the bill for police sent in to deal with them.
The most drastic scenes in this crackdown on dissent came from Melbourne last week, as Victoria police officers laid into nonviolent protesters out front of the International Mining and Resources Conference (IMARC).
Batons, capsicum spray and horses were all deployed in an excessive show of force.
As the images of police brutality did the rounds of the internet, it was a stark reminder that police essentially operate in much the same way as politicians from the major parties do: in the interests of the corporates to the disadvantage of the citizenry.
Indeed, the role police took at the IMARC actions was the same that modern police forces have always taken. When these institutions were created in the UK and the US in the mid-1800s, they were brought in by ruling elites to combat collective actions that threatened their interests.
Receive all of our articles weekly