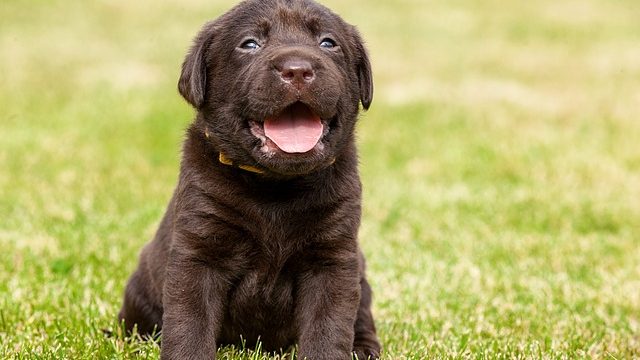 General and Cossie – named after Governor-General Sir Peter Cosgrove, patron of Assistance Dogs Australia – are little black Labrador puppies sent to the Frank Baxter Juvenile Justice Centre at Kariong in June last year.
The pups' crimes were relatively minor—not coming when called, chewing furniture, and a few toiling accidents— so Assistance Dogs Australia and a few carefully selected inmates have been able to help them learn some skills that will provide untold benefits to disabled Australians when they graduate from their Pups in Prison program.
Jenny Reid from Assistance Dogs Australia describes the program as a "triple win". By bringing puppies into prisons for training by inmates, Assistance Dogs Australia receives a helping hand with training, the inmates themselves find the experience rewarding, and the puppies are able to support people living with disabilities.
Assistance Dogs are provided free of charge for those in need, including sufferers of paraplegia, quadriplegia, cerebral palsy, multiple sclerosis, developmental disabilities such as autism, and mental health disorders such as post-traumatic stress disorder (PTSD).
Trained dogs reduce reliance on human carers and help overcome social isolation, but each dog takes about two years to train, which costs around $27,000.
Craig Derwin, who manages assistance programs at Frank Baxter, told the ABC he has seen the program provide teach young inmates how to be more responsible:
"They start to show a lot more maturity, because they've got some responsibility in relation to these dogs and the programs and the training that takes place," he said.
Although it all sounds very cute, the responsibility of training a puppy is far from child's play – often taking several months of repetitive and intensive training to get young pups up to scratch. But experts agree that taking responsibility for a pet provides very real benefits for those who have disengaged from society.
The Power of Pets
Dana Britton and Andrea Button from Kansas University published research in the 2006 Journal of Family Social Work about the impact of internal work programs which introduce puppies to corrections centres for training.
After conducting extensive interviews with staff and inmates from several institutions, they came to the conclusion that such programs provide practical benefits which far outweigh any of the negative aspects that were reported.
Some of the difficulties associated with training dogs in prison included increased visibility within the prison community, other inmates not liking the dogs being around, conflict about the use of choker chains as a training aid, and giving up the dogs once their training is complete.
The ABC reported that the inmates who trained Cossie and General also found it difficult to say goodbye when they finished their training this week. One of the inmates at the Frank Baxter Juvenile Justice Centre said, "I feel sad of course, but you just have to let them go, I guess."
But there were strong motivations for participating in the programs. Inmates and guards alike told the researchers that it was an incentive for good behaviour because of the relative freedom afforded to dog handlers, including extra time outside. But the strongest and most important motivators were the desire to give back to the community and achieve a sense of responsibility.
The study told the story of Mr Jackson who required special approval to participate in the puppy training program because of his poor behavioural record. One of the prison officers reported that:
"he's gone from somebody who was the most nasty, hostile [inmate], fighting us every step of the way…He's just a different man. He knows he still has some anger, but he's spending all his time taking care of this dog and training him right and this has just made a night and day change in this man."
When asked whether he thought it was a positive program, Mr Jackson said:
"Yeah. It's real positive. Like I said, it changed me so far and I know that it has changed a whole lot of others. It gives you something to look forward to. I was a selfish person and now I do things for others."
Taking Responsibility Can be a Lifeline
"Pets are often the most important thing in the life of someone living on the street," says Dr Mark Westman, a veterinarian and PhD candidate at the University of Sydney.
Dr Westman is also a founding member of Pets in the Park, an organisation which provides free veterinary clinics to homeless people living with animal companions. He says, "By supporting pets owned by the homeless, Pets in the Park provides significant support for people at risk."
He discusses the importance of pets to those facing hardship:
"Our clients will choose to live on the street, rather than have to give up their pets in order to move into temporary accommodation. Frequently we hear stories of our clients who have given up drugs in order to better care for their pets. The power of the human-animal bond can never be underestimated."
It seems that a dog really can be a person's best friend, whether in prison, on the streets or at home.
Receive all of our articles weekly