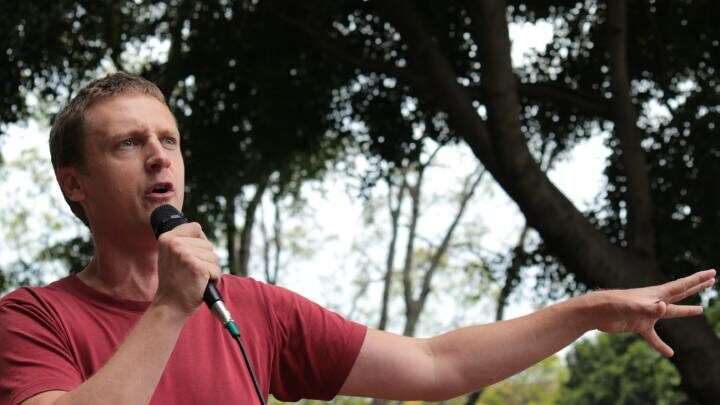 Well respected anti-racism activist, supporter of First Nations rights and prominent trade unionist, Padraic (Paddy) Gibson had three neo-Nazi types, with shaven heads and shirts emblazoned with the Eureka flag, turn up on his front doorstep on the night of Saturday last week, the 4th of December.
The unexpected and uninvited visitors banged on his front door, calling out that they wanted to speak to him. The three men soon commenced bashing on the door of his Sydney home, ripping at security screens and even broke a window.
Gibson has since explained that he has been the subject of death threats in the past. This was especially so last year during the height of the Black Lives Matter protests in Sydney. And he's added that he welcomed the support that his multicultural neighbourhood has shown since the incident.
A member of socialist group Solidarity, Padraic is a key figure on the local social justice movement scene. He's also a researcher at the UTS Jumbunna Institute, where he works under esteemed Professor Larissa Behrendt. And his work at the uni directly deals with Aboriginal deaths in custody.
Solidarity shown
"This is a line in the sand that should never be crossed in politics with extremist right-wing thugs threatening the home of a prominent anti-racist activist," said NSW Greens MLC David Shoebridge on the day following the incident.
"When politicians from the prime minister down provide cover for the far-right then this creates a political space for violence."
National Justice Project director George Newhouse outlined that the attack was the result of governments around the country having "failed to take the threat of violent racist and militant groups seriously".
"This is the end result," the lawyer continued. "It's time for our leaders to heed the calls for racial justice and protect those who are calling for change."
Black Lives Matter organiser Elizabeth Jarrett outlined that Paddy is always at the frontline assisting First Nations families subjected to "police violence, child removal and racism in many other forms", as well as supporting "people of all backgrounds" suffering injustice.
"Our community stands with Paddy and his family," the well-known Gumbaynggirr Dunghutti Bundjalung activist made certain. "We will not be intimidated by these Nazis, and we will continue to fight side-by-side against the putrid racism and violence we are subjected to on our lands."
A rising tide
NSW police are currently investigating the matter. And it's been lost on no one that this incident has occurred at a time when far-right groups have been emboldened, due to their prominent mobilising as part of the Freedom movement.
Of course, not all participants in the recent anti-lockdown and vaccine mandate rallies have been people who align themselves with the right-wing of politics.
And Gibson has raised concerns that similar incidents to those he was subjected to might be on the horizon.
Sydney Criminal Lawyers spoke to Paddy Gibson about what occurred at his family home, the reasons why this incident has occurred right now, as well as the actions of government that promote these sorts of far-right actions.
So, Paddy, three neo-Nazis turned up at your family home last Saturday night and bashed on the front door calling out your name. Can you give us a more detailed account of what happened?
We were at home, me and my partner, on Saturday night. The lucky thing was my children weren't at home. They usually are.
There was a loud knock on the door at about seven thirty. I walked up and looked through the peephole and saw these beefy white guys with nationalist insignia on the front of their shirts and short cropped hair. I thought to myself, these are fascists. Shit.
I said, "Hello. Who's there?" One guy said, "We're here to see Paddy." I said, "Why?" He said, "Just tell him to come out here. We want to see him." I started moving away from the door then because I didn't know if they were armed or what, and I heard one of them say, "Are you Paddy?"
Then they stopped talking and started smashing on the door. My partner and I went to a safe place in the house. It sounded like they were trying to force entry.
They continued smashing on the door, and then they smashed on the windows. There was the sound of breaking glass and we thought they were coming in.
I called triple-0. My partner called a neighbour. We were terrified.
And they actually ripped the security screens off?
Yeah, they did. We subsequently saw what they did when we went out the front of the house. They'd had a go at the front door, and they'd managed to rip the security screen of one of the windows, and they also picked up a chair and used that to smash out the window.
The banging was all over within minutes. But it was only when we heard our neighbours calling out that we knew we were safe.
There was immediate and overwhelming support from our neighbours and others. There is a strong Lebanese community here, and we got support, in particular, from them.
You've said that you received death threats last year around the time of the Black Lives Matter rallies. But why do you think you've been targeted now?
That's guess work. I've got no particular indication as to why, except for that I am a prominent anti-racist activist and in the sights of these people. As I said, I've received quite a lot of threats previously, including threats to the house.
These threats were really heightened around the Black Lives Matter protests last year. I was getting death threats every day for a while.
So, I would say I am known to the far-right, and they've probably got wind in their sails, as they've been welcomed with open arms at these freedom rallies and demonstrations against lockdowns and vaccine mandates. There's been a prominent far-right presence within that movement.
I've had more experienced trade unionists and anti-racist activists contact me, telling me that these kinds of tactics were a lot more common in the late 80s.
There was a group, National Action, who used to do home visits. But people haven't heard about this particular tactic for quite some time.
You've just mentioned the far-right link with the Freedom movement. There have been numerous visible displays of this presence around the country.
So, would you say the attack on your house reflects a failure on the part of the political leadership in addressing this?
Absolutely. It certainly reflects a failure of political leadership on a range of fronts.
Firstly, the racism that we see in such a concentrated and violent form with fascist and openly far-right groupings, is really something that's encouraged by government policy.
We live in a country where there's absolute systematic racism against Aboriginal people, people of colour and migrants. Aboriginal people are demonised and abused by police and government agencies every day of the week.
The response to the Black Lives Movement was disgraceful. We had the police commissioner Mick Fuller demonising BLM protesters as being violent and responsible for the spread of the coronavirus last year. We had police attacking our attempts to organise these rallies.
We have ongoing police killings of Aboriginal people in police custody. That includes the shooting just a few weeks ago in Sydney. And it's sanctioned, really, by the government refusal to prosecute killers.
The racist political system in Australia, and the racist policy settings, are what allow the far-right to get an audience for their ideas and confidence in them to grow.
That's absolutely the case. Nationalism and xenophobia have been encouraged through the coronavirus pandemic. We have seen border closures. It is the go-to measure for governments when they try to appear as though they're acting to contain the virus.
The first thing they did with this Omicron variant was shut the border to southern Africa, even though it was already transmitting in Sydney when they did.
Then they banned international students and visa workers from coming to Australia for another couple of weeks, while there's not even Omicron in any of the countries where the students are coming from.
This is a kneejerk, xenophobic response that's designed to show people they're being tough and protective. But all of it encourages racism and nationalism.
That's what you get if you have racism at the top: people on the ground are empowered to carry that out in a violent way.
Then there's the failure of the response to the coronavirus. The group that I am part of, Solidarity, has been very critical of lockdowns. We're very critical of vaccine mandates.
The government's coronavirus response has been very punitive, and it's done an enormous amount of social damage.
We have a very polarised society, where a lot of people have lost work and their livelihoods, and that sort of environment is a breeding ground for the far-right to grow.
I'm incredibly pro-vaccine. I've been campaigning for the vaccination since it became available. And I've been heavily critical of the government's vaccine rollout.
The government is using vaccine mandates and scapegoating unvaccinated people as an excuse for the failure to properly invest in the health system and the social security system, and actually provide the security and care that we need to get through this pandemic.
It's all of those things: a rise in racism and the social and economic pain that has come out of the coronavirus crisis.
This is a perfect storm for a rise in groups, like the neo-Nazis who attacked my house on Saturday night.
Given this was such a bold move, do you think it's likely that we'll see an uptick in this behaviour?
Absolutely, there are concerns. And I want to express my solidarity with other people from marginalised communities who are bearing the brunt of the far-right.
We have heard about some terrible attacks on health workers who were conducting coronavirus testing or at vaccination places. I've heard about attacks on transgender people and Aboriginal people.
People are increasingly being subjected to direct physical confrontation and threats. That's the dangerous environment that we're in.
These openly violent right-wing vigilante groups are getting a lot more confident, because they're on the march, and they've had a lot of encouragement out of the social crisis that we're going through.
And lastly, Paddy, will this incident have a chilling effect in terms of your own activism?
We won't back down from the organising that we do, both me and my partner. We are both very forthright in terms of support for Aboriginal rights, support for refugees, challenging racism, challenging nationalism and organising with our unions.
We're not going to stop doing that – it's our life.
We've had amazing support from so many places. From Aboriginal families we work with, trade union leaders, Labor Party senators, a lot of people have been in touch with us to express their support.
That's really heartening. It gives us a lot of encouragement to continue to fight. We're having to take some precautions, and that's a sad thing to have to do.
We will take those precautions, but we certainly won't stop organising. If anything, it gives us an impetus to organise harder.
Some supporters of Paddy and his family are running a fundraiser to assist them in repairing their house and making it more secure. If you would like to donate, you can do so here.
Main photo by Melbourne-based movement photographer Charandev Singh
Receive all of our articles weekly