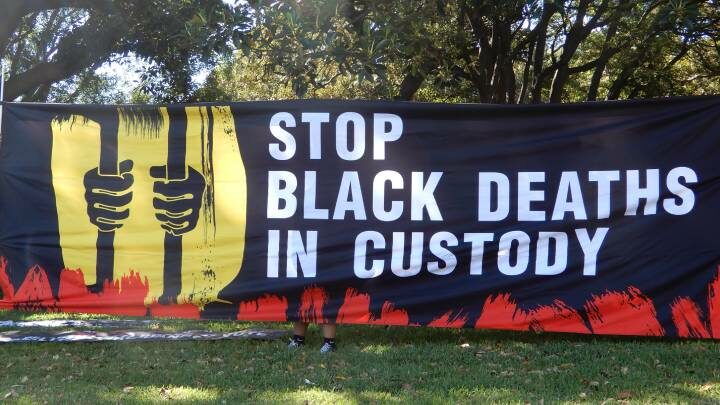 Australian police have killed yet another First Nations person. Once again, there was an outstanding arrest warrant involved, and it happened as officers entered the premises where the man was staying, similar to other such killings.
Gomeroi man Stanley Russell was shot by NSW police officers in his aunt's Seven Hills home on 9 November. Several Blacktown officers entered the Bulah Way residence in Sydney's northwest at around 11.20 am on Tuesday, "to conduct inquiries in relation to an outstanding warrant".
NSW police allege the man confronted officers with a knife and an axe. Acting assistant police commissioner Julie Boon told reporters that officers had "let out a series of shots". Four officers had been on the scene at the time, and she couldn't yet confirm who'd fired them.
Uncle Don Craigie told NITV that allegations have been printed as facts, as Stanley's aunt said there was no axe in the house, and nor had any warrant been produced by the police.
After she'd initially told officers her nephew wasn't home, Stanley coughed and began walking down the stairs. The police then ordered his aunt out of the house, and shots rang out soon later.
The State Crime Command's Homicide Squad launched a critical incident investigation later that same day. This is despite long term calls for an alternative system to the current one that permits police to investigate police in relation to such incidents.
And as per protocol, the Law Enforcement Conduct Commission (LECC) will monitor the investigation.
Two custodial deaths
Stanley leaves behind his children and grandchildren. Tragically, the 45-year-old's killing was not the custodial death to have marked the Russell family, as Stanley's older brother, Edward, died whilst being held at Long Bay Prison in 1999, when he was just 26-years-old.
In relation to Edward Russell's death, it was found at the inquest that despite it being known he was a self-harm risk, he hadn't been moved into a safe cell, and the inmate had been allowed to hold onto the item that he used to take his own life, even though it should have been confiscated.
In a statement released to the press, the Russell family outlined that they want to know who fired the shots. They query the claim that Stanley was wielding weapons, and they request to see the body-worn camera footage of the incident that is said to have involved four to five gunshots.
Questions remain as to whether the visit was the first attempt the police made at contacting Russell, why officers didn't apply the use of non-lethal weapons, such as tasers, and if charges will be laid against the officer or officers who fired the shots.
The settler colonial system
Russell's death comes just days after a 26-year-old Aboriginal man was found dead in his cell at Cessnock Correctional Centre. The inmate was found unresponsive on Sunday morning, although no comment has been made as to any suspected reason for his passing.
The 15th of April this year marked the 30th anniversary of the handing down of the final report of the Royal Commission into Aboriginal Deaths in Custody. It made 339 recommendations, most of which remain unacted upon, with the unresolved issues continuing to contribute to custodial deaths.
Since 1991, there have been more than 480 further First Nations deaths in the custody of either corrections or police. This year alone has seen more than ten such deaths take place. And still not one police officer or guard has been convicted of any of these deaths.
Just a fortnight ago, a WA police officer who shot dead 29-year-old Yamatji woman JC, while she was surrounded by police in a street, was acquitted of murder and manslaughter.
While NT police officer Zachary Rolfe, who shot and killed 19-year-old Warlpiri man Kumanjayi Walker, has been arguing in the High Court that he acted in good faith and, therefore, shouldn't be criminally liable.
Rolfe shot Walker on the exact same date that NSW police shot Russell two years prior.
"For 30 years we have struggled to help stop Aboriginal deaths in custody," the Russell family's statement reads. "We have now lost both our sons in NSW custody because the Royal Commission's key point about ensuring an active duty of care has been repeatedly ignored."
The Royal Commission's 122nd recommendation stipulates that the government must ensure that police and corrective services officers are instructed that during arrest, incarceration and supervision, attending officers have a duty of care to any person in their custody, and they may be held legally responsible for their death or any injury they suffer due to breach of that duty.
"There are many questions about the very avoidable killing of our son Stanley by police that we will seek to have answered through the coronial inquest. It is terribly painful for us to learn suddenly that we will never see Stanley's smile again. His children will suffer from never seeing him again," the Russell family's statement ends.
"We will keep going in our struggle for justice, to ensure that deaths in custody must stop."
Receive all of our articles weekly