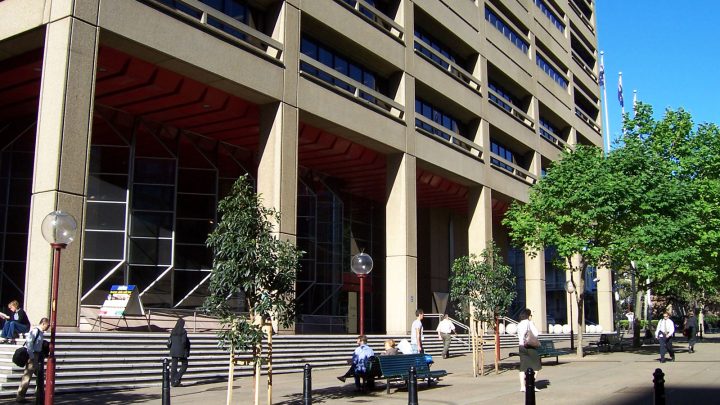 At 10am on 30 July 2011, ABC journalist Joshua Rathmell was on his usual route to work. He was walking through the southern end of Hyde Park in Sydney's CBD, when he heard "deranged screaming" from a male voice.
The journalist looked up and saw a bare-chested man "unload" a large object – which he believed was "rubbish" or "luggage"- "in one swift movement" over the side of a balcony on the 15th floor of a an apartment block on Liverpool Street.
As he saw people rushing towards the object below, Mr Rathmell came to the conclusion that it wasn't what he had initially thought, and must have been a person. Indeed, it was the body of 30-year-old Lisa Cecilia Harnum.
Moments later, the journalist saw Ms Harnum's fiancé, Simon Gittany, emerge from the building wearing a white shirt and striped pyjama pants, and make his way over to Ms Harnum's body. Mr Rathmell thought this was the man he saw drop the woman from the balcony above.
Mr Rathmell then spoke to two council officers working out the front of Museum Station, who confirmed it was a person who had fallen. The journalist then continued on to work.
A judge-alone trial
Mr Gittany appeared before the NSW Supreme Court in October 2013, charged with one count of murder under section 18 of the Crimes Act 1900 (NSW) – an offence which carries a maximum penalty of life imprisonment, and a standard non-parole period (SNPP) of 20 years.
An SNPP is a reference point for the sentencing judge when determining the minimum time a person must spend behind bars before being eligible to apply for release on parole.
The four-week long trial was presided over by a judge-alone. NSW Supreme Court Justice Lucy McCallum and had the job of deciding whether Mr Gittany was innocent or guilty.
The prosecution alleged that Gittany had deliberately lifted Ms Harnum over the balustrade of the balcony and dropped her. Gittany's lawyers contended that their client's fiancé had climbed over, and either slipped or allowed herself to fall.
The court heard evidence that over the course of the couple's 18 month relationship, the defendant was "controlling, abusive and dominating," and had progressively more so towards the end.
However, Gittany's legal team argued the relationship was more complex than this. While it was true the pair's interactions were dysfunctional, the relationship was also "characterised by affection and love." Evidence was put firth that the deceased had established a pattern of arguing and threatening to leave the defendant, and later changing her mind.
Guilty of murder
Justice McCallum ultimately found Gittany guilty of the crime murder.
Her Honour found that on the morning of her death, Ms Harnum was "plainly in a state of great fear", and that just moments before her death, the woman had tried to escape the apartment. She found that Gittany had flown into "a state of uncontrolled rage," and restrained her.
Her Honour noted that the victim's fingerprints were not found on the balustrade, and couldn't "accept that any person with a will to survive could have regarded it as an option for escape".
In handing down the sentence on 27 November 2013, Justice McCallum said that life imprisonment would be excessive and sentenced Gittany to 26 years imprisonment, with a non-parole period of 18 years.
The forensic psychologist's evidence
Mr Gittany appealed the verdict to the NSW Criminal Court of Appeal (NSWCCA) in June last year.
Gittany's lawyers relied on three grounds of appeal:
that the judge had acted in error when discounting the evidence of Dr Richard Kemp,
that the judge had failed to properly assess the reliability of Mr Rathmell's evidence, and
that the verdict was unreasonable.
UNSW associate professor of forensic psychology Dr Richard Kemp had testified about "the phenomenon of changing memories." He gave evidence that memories can be altered when subsequent information is acquired, and a process of unconscious reconstruction can take place.
Gittany's lawyers had made closing submissions to the effect that Mr Rathmell may not have seen what he thought he saw, and that he may have subconsciously reconstructed his understanding of his actual observations, so "as to fill in the gaps."
Mr Rathmell had provided three statements. The first was over the phone to Senior Constable Jacob Rex at around midday on of the day of the incident, 30 July 2011. The witness provided another at Surry Hills police station on 2 August 2011, and a third "walk-through" statement that was video recorded on 6 August.
Dr Kemp posited that the delays in recounting the events, as well as the number of times the witness was asked to do so, could lead to "memory contamination."
Journalist's evidence compelling
There were questions over certain contradictions in the first account Mr Rathmell made to Constable Cox over the phone. However, Rathmell contended that he didn't attempt to give an "exhaustive account" of what he had seen during the initial call.
The journalist testified that the second account on 2 August 2011 was indeed "exhaustive." He added that he took that opportunity to correct some of what he had initially described to police.
NSWCCA Justice John Basten noted that the trial judge had considered Mr Rathmell's evidence, and had noted that the witness' "demonstration in court of the unloading action" he had seen Mr Gittany perform on the balcony "was consistent with the demonstration given by him a week after" the incident.
"It was a careful and compelling account, descriptive of a deliberate act of unloading an object over the railing of a balcony," Justice McCallum had remarked during the initial trial.
Problems with memory contamination argument
According to Justice Basten, there were "numerous problems" with the evidence provided by Dr Kemp. One was a failure to identify any "post-event information," which might have contaminated Mr Rathmell's account of what he had seen.
Secondly, the post-event information that was obtained – which was the knowledge that it was Ms Harnem who the journalist had seen "unloaded" over the balcony, and not rubbish – did nothing to change his account of how he saw Gittany throw the object.
Justice Basten saw no reason to assume the trial judge had "inappropriately discounted" the value of Dr Kemp's evidence.
His Honour also found that the trial judge "spent much time identifying and considering the various factors which might have rendered Mr Rathmell's evidence unreliable."
The decision
Since the first two grounds of appeal were dismissed, it was found that the third ground also had to be rejected.
"Having rejected the challenges identified under grounds one and two" there was "no basis for concluding that the judgment was unreasonable," Justice Basten found. "Accordingly, ground three should be rejected."
On 19 August last year, the court ruled that Mr Gittany's appeal against his conviction be dismissed.
Receive all of our articles weekly
Authors
Paul Gregoire
Paul Gregoire is a Sydney-based journalist and writer. He has a focus on social justice issues and encroachments upon civil liberties. Prior to Sydney Criminal Lawyers®, he wrote for VICE and was the news editor at Sydney's City Hub.