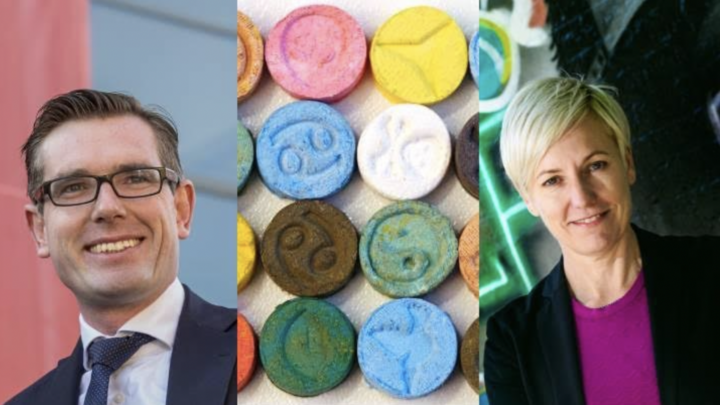 Commonwealth bank employee Kiernan Ngo became the latest person to die at a NSW music festival in drug-related circumstances, following the 26-year-old having presented at Bankstown Hospital at 1.30 am on 12 February, after he'd attended the Transmission event at Sydney Olympic Park.
Following Ngo's death and twelve other festivalgoers having been hospitalised as a result of drug use on attending the event last Saturday night, NSW police have been investigating whether a dodgy batch of MDMA pills was involved.
As is usually the case following a drug-related festival death in this state, harm reduction advocates have been calling for the implementation of pill testing services, whilst the dinosaurs in the NSW government have shot down this lifesaving and evidence-based approach.
NSW Greens MLC Cate Faehrmann has, yet again, been on the frontline of demands for state-sponsored services that would ensure those partaking in illicit substances are able to check them for toxicity, with trained medical staff using laboratory equipment prior to use.
State premier Dominic Perrottet, however, told the people of NSW on Tuesday to simply "stay safe and don't take drugs".
Indeed, this is the same ineffectual stance the premier's predecessors took in response to such deaths, which only guarantees that more young drug casualties will be forthcoming.
Expert recommendations
"My heart goes out to the family of this young man," said Faehrmann in a press release earlier this week. "It is just so tragic to hear of another drug-related death at a music festival more than three years after the coroner handed down her report into the six deaths at music festivals."
"It's unacceptable that the government has sat on its hands and refused to implement the key recommendations from that inquiry, and heartbreaking that there's been another potentially avoidable death," continued the Greens drug law reform and harm reduction spokesperson.
The summer of 2018/19 saw five young people die at NSW music festivals. In response, then premier Berejiklian convened an expert panel to find solutions, but stipulated it not consider pill testing, and she instead set about attempting to shut down the entire event industry to avoid further deaths.
Berejiklian also commissioned an inquiry into the use of the drug ice, with both this and the state coroner's report recommending the NSW government implement pill testing at festivals and at fixed sites. However, the Coalition dismissed these suggestions outright.
"The experts all agree that heavy-handed and punitive drug laws encourage unsafe behaviour, like consuming too much at once to avoid detection, and consuming pills that may contain unknown, potentially deadly substances," Faehrmann further explained.
Just test the damn pills
Ngo's death is the first such drug-related death at a state festival in a number of years. However, this can't be put down to young people following the Berejiklian-Perrottet "just say no" to drugs advice, as rather, just as the rest of society did, music events shut down for the COVID-19 pandemic.
And a clear difference between the time of Berejiklian's pronouncements and Perrottet's reiteration of them this week, is that these days there's a fixed site pill testing facility operating in Canberra, which has been preventing locals from taking harmful substances since it opened last July.
Indeed, during the pandemic period, New Zealand legalised pill testing nationwide in December 2021.
But whilst the ACT and NZ governments were making bold lifesaving decisions as far as the southern hemisphere is concerned, up in Europe, such moves have been par for the course as governments have permitted pill testing, or drug checking as its commonly called over there, since the 1990s.
The Netherlands was the first nation in Europe to permit drug checking services in 1992, and the European Union has since produced pill testing best practice guidelines.
Pill testing saves lives by enabling those who partake in drug use to make informed choices around consuming them, as well as allowing medical staff to engage with individuals about their drug use, and providing authorities with the ability to warn the public about bad batches.
A clear path forward
The law-and-order posturing of both major parties in NSW and their punitive approaches to the possession and use of drugs results in ministers continuing to make reactionary decisions that appear to be tough on crime, but actually lead to preventable drug-related deaths and further prop up organised illegal drug networks in this state.
And as Faehrmann points out, both the coroner and the ice inquiry not only called for the rollout of pill testing services, but they further recommended the abolition of drug detection dog use and consideration of decriminalising the personal possession and use of illegal drugs.
"I'm calling on all sides of politics to work together and listen to the expert evidence about how to save lives," the Greens MLC ended.
Receive all of our articles weekly