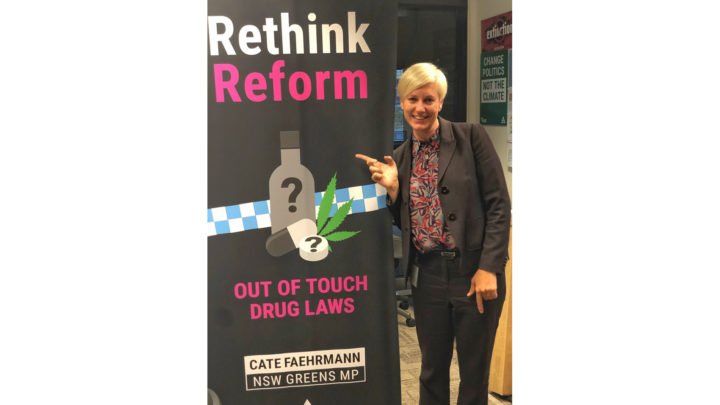 During the last music festival season, five young Australians died in drug-related circumstances at NSW events. And while the death toll was high, the lost lives were no anomaly, and the potential for more casualties is ever present.
Decades of experience has taught that the "just say no" approach to drugs doesn't work. Yet, this is the stance NSW premier Gladys Berejiklian consistently took last season, along with a bizarre and ultimately unsuccessful attempt to dismantle the entire music festival industry.
Nowadays, it's harm reduction gospel that sniffer dogs and saturation policing at events don't save lives, but rather endangers them, as the chance of being caught can lead to overdose deaths, when people take larger amounts of drugs than usual in order to avoid detection.
Despite rising calls to implement pill testing at festivals, the premier has refused to even consider it. She asserts that there's no proof that the harm reduction method works. Although, one would think that the Netherlands having utilised pill testing for the last 27 years might constitute some evidence.
And that's why NSW Greens MLC Cate Faehrmann has taken it upon herself to effect the change needed to reduce the potential harms associated with illicit substance use. And on 26 September, she moved a notice of intention to introduce the Pill Testing Bill 2019.
Being informed saves lives
"The bill is going to provide mobile pill testing facilities at music festivals and different events," Ms Faehrmann told Sydney Criminal Lawyers. "Service providers will apply for a licence to provide pill testing, drug checking and counselling services at festivals. That's one aspect."
"And it's also for fixed site pill testing," she continued. "So, various drug and alcohol service providers will be able to apply to have drug checking at their centres, which is similar to what we see in some European countries."
Faehrmann stressed the importance of counselling and information services that will accompany pill testing. This means that at both mobile and fixed service sites there will be medical professionals, who can engage with clients on issues around their drug use and personal health.
And as for Berejiklian's "just say no" approach, the Greens drug law reform and harm reduction spokesperson said, "it's completely out of touch with reality". She added that it's well understood that young people will continue to take drugs despite warnings from politicians.
"I'd say to the premier that we need to look at ways in which we can reduce harm," MsFaehrmann made clear. "Part of that is making sure that people are as informed as possible about what they're taking when they take illegal drugs. So, drug checking at festivals is a core part of that."
The science is in
Unfortunately, Berejiklian isn't alone. Australian state and territory governments – besides the progressive ACT – have long been dragging their feet on the issue of pill testing ever since the current push a roll out commenced in late 2015.
The pill testing campaign was sparked by six drug-related deaths at music festivals nationwide over a fourteen month period ending in December that year. And the calls for these services coming from the community have been growing ever since.
The drug of choice for festivalgoers is MDMA, also known as ecstasy. It's one of the least risky illicit substances. And what leads to the harms involved in taking black market MDMA is there's no quality control, so it can be mixed with toxic substances, or produced at a potency that's too high.
Pill testing allows people who are intending to take illegal substances to have the contents of their drugs checked on-the-spot using laboratory equipment. And if the results reveal that the drugs could prove dangerous, the owners are able to deposit them in the amnesty bins provided at the service.
Australia's second government-sanctioned pill testing trial took place at Canberra's Groovin the Moo festival last April. It resulted in seven samples being found to contain a substance that can potentially prove fatal. So, the punters who owned these drugs promptly binned them.
Rethinking drug reform
But, Faehrmann isn't only introducing pill testing legislation, she's also launching the NSW Greens drug law reform campaign Rethink Reform on 15 October. It's calling for a major overhaul of the NSW government's zero tolerance approach to drugs, which relies upon heavy-handed policing.
The Greens MLC explained that her party has committed to legalising cannabis, and it's also pushing for the decriminalisation of the use and personal possession of all illegal substances, which is in line with community calls to start treating drug use as a health issue and not a crime.
Ms Faehrmann took a fact-finding trip to Portugal in May this year to get a feel for that country's drug decriminalisation system, which has been in place since 2001. It's led to a massive reduction in the harms and deaths associated with illegal substance use in that country.
And she also pointed to the soon to be released reports from the NSW Special Commission of Inquiry into Ice and the NSW Coronial Inquiry into Drug-Related Deaths at Festivals, as both these documents could result in some progressive drug law reform recommendations being made.
"I'll be putting forward legislation in the next few months to early next year to begin that debate and put the pressure on so that if recommendations start coming in, there are things on the table immediately that the parliament can consider," Faehrmann explained.
Saving lives this summer
As for the pill testing legislation, Ms Faehrmann said it's still in its final drafting stage. And she's consulting with lawyers and the Victorian Greens, as that party has already released draft pill testing legislation that's currently under review and seeking submissions.
However, Faehrmann's concerned that if there are any deaths at festivals this summer, the government will blame those in the Legislative Council, who last week voted to disallow two "festival-killing" regulations that were drafted without any consultation with the industry.
Indeed, as the disallowance motion was about to be passed in the upper house, Liberal MLC Catherine Cusack said, "If these regulations are disallowed and a single death occurs those who support this motion will have no one but themselves to blame."
But, this is simply denying that while pill testing is no silver bullet, it's a far more effective method of reducing the risks and casualties around illicit drug use, than closing down a whole entertainment industry has ever proven to be.
"It's imperative that the premier puts a trial in place at the very beginning of this coming music festival season," Ms Faehrmann concluded. "So, she needs to get her skates on. And she needs to have the courage to at least trial something."
Details of drug law reform forums Ms Faehrmann is hosting in Lismore and Mullumbimby next week, as well as the Rethink Reform campaign launch at NSW parliament on 15 October, can be found here.
Receive all of our articles weekly