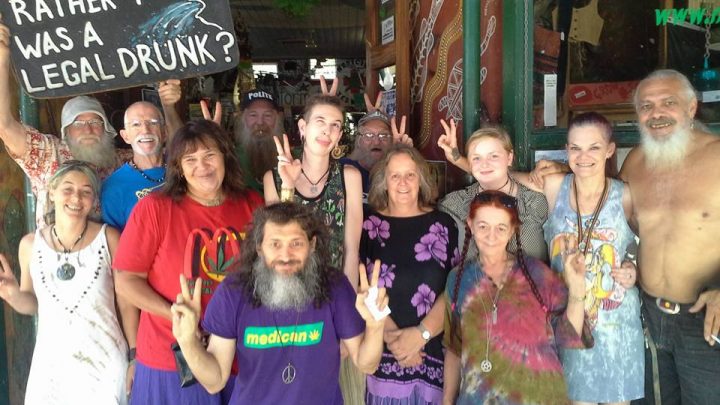 NSW police carried out a series of six raids in Nimbin and Lismore on June 28 last year. A total of eleven men between the ages of 21 and 35 were arrested and charged with supplying marijuana. These men are known locally as the Lane Boys, as they used to frequent Rainbow Lane.
In early September last year, these men along with eighteen others – who'd also been charged with selling cannabis – appeared in Lismore Local Court. Locals from Nimbin protested out the front of the court, calling for the Lane Boys' release, so they could return to town.
According to Nimbin Hemp Embassy president Michael Balderstone, a total of fifty men have been charged over the last year for supplying the plant in the local region. All the cases are listed for hearing in Murwillumbah Local Court in June.
The sting
The men were arrested as a result of Strike Force Cuppa, a police investigation into the supply of cannabis and consorting involving members of an alleged crime syndicate in Nimbin. However, locals will tell you that police simply arrested small times dealers, who had nothing to do with organised crime.
Six months prior to the raids, NSW police secretly set up a CCTV camera in Rainbow Lane. The footage obtained was instrumental in identifying the alleged suppliers, and pivotal to the police case against them.
NSW consorting laws
Most of the men who've been charged are out on bail, and some have been banned from entering Nimbin as part of their bail conditions.
Around 14 of the Lane Boys were charged with consorting under section 93X of the NSW Crimes Act 1900.
The controversial laws were enacted in 2012 on the pretext of an alleged rise in illegal activities carried out by motorcycle groups and organised crime gangs.
Under these laws a person – with or without a criminal record – can be warned by police, either verbally or in writing, not to communicate with individuals who've previously been convicted of a crime.
The warned individual must have been associating with at least two convicted criminals, and must have met with them at least twice. Consorting includes meeting in person, or communicating over the phone, or the internet.
The offence attracts a maximum penalty of three years imprisonment, and/or a $16,500 fine.
Last year, the NSW Ombudsman released a scathing report on the use of the laws by NSW police. It found that the laws had heavily impacted upon children, the homeless and Aboriginal people, rather than members of organised criminal groups.
A misuse of the law
Locals in Nimbin have voiced outrage at what they call the "misuse" of these laws on the Lane Boys, as the legislation was meant to target serious criminals. The use of the laws on these fourteen men, they say, is a case of small time alleged offenders being punished before they are convicted, Mr Balderstone said.
The fourteen Lane Boys are not allowed to communicate with each other, and cannot go within a 15 kilometre radius around Nimbin. Some of the men have successfully appealed the entry ban, due to employment reasons or children, and can now enter town.
"Fourteen or so people got a letter the year before saying these people are not allowed to hang together or talk together," Mr Balderstone told Sydney Criminal Lawyers®, adding that "no one took it that seriously."
Then the hidden camera was set up, and six months after filming, the police swooped in and arrested them all.
A community torn
Mr Balderstone recounts that the Lane Boys were the kids of hippies. "Local young boys, who've now grown up. I often think they grew up really poor," he said. "They suddenly realised they could make money out of selling dad's crop."
These young men were instrumental in cleaning up the heroin problem that used to exist in the town, Balderstone explained. "So they changed the heroin scene. They kept on top of ice and they kept on top of people ripping off tourists."
But now these men have been barred from town, it's "totally changed and that's what everyone is really angry about in the community," Balderstone, who's also the president of the Australian Hemp party, said.
The long-time marijuana activist outlined that they've now got "outsiders selling ice," as well as people selling dodgy products to tourists. "A lot of the shit drugs are back in town. Someone died in the toilets on Saturday night in Nimbin," he continued. "That hasn't happened for a really long time."
The police in Nimbin have successfully used cameras, sniffer dogs and saliva tests to lower the use of weed in the local area. But this is at the same time as it's being legalised in other parts of the world. One in five Americans now lives in a state where recreational use of cannabis is legal, and the whole of Canada is set to legalise it next year.
But it's the consequences of this crackdown that's "shocking," Balderstone declared. "If the police and the law are meant to be helping the community feel safe and be healthy, it's done the opposite."
Coinciding with medical marijuana
Police raids in Nimbin are nothing new. Seventy officers descended upon the town in 2014 raiding the Oasis Café and Perceptio Bookshop. And the April Fool's Day raid took place in 2008, when the Sydney riot squad raided the Hemp Embassy and Museum.
But, the current clampdown on the 40-year-old cannabis culture in the local area is more severe, according to Balderstone. And it's all coinciding "with medicinal cannabis supposedly becoming legal."
The federal government passed legislation, which came into effect in October last year, allowing for the legal cultivation, manufacture and distribution of medical marijuana. However, critics say it's almost impossible to obtain the medicine, and only one licence has thus far been issued.
As far as Balderstone's concerned, the pharmaceutical industry is behind it. They're lobbying the federal government to pull in the reins on the current illegal marijuana market, as they want to secure control of this profitable commodity. He thinks they want to "stop people growing in their backyards, because they stand to lose a fortune."
Law enforcement at the festival
The 25th annual Mardigrass is set to take place in Nimbin from May 5 to 7. It's the town's annual celebration of all things pot. But drivers be warned, the Northern Rivers region – where Nimbin is situated – has been the flashpoint of a controversial police blitz on roadside drug testing over recent years.
When police carry out random breath testing, they're testing for alcohol levels in a driver's blood and therefore impairment. But with roadside drug testing they only test for minute traces of certain substances in a driver's salvia, and THC is one of them.
This means a driver doesn't have to be under the influence of marijuana to test positive. They might have smoked a joint days prior. And there's no indication as to impairment at the time, or whether a driver actually poses a threat to others on the road.
"They'll have road testing on every road into Nimbin. At last year's Mardigrass, they had the buses. But now every cop car's got the testing," Balderstone concluded. "They'll be cruising every road like lions on the prairie hunting deer.
Receive all of our articles weekly