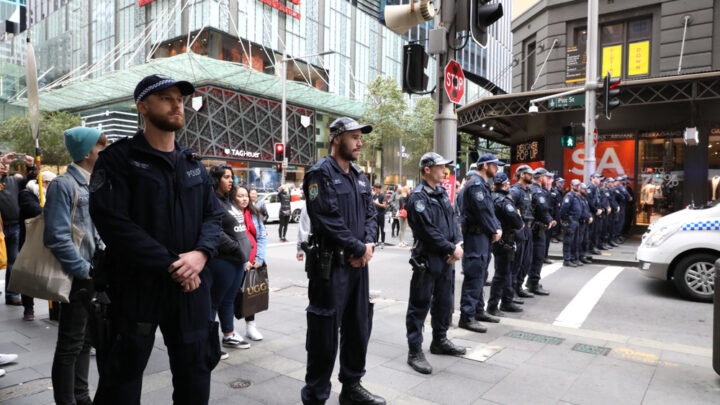 A New South Wales police officer has been shot and wounded by his colleague in the line of duty, raising concerns once again about the adequacy of firearms training given to officers in our state.
Officers were on patrol "targeting anti-social behaviour" over the weekend, when four of them approached a parked car in a reserve at Bayview Terrace in Earlwood, South-West Sydney.
As the officers approached the vehicle from behind, the driver allegedly began to reverse and one of the officers was struck down. Another officer, reacting to his colleague being hit by the car, fired his gun, accidentally shooting another officer in the arm.
The wounded officer has subsequently had surgery to remove the bullet.
Are police too reliant on guns?
New South Wales police have long been branded 'trigger-happy'. And this incident does nothing to counteract the growing stereotype. The incident also raises a number of questions, in particular, about why the gun was fired. It's understood that shooting at a moving vehicle is discouraged in police weapons training simply because a gun won't stop a moving vehicle, and if the driver is wounded this potentially makes the vehicle an uncontrollable threat to safety.
Undoubtedly, under pressure, when making split-second decisions, not only do police officers require good instincts, they need exceptional aim. So are police officers trained adequately enough in the use of lethal weapons?
The other question that needs to be asked is whether police officers rely too heavily on guns. If they didn't carry these weapons, what other tactics might they use instead? There is growing community concern that despite having other options, guns are becoming the 'weapon of choice' for police in many circumstances.
The deadly consequences of an armed police force
In Australia, police are also permitted to "shoot to kill". An officer can use lethal force against another person when there's a reasonable threat of death or serious injury to the officer, another officer or a member of the public.
However, this shoot to kill policy now also extends any incident which is declared as a "terrorism incident" by the Police Commissioner, in which case police enjoy immunity from prosecution for using their firearms without being threatened, even if they act negligently and their conduct results in serious injury or death to a person who was not involved in the incident, or their turned out to be no threat at all.
Police have been routinely armed with lethal weapons in Australia since the 1970s, to the point where most officers carry guns, most of the time.
Studies around the world show that guns do make police officers themselves feel safer, but when things go wrong, they can have harmful, sometimes deadly consequences for the officers themselves, and the general public.
Certainly Australia has far less police shootings than other countries such as the US and Germany, but there are still widespread concerns about the militarisation of our police forces in general.
In the UK, the police force operates on a model whereby general duty police officers are not armed. They rely instead on backup from armed response teams if the need for lethal force arises. Authorisation to use lethal force is vested in senior officers. And the numbers of police shootings are considerably lower than most other countries.
Two men killed by police in the same month
In December 2020, Queensland police killed twenty-two-year old Raghe Mohamed Abdi, alleging that when approached by Police he "immediately confronted" officers, threatening them with a knife. He was shot several times by police and died a short time later. In the hours that followed, Queensland police said that Mr Abdi was "directly linked" to the double murder of an elderly couple, and they called the incident a "terrorism event." Mr Abdi's family say the accusations are not justified and have called for an inquiry.
In the same month, New South Wales Police fatally shot a young apprentice after approaching him from an unmarked car as he was walking to his local shops.
The officers were not in uniform (they were plain clothed police) and it has also been alleged that they did not immediately disclose their identity as required under the NSW Law Enforcement Powers and Responsibilities (LEPRA) Act 2002.
Mr Balzan fled and jumped over a nearby fence into his own backyard. The officers caught up to him and there was a "scuffle" and the young man was shot and killed.
Police have been heavily criticised for not disclosing their identity and for their public attitude in the aftermath of the shooting. The NSW Assistant Police Commissioner Mark Jones told the media the young man had been acting "suspiciously", but he did not elaborate on this and an internal investigation is now underway.
These investigations might be helpful in highlighting issues and perhaps even altering police weapons policy, but won't bring back the lives of these two young men. Their families are still searching for answers. In both cases, it's only natural to ask why police officers did not use tasers or capsicum spray instead of guns when they are also armed with both.
Receive all of our articles weekly