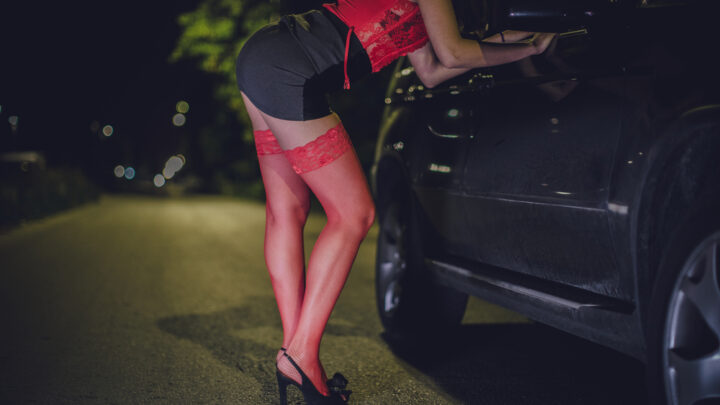 A man and a woman have been arrested and charged for allegedly forcing females aged between 17 and 24 years to work as prostitutes.
Police allege the females were systematically plied with drugs, branded with tattoos marking ownership and not paid for their work.
The story so far
Matthew James Markcrowis, who is currently in custody, is facing charges in Queensland of:
Conducting a business involving servitude,
Conducting a business of unlawful prostitution, and
Making recordings in breach of privacy.
His co-accused, 23-year old Crystal Marie Sawyer, is facing charges of:
Conducting a business of unlawful prostitution,
Contravening an order under the Queensland Criminal Code, and
Failing to provide the passcode to her mobile phone and laptop, which was found in a unit connected to the alleged prostitution business.
Ms Sawyer had previously been found guilty of engaging in prostitution through unlawful prostitution business. She received a $1200 fine with no conviction recorded for that offence, as in Queensland – unlike in New South Wales – it is possible to receive a fine without a criminal conviction.
She was granted bail with conditions preventing her from attending specified locations or containing certain people, including he co-accused Mr Markcrow.
Is prostitution legal?
In Queensland, prostitution in licensed brothels is legal, but street prostitution is illegal.
It is also against the law to operate a brothel without a proper licence.
Marks of ownership
The nature of this particular operation which sets it apart is that one of the alleged sex workers had the tattoo 'Property of Matt M' on her body.
Such markings are not uncommon in prostitution rings overseas, particularly Eastern Europe, where those placed in sexual servitude have the name of their pimp or boss tattooed on their bodies as a mark of 'ownership'.
Queensland police also allege that the the young women were not given any of the money they earned, and may not have even realised they were being exploited.
Police believe the women lived with Mr Markcrowis and Ms Sawyer in a home in the southern suburbs of Brisbane, and were transported to an apartment in the city to provide sexual services.
They allege that Ms Sawyer had, and continues to have, a degree of control over the women, and that the women involved, all of whom are Australian citizens, were approached via social media.
When does conduct relating to prostitution become a crime in NSW?
New South Wales decriminalised prostitution in the late 1970s.
Licensed brothels are legal in NSW, but their operations are subject to strict rules and regulations.
In addition to this, the Summary Offences Act 1988 (NSW) contains a number of summary offences (meaning offences dealt with in the local court rather than referred to a higher court) surrounding the provision of sex work.
These summary offences are:
The offence of causing sexual servitude in NSW
In addition to these offences, section 80D of the Crimes Act 1900 (NSW) makes is an offence punishable by a prison term of up to 15 years to cause sexual servitude.
To establish the offence, the prosecution must prove beyond reasonable doubt that:
You caused another person to enter or remain in sexual servitude, and
You intended to do so, or were reckless in that regard.
'Sexual servitude' is where a person:
Provides sexual services due to threats or force, and
Is not free to cease providing the services, or is not free to leave the place where the services are being provided.
'Sexual service' is the commercial use or display of the body for the sexual arousal or gratification of others.
The maximum penalty increases to 20 years in prison where the offence is committed in 'circumstances of aggravation' which is where the complainant:
Was under the age of 18 years, or
Had a cognitive impairment.
A person has a 'cognitive impairment' if he or she requires assistance in daily life due to:
An intellectual disability,
A developmental or neurological disorder
Severe mental illness
Dementia, or
Brain injury.
Defence to prostitution-related offences
Legal defences to prostitution offences include self-defence, necessity and duress.
Duress is the most frequently used defence, and is where:
You received a threat of death or serious injury to yourself, a member of your family or another person you might reasonably feel responsible for,
The threat was of such a nature that a person of ordinary strength and will, of the same sex and strength as you would have yielded to it, and
Would as a result have committed the offence.
To rely on the defence, there must be evidence before the court that is capable of supporting a reasonable inference you acted under duress.
Once that evidence is before the court, the prosecution must disprove duress 'beyond reasonable doubt'.
If it is unable to do so, you are entitled to an acquittal.
Going to court over allegations of illegal prostitution?
If you have been accused of a crime relating to acts of prostitution, call Sydney Criminal Lawyers anytime on (02) 9261 8881 to arrange a free first conference with an experienced defence lawyer who will advise you of your options and the best way forward, and fight for the optimal outcome. Together with our head office in the Sydney CBD, we have defence lawyers in Parramatta, Liverpool, and other convenient office locations across the Sydney Metropolitan area, and beyond.
Receive all of our articles weekly