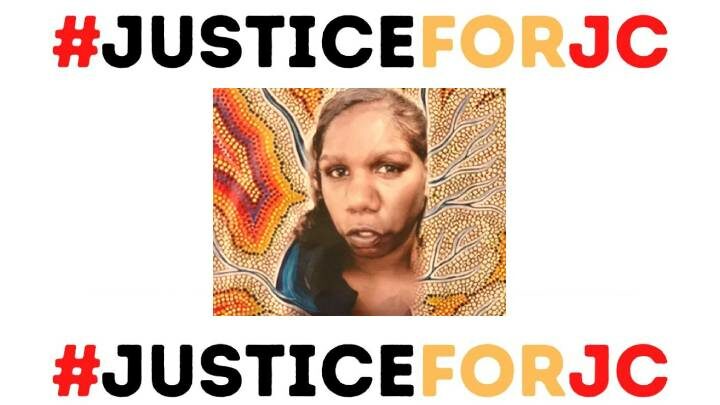 Nothing protected Yamatji woman JC from a bullet fired by one of eight police officers who had surrounded the 29-year-old on a suburban street in the WA town of Geraldton on 7 September 2019, but the full force of the Australian criminal justice system conspired to protect her killer.
The name of the constable who pulled the fateful trigger has been officially supressed since the killing, an all-non-Indigenous jury acquitted him of both murder and manslaughter on 22 October, and its uncertain as to whether he'll return to duty with the WA Police Force.
A concerned relative had called local police in relation to JC on the day of her death for a welfare check. The woman had a history of poor mental health, which had been exacerbated after having recently been released from prison with no accompanying support after two years inside.
When the police arrived, JC was standing on the road holding a pair of scissors and a bread knife. And it took just 16 seconds for the officer to arrive, get out of his car and shoot JC.
At trial, he claimed that she was a threat to himself and other officers. However, the CCTV footage tends to tell a different story.
Yet, to say the outcome of the murder trial reveals that the Australian justice system is failing First Nations people is to ignore that this institution was established within the broader settler colonial project taking place on this continent, which has dispossession and requisition as its chief aims.
"One law for our side, one for them"
JC's mother Anne Jones told Sydney Criminal Lawyers that the three week trial, which saw the first class constable acquitted was "horrible", because they "never got justice".
Indeed, the jury, which contained no First Nations peers, took just three hours to come to a verdict late on a Friday afternoon.
"He said that she was lunging at him, but that never happened because there was footage, and you can see in that footage that it never happened," Aunty Anne explained.
"She was standing still, even the senior constable was standing only metres away from her, and if she wanted to lunge at any of them it would have been him," the Yamatji elder continued. "But she didn't. She was standing still"
Senior Constable Adrian Barker was the officer who was close by to JC at the time she was shot. Barker testified that he was trying to talk her around, as he'd met her before. And he was unarmed whilst he was doing this.
The senior constable had recognised JC from ten days prior, when he'd detained her under the Mental Health Act 2014 (WA), after a triple zero call had been made in relation to a self-harm incident. At that time, JC freely got into the police officer's car, and he drove her to the hospital.
Aunty Anne further stated that she doesn't know why the officer was acquitted. "I was sitting in the courthouse. It was up to the jurors what their verdict was," she said, adding that the family now plans on taking matters further.
"A licence to kill"
First Nations rights advocate Megan Krakouer accompanied Aunty Anne to the court during the trial.
The Mineng Noongar woman explained that due to the ongoing lack of justice in terms of First Nations custodial deaths, there will be a class action launched in WA.
"He may have pulled the trigger, but who gave him the gun? The government. Why? In this context, because this woman had been in prison for a two year period," stressed Krakouer. "Through this decision they have been given a licence to kill."
According to Krakouer, the situation JC was left in following release from gaol reflects that of many people after such a stint. This sees individuals being released into the community with no throughcare, no supports, no birth certificate or photo ID, and without an open bank account.
And this follows a period inside where the focus is on punishment, with no emphasis given to rehabilitation or restorative justice. And like so many other inmates, especially the Indigenous, JC was suffering mental health issues, and no treatment was forthcoming.
"This man went home to his family on the night he perpetrated this act," Krakouer further set out. "It wasn't until six months later that he was charged. Then he got bail and he has not spent one night in gaol."
Never acted upon
Aboriginal and Torres Strait Islander deaths in the custody of police and corrections officers have plagued this continent since the time the British invasion commenced. Yet, despite this, not one of these government officers has ever been convicted over any of these deaths.
The trial of the unnamed WA constable is not the only First Nations death in custody case that has gone before the courts of late.
NT police constable Zachary Rolfe is facing murder over the 2019 shooting death of Warlpiri teen Kumanjayi Walker, while a Corrective Services NSW officer is charged with manslaughter after he allegedly shot Wiradjuri man Dwayne Johnstone in 2019.
And the fact that the evidence told a different story to the verdict in JC's case is not unique either.
The footage of David Dungay Junior's killing at the hands of five Long Bay prison guards shown during the coronial inquest into his death conveys the use of lethal force. Although only an official apology was forth coming, and no suggestions to lay any charges was made.
While the brutal evidence around the 2004 killing of Mulrunji Doomadgee on Palm Island saw Queensland senior sergeant Chris Hurley simply walk away from a charge of manslaughter and later into a promotion.
The Royal Commission into Aboriginal Deaths in Custody handed down 339 recommendations in 1991. Yet, most of these have never been acted upon.
And since the investigation's report was tabled, around 480 more First Nations custodial deaths have occurred, with close to ten such deaths taking place this year alone.
"No fair go"
"It broke my heart, even more than how I lost her," said JC's sister Bernadette Clarke in relation to the verdict. "There is no fair go in law, in justice and rights. There was enough evidence to claim that he was guilty."
Ms Clarke went on to tell Sydney Criminal Lawyers that she'd sat through the entire trial, and her family now intends to challenge the outcome.
In response to the not guilty verdict, supporters nationwide met to demonstrate against the decision on Thursday. And the protesters further called out the ongoing genocide against the First Nations peoples of this continent.
"Why isn't there a fair go in the law? Never mind what colour you are, or what the history was," Clarke concluded. "My sister had a mental disorder and she needed help. Nobody was there for her."
"I'm fighting this. I can't stop now. Even if I have to take it to Canberra."
Receive all of our articles weekly