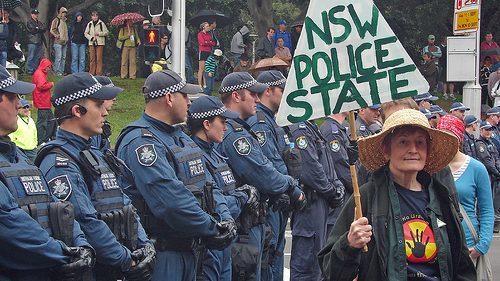 NSW premier Gladys Berejiklian announced on Monday morning that the new coronavirus rule regarding outdoor gatherings would be enforced as of midnight. And since then, citizens no longer have the right to assemble with more than one person outside, besides their immediate family.
The NSW Police Force has been empowered to ensure compliance with the two-person rule, under threat of a newly imposed $1,000 infringement notice. And this is just the last amongst a string of other recently enforced regulations designed to save our lives, as well as criminalise them.
But, get this, Berejiklian hasn't just entrusted the monitoring of social distancing and self-isolation measures to law enforcement, the premier has also handed over the full reins of the COVID-19 pandemic response to NSW police commissioner Mick Fuller.
That's right, not only does the commissioner control police, but he's now charged with coordinating the Australian Border Force effort and deployed Australian Defence Force personnel.
So, if this can't save us from the onset of the coronavirus, it's doubtful anything can.
"A sensible escalation"
"We know there are some new laws that will come in line tonight in relation to two people being out together – that's sensible," the NSW police commissioner told reporters on Monday morning. "We don't want to have to enforce these laws." But, of course, they're going to.
Notice how Mr Fuller refers to the two-person rule as a "law". This new measure was first cited by PM Scott Morrison on Sunday evening at a press conference, and by Monday morning it was a new enforceable law according to NSW authorities.
Obviously, this is how laws get passed in the time of COVID, after Berejiklian closed down state parliament last week –  one day following the PM's closure of federal parliament. And now the premier has launched a police state response headed by Fuller.
Prison an option
Health minister Brad Hazzard has recently passed a number of public health orders with new "laws" involving social distancing and quarantining. Issued under the Public Health Act 2010 (NSW), if these orders are breached a person is liable to up to 6 months prison time and/or a fine of $11,000.
In response to a reporter's question, Fuller explained that he'd asked the premier for the news fines, but if people repeatedly flout the COVID laws, well, they'll just have to go before the courts to face potential time inside.
And to top this all off, the NSW court system is slowly grinding to a halt.
A law unto themselves
COVID-19 is serious. Evidently, infections will explode, and many will start dying. But, given the nature of this crisis, one might question why the premier hasn't launched a response headed by health, rather than this heavy-handed law enforcement approach that criminalises our daily lives.
The NSW Police Force announced last week that it would have thousands of extra police on the streets enforcing COVID laws, in an attempt, as NSW police minister David Elliot put it, "to kill this virus before it kills us".
However, it seems highly unlikely that the coronavirus is going to stop taking people's lives if NSW police applies excessive force to the matter, while citizens who've contracted the disease – or potentially have – should perhaps be treated more like patients, than criminal offenders.
And as for citizens who don't agree with the war on COVID tactics, it's not like their local members can raise these concerns, because parliament's closed.
Receive all of our articles weekly