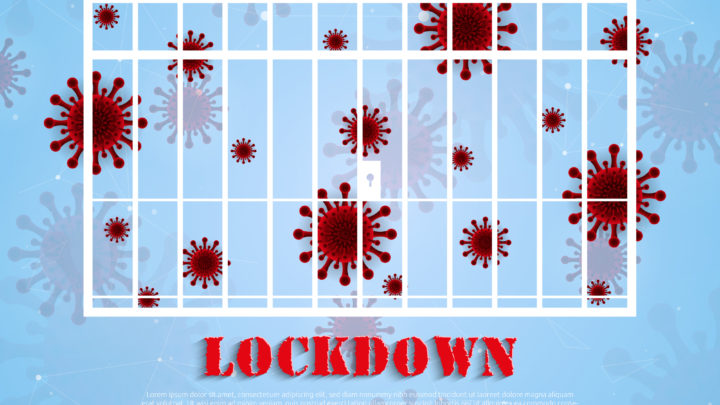 Imagine a reality where people were forced by the authorities to remain in their homes under threat of steep fines, while outside the police patrol the deserted streets, ensuring that no one steps outside without official authorisation.
While this might sound like an Orwellian nightmare, it's hardly 1984.
Rather, it's 2020 – the time of COVID-19 – and it's more than likely this scenario is the reality we'll all be facing in the coming days. Indeed, most of us are wishing the government would lock us down right now for our own safety.
Cases of the coronavirus have now reached over half a million throughout 182 countries. There's been more than 23,000 deaths worldwide. And across the globe there are about 3 billion people who are confined to their homes, with authorities monitoring compliance.
These measures all seem necessary, as what the WHO has now declared a pandemic, involves a highly infectious respiratory disease, that can be spread by individuals who appear to be well, and while it mainly kills the elderly and those with medical conditions, this isn't always the case.
So, while it's necessary for communities to lock down to prevent further fatalities, the killer virus has presented us with social conditions that one would usually associate with the iron grip of a totalitarian regime. And this is being mirrored in nations around the globe.
Restrictions on liberty
Sydney Criminal Lawyers has been in touch with a German citizen, who's been providing updates on the situation in their country. And it appears to be the case that Australia is heading in the same direction as what's occurring over there.
In Germany, the streets are almost empty. The Merkel government has enforced restrictions on movements, so if a citizen is out in public, they can only meet with one other person outside of their household. Although, more than two can be together if they're from the same residence.
This two-headed rule also applies to private homes. So, there should be no groups of people congregating inside – if they're not from the same household – for anything such as parties or dinners. And regulatory authorities and the police will be monitoring this, with threat of penalties.
Meanwhile, in the nation of Bangladesh, the government has deployed the military to ensure that citizens are abiding by social distancing rules, while all public and private offices have closed down for two weeks.
And in India, the whole nation is under a 21 day lockdown, which is similar to many parts of the planet. However, Telangana state chief minister Chandrasekhar Rao has warned locals that if they refuse to stay indoors, he will have no other choice but to order police to shoot violators on sight.
The view from Sydney
Over the ditch, the Ardern government has locked down the whole of New Zealand for a month. But, back here, the Morrison government has seen fit to conduct a staged lockdown process, which to many has no rhyme or reason.
Schools and hairdressers are still open for business, while auctions houses and betting agencies are closed down. Many Australians are calling out for a total lockdown, and especially the closure of educational facilities. And it's likely the Berejiklian government will soon implement one in this state.
In line with what's been set in place at the federal level, NSW health minister Brad Hazzard has imposed six public health orders that apply to all people in the state. The orders require that social distancing rules and self-isolating measures are followed.
These orders have been issued under the provisions of section 7 of the Public Health Act 2010 (NSW). And if individuals don't follow these orders, section 10 provides that they can be sent to prison for up to six months and/or fined $11,000.
Further, on Tuesday, NSW parliament passed new COVID laws, which allow police to arrest those not complying with isolation rules and return them to their residence, as well as issue $1,000 infringement notices to people not following the orders, with fines of $5,000 for businesses.
And to top this all off, both Australian and NSW parliaments have closed down for months on end, so if any new laws or regulations need to be passed in the interim, it would appear that the executives of both jurisdictions are able to do so without any oversight from the rest of parliament.
Coronavirus encroachments
All of these new measures have been set in place just for COVID. The emergency laws passed by NSW parliament have clauses that mean they expire after six to twelve months, while the public health orders and the new police powers relate specifically to the pandemic.
However, the real fear is that once these new laws and policies, the stricter policing, and the ability to pass new regulations with ease have all been set in place, will society simply reset to the way it was operating prior to the virus potentially having wrought devastation throughout the community?
And will the citizenry having been deprived of much of its liberties for a prolonged period of time call for a rollback, or even notice the creep after some of these measures have been normalised?
Primed and ready
For those living in NSW, the coronavirus pandemic is no crisis in isolation. It follows on – in a very rapid pace – the bushfire catastrophe, and the long-term water shortages. And all of these issues have been linked to the globalised, fossil fuel-driven system we live under.
The fact that a crisis like this has immediately resulted in what looks like fascism rising across the globe, leads to questions around whether humans can really afford to blindly continue on with the direction societies seem to be heading in.
Because, even if everything simply turns back to the way it was after the coronavirus threat has passed, everyone will have since grown used to the lockdown, the enhanced surveillance, and the authoritarian rule, if anyone cared to roll it all out again.
Receive all of our articles weekly