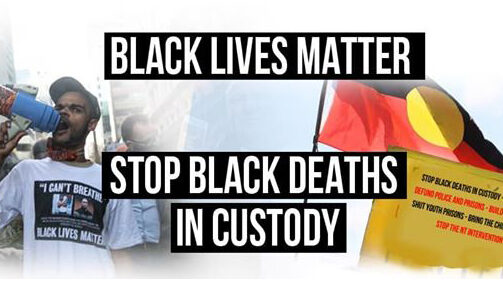 This Sunday's Stop Black Deaths in Custody-Black Lives Matter rally will go ahead, organisers announced on Tuesday afternoon. The Warrang-Sydney event will have an emphasis on being COVID-19 compliant, as well as keeping it peaceful.
Hosted by Justice for David Dungay Junior, Indigenous Social Justice Association (ISJA), the Maritime Union of Australia (MUA) and ASEAN NSW, the rally will commence at 1 pm on Gadigal land in the Domain-Djarrbarrgalli.
Those mobilising have underscored that they don't want any confrontation with police. Rather, as it's a protest calling for First Nations justice, an end to violence towards Aboriginal communities and to stop ongoing black deaths in custody, active nonviolence will be the order of the day.
A matter of urgency
"If we are stopped somewhere by the police, we don't want a confrontation," ISJA secretary Raul Bassi told Sydney Criminal Lawyers. And he added that protest organisers are well aware of the problems with COVID-19.
So, that's why they're going to have protest marshals ensuring that participants practice social distancing. There will be free masks for all those mobilising, as well as hand sanitiser available for use.
And in regard to calls to simply postpone the rally, Bassi puts plainly, that it's an urgent matter. "If we don't do anything, we're not going to stop deaths in custody," he continued. "What happens tomorrow if another person is killed in gaol? Who's going to pay for that?"
"I can't breathe"
The 5 July rally follows the 6 June Stop All Black Deaths in Custody protest, which saw tens of thousands converge on Sydney's CBD. Sparked by the killing of African American man George Floyd at the hands of US police, the focal point of the local rally was Dunghutti man David Dungay Junior.
Dungay, a diabetic, refused to stop eating a biscuit in a hospital ward cell at Long Bay gaol on 29 December 2015. So, a group of guards stormed the cell, dragged him into another, and five of them held him down in the prone position, as the 26-year-old repeatedly called that he couldn't breathe.
"My cousin was murdered five years ago, no one knew his name," said Elizabeth Jarrett. "Now, all of a sudden George Floyd dies in the most horrible parallel circumstances and we had thousands of people in the street saying my cousin's name – knowing who David Dungay was."
The Gumbaynggirr Dunghutti Bundjalung woman said that as the NSW Coroner's Court ruled last November that none of the guards need face disciplinary action over David's death, the family are running an online petition calling for a review of the decision, so officers are held to account.
"We're not trying to tell everyone that the coronavirus is irrelevant. We're trying to say that enough is enough with killing us," Jarrett made clear. "And wake up to the fact that there's another pandemic. It's not called coronavirus. It's the colonial virus. And it's been happening for 250 years."
"That's a real pandemic here: police brutality, police getting away with murder and the government corruption."
Updated information about the 5 July Stop All Black Deaths in Custody rally is available here.
Please sign the Dungay family's online petition calling for justice for David. It will be presented to NSW parliament on 28 July.
Image supplied by the Indigenous Social Justice Association (ISJA)
Receive all of our articles weekly