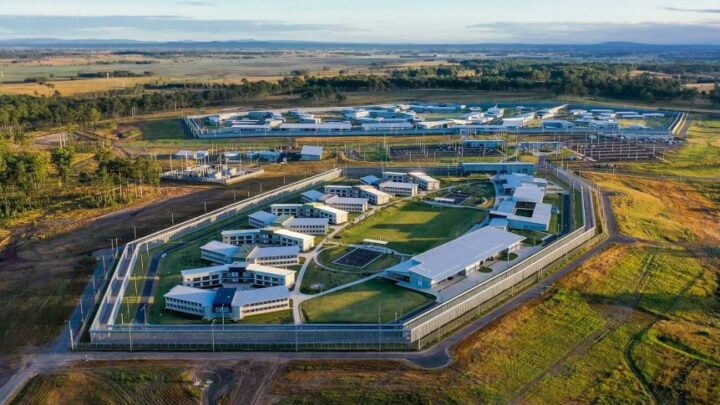 The largest prison in Australia was opened last week. Set amongst rural plains in the Lavadia region – 12.5 kilometres southeast of the northern NSW town of Grafton – the Clarence Correctional Centre will eventually allow the state to incarcerate up to 1,700 extra bodies.
The first 90 inmates will be shipped in from elsewhere in the state on 1 July. And the $700 million facility will eventually be used to lock up 1,000 men and 300 women in maximum-security, with an additional 400 men confined in minimum-security.
Clarence Prison is a joint public-private venture, between the NSW government and the Northern Pathways consortium, which is comprised of John Laing, John Holland and notorious private prison operator Serco: the company charged operating the facility.
Privately-run prisons have long been criticised for approaching corrections as a profit-making venture, with little room for transparency. Although, NSW corrections minister Anthony Roberts has suggested the private model "presents a level of competitive tension with the corrections system".
However, the opening of the mega-prison coincides with a national debate around the need to look at alternatives to warehousing large numbers of the community in prisons, especially when it comes to Aboriginal and Torres Strait Islander people being the most incarcerated population on the planet.
A burden for local communities
NSW Communities and Justice has hailed the Clarence facility as a $560 million boost to the Grafton region's economy. The department states it will bring 600 ongoing staff positions, not to mention the 1,200 jobs it provided during construction.
Yet, local residents haven't been so over the moon about the mega-prison appearing on their doorstep. They've outlined that the families of staff members and long-term inmates moving in from elsewhere are likely to put a strain on local infrastructure.
While a 2017 social impact report sets out that both the prison and the main regional centre of Grafton are within the Clarence Valley Council local government area, which includes a significantly higher proportion of First Nations people, when compared with NSW in general.
This population is also notably younger than Aboriginal and Torres Strait Islander communities elsewhere in the state. And the report asserts that it's a community marked by "disadvantage, with high levels of unemployment, lower levels of income, and lower education levels".
The report also raises concerns about high levels of Indigenous incarceration, youth suicide, and drug and alcohol issues, while it further notes that high youth suicide rates, strained mental health support, and a lack of job opportunities is present amongst the wider Grafton community.
The need for more inmates
As part of its 2016 Budget, the NSW government announced it was making a record $3.8 billion investment into the state's prison system, with the aim of creating 7,000 new beds for inmates over the coming four year period.
This prison boom aimed to boost capacity in existing facilities by 4,200 beds, along with an extra 2,800 beds in new or reopened correctional centres. Although, this estimate did not include the 1,700 beds at the Clarence Correctional Centre.
This funding has so far covered the re-opening of the Berrima Correctional Facility and expansions at both Wellington and Cessnock gaols. It's also covered the repurposing of a juvenile facility at Lidcombe into a remand centre for adults and the construction of the Illawarra Reintegration Centre.
In June 2016, then NSW corrections minister and now police minister David Elliott put the prison boom down to "an efficient police force and strong bail laws", meaning more people are were arrested and remanded.
Elliot said his government made "no apology for the fact that" it has a "high demand and a high need for this capacity in our prisons". But, the minister noted that he'd prefer "the NSW taxpayers' money" was spent on "schools and hospitals".
The great incarcerator
At the time the NSW government decided to ensure that it had enough room to incarcerate larger numbers of the population, it was prompted to do so by the increased amount of people it was already in the habit of locking up.
Indeed, between 2012 and 2018, the NSW prisoner population rose by 40 percent: from 9,602 to 13,630. And this was at a time when crime had been consistently declining since the turn of the century, with crime rates hitting their lowest point in 40 years at the end of 2016.
Since 2018, the number of adults being detained in NSW correctional facilities has stayed around the same level, with 13,525 inmates held at the end of March this year.
And so too, has the dramatically disproportionate number of First Nations people being imprisoned in this state. In March, there were 3,437 Aboriginal and Torres Strait Islander prisoners in NSW facilities, which accounted for 25 percent of those inside.
The racial bias in the system is even more stark when youth detainee numbers are considered. At the end of the first 2020 quarter, there were 247 kids in NSW juvenile prisons, and 107 of them were First Nations children, which equates to 43 percent of the total incarcerated youth population.
And these figures stand while First Nations people only make up 3.4 percent of the general NSW population, and they account for around 5 percent of the population under 18 years old.
Decarceration now
Speaking at the Green Left Abolish the Prison System online forum last Sunday, Sisters Inside CEO Debbie Kilroy outlined that while "decarceration is the journey", "abolition is the destination".
The long-term abolitionist pointed out that since the Minneapolis police killing of African American man George Floyd, a global movement has emerged calling for the defunding of police and the end to the carceral system.
"It's really important that we continue to have these conversations to imagine a world without prison and police as punishment," Kilroy outlined. "They're the models that we know are actually killing First Nations people and black and brown people."
"We have to come up with other models of public safety and security. It is time," she continued, adding that examples already exist, such as Aboriginal women not engaging police in domestic violence situations for fear of being arrested themselves.
"We know that black trans women will not call police because they will get violated and maybe killed," Kilroy advised.
"These communities have other strategies to deal with the violence in their lives. And we must start talking to those communities, because they're actually doing it."
Receive all of our articles weekly
Author
Paul Gregoire
Paul Gregoire is a Sydney-based journalist and writer. He has a focus on social justice issues and encroachments upon civil liberties. Prior to Sydney Criminal Lawyers®, he wrote for VICE and was the news editor at Sydney's City Hub.