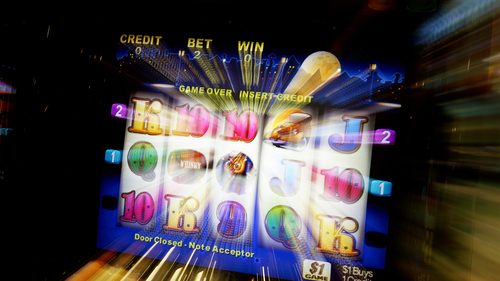 New South Wales is second only to Nevada in the USA as the state with the most poker machines in the world.
Our state has over 95,000 poker machines, generating hundreds of millions of dollars every year for the state government.
Indeed, the gaming industry has been referred to as our state's 'lifeblood', filling government coffers and donating millions on top of gaming revenue to both major political parties.
Australians are the biggest gamblers in the world per capita, losing an average of $1,144 per resident every year.
And the industry comes at a cost, with problem gaming contributing to crime, family breakdown and even suicide.
Secret donations
A recent inquiry found that politicians are being plied with millions of dollars in secret donations from the gaming industry, potentially impeding any political will to address the harms associated with problem gambling.
The inquiry found that donations from the gaming industry to Labor and the Coalition are being hidden from public scrutiny due to lax disclosure laws.
These laws provide that donations of less than $13,200 do not need to be disclosed. The threshold requirement is allowing members of the gaming industry and pro gaming lobby groups to break up their donations, giving separate donations to individual members of parliament.
Stephen Mayne, an activist with the Alliance for Gambling Reform, says these "dark money" donations allow the industry to exert maximum control by allowing politicians to circumvent public scrutiny.
Mr Mayne reports that a federal politician advised the Alliance that representatives from Clubs NSW are always eager to attend political fundraisers and make contributions. It just takes a phone call.
And as the gaming industry – unlike big tobacco – is able to donate through individual clubs and pubs, the money often goes unnoticed.
Influence
It has been reported that in Tasmania, the gaming industry has been making a concerted effort to influence the upcoming state election – as there are significant differences between the major political parties when it comes to gaming regulations.
With the Labor party touting its plan to remove poker machines from pubs, there has been a large influx in "non-transparent donations" to the state's Liberal Party.
The Liberals Party ultimately disclose $498,000 of the $2.39 million it received in donations, which is only around 21 percent of total donations.
Closer to home, the NSW Liberal Party – with its close ties to the gambling industry generally – disclosed only $9.65 million of the $21.8 million it received in donations.
Business ties
Politicians can often count on high-paying jobs with the gaming industry after their time in parliament has finished.
For example, NSW Liberal Party assistant general secretary Karl Bitar went on to work for James Packer's Consolidated Press Holdings, the owner of Crown Casino, after leaving his government position, as did state senator Mark Arbib.
And former Labor minister, Stephen Conroy, now heads the gambling industry lobby group Responsible Wagering Australia.
The lure of lucrative post-parliament positions are a further incentive for politicians to act in the interests of the gambling industry.
Influencing the higher echelons of parliament
It recently came to light that former NSW deputy premier, Troy Grant, held onto a landmark gambling harm report which recommended banning a controversial technique of "losses disguised as wins".
The NSW government did not release the report until October this year – almost two years after it was delivered.
Indeed, the power of the gaming industry was on full show during the multimillion dollar campaign against reforms proposed by Julia Gillard and Andrew Wilkie.
Ms Gillard had attempted to institute $1 bet limits on pokies and mandatory pre-commitment, which would have meant that player had to set binding limits on losses, and on the duration of plat, before using a poker machine.
The Labor government backed down after Clubs Australia and Clubs NSW made a formidable push to target Labor MPs in marginal seats over the policy.
Harms associated with gaming
In NSW, individuals lose over $5 billion through poker machines every year.
Of that amount, clubs donate $63.5 million to community organisations and charities, only 1.3% of poker machine losses.
"There is no doubt that poker machines cause considerable harm" says researcher, Dr. Charles Livingstone. "Claims of community benefits are arguably a smokescreen to enlist the support of those who benefit from them – local sporting clubs and charities."
Indeed, it's well accepted that  gambling addiction causes financial problems for thousands of Australian families, leading to many problem gamblers turning to crime such as theft and fraud to support their all-consuming habits, or even just to pay bills after the pokies have swallowed-up their last dollar.
Independent Senator Nick Xenophon has long been a critic of poker machines and the harm they cause, calling for greater regulation in order to help reduce the impact on vulnerable people.
Reform
The NSW Greens are calling for new laws requiring the disclosure of all donations from the gaming industry.
"We have seen the industry's access to politicians, the revolving door between gaming-related ministers and gambling companies and real resistance against stronger protections," Greens MP Justin Field says. "The undue influence of this toxic industry and its impacts on people and communities must be kept in check."
Alliance for Gambling Reform director, Tim Costello, has gone a step further – calling for a nationwide ban on political donations from the gaming industry. He is of the view that NSW is in particular need of reform, being the most "pokies captured jurisdiction."
Federal and Queensland Labor MPs have made some progress, dropping the $13,200 disclosure threshold to $1000 – but other states and territories are yet to follow suit.
Many feel that while state and territory politicians feed off the misfortune of their residents, little is likely to change in terms of the gaming industry.
Receive all of our articles weekly