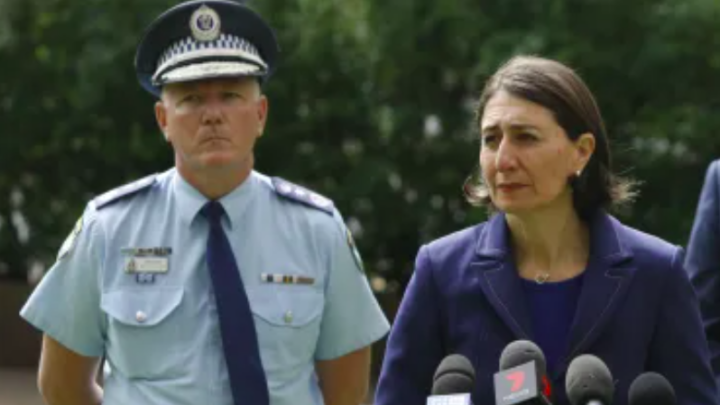 As recently reported, New South Wales Police Commissioner Mick Fuller has received a controversial $87,000, or 15%, pay rise backed by Premier Gladys Berejiklian and Police and Emergency Services Minister David Elliott.
Many other MPs have opposed the raise, with one, Greens MP David Shoebridge calling it 'offensive,' particularly at a time when so many people are out of work and struggling to make ends meet.
For others, scrutiny of the pay rise goes beyond that, to a scathing assessment of Mick Fuller's track record as the state's police chief.
Mr Fuller was appointed Police Commissioner in March 2017. His appointment was heralded as a 'new era' and a 'generational change' for the NSW Police Force – although those who touted the 'change' did not specify how the performance of the police force would be improved. Even one of Mr Fuller's own media interviews in the wake of his promotion was vague at best:
"From my perspective our vision will be clearly on the community of NSW and that is the entire community."
It would be easy to assume from such a statement that this perhaps meant a return to 'community policing' – a strategy of policing that focuses on building ties and working closely with members of the community. The main idea behind this type of policing is that police work in such a way as to enforce community safety, at the same time as fostering trust.
But, three years on, Mr Fuller's tenure has been one that has done far less for the idea of community policing than it has to engender a feeling of mistrust in police, most notably evidenced by the fact that since he took the top job, the invasive procedure of strip searches has markedly increased. Not only that, these searches have been carried out on children as young as 11, and teenagers, and in many cases have been undertaken illegally.
Increased strip searches
Statistics released over recent years show that strip searches following a positive indication by a sniffer dog had basically doubled from 590 in 2016 to 1,124 in 2017. In the year 2017-18, almost five and a half thousand people were asked to remove their clothes and squat.
So concerned was the Law Enforcement Conduct Commission (LECC) – the police oversight body – about the increased use of strip searching, in 2018 it launched a very high profile inquiry, which was cut short in December 2019 when the NSW government decided not to renew the tenure of former LECC head Michael Adams QC who was heading the investigations.
By the time of Adams' departure, the LECC had already determined that police had carried out a number of strip searches on teenagers at music festivals illegally, and Mr Adams had also indicated that he would examine whether the unlawful strip searches at the centre of the LECC inquiry were classified as indecent assaults. He was removed from his post several weeks later.
In 2019, adding to the already high levels of community concern over the use of strip searches,  the Redfern Legal Centre found that almost 4,000 women had been strip searched since 2016. Of those, 120 were under the age of 18, and in two-thirds of cases, no illegal weapons or drugs were found.
Shortly after these figures were made public, Mick Fuller defended the practice, saying, "They need to have respect and a little bit of fear for law enforcement."
We assume by 'they' he meant the general public.
Similarly, Mr Fuller also defended the 'heavy handedness' of his officers more recently when Sydney mother Renee Altakrity was arrested in the CBD for protecting lockdowns. In video footage that went viral, several police officers maneuver her into the back of a police wagon, and take away her son.
Police brutality
Later, Mr Fuller said Ms Altakrity had 'caused' the situation herself by not giving her name to police. He added "I think the police showed an enormous amount of restraint. I certainly hope she pleads not guilty so that (police body cam) footage comes out."
In its Annual Report 2018-19, the Law Enforcement Conduct Commission (LECC) detailed that it assessed 2,547 complaints about the NSW Police Force, but because of budget restraints was only able to fully investigate about 2 percent of them.
Certainly, video footage of police using excessive and unnecessary force during arrests is not an uncommon sight on social media, or indeed, in the general media.
Last year two officers came under fire for their brutal arrest of a woman they stopped in a routine traffic inspection. Several weeks ago Bondi residents were left aghast, when a well-known local was pinned to the ground by two officers after trying to get past fences to the beach for a swim, after it had been closed due to coronavirus.
Of course, there is also the well-known brutal arrest of teenager in Byron Bay in 2018. Five officers were involved in the altercation with the 16-year old who was tasered and struck with a baton at least 19 times. Each of these occurred under Fuller's watch.
Figures released earlier this year show that since 2016, police have paid out more than $238 million in legal liability, that is civil law suits against individual officers – but have repeatedly rejected requests for information about the cost of particular issues. It's a very big number considering that most officers who engage in misconduct are dealt with the force's own internal complaints system. Very few are actually prosecuted.
Mr Fuller has also come under fire for the heavy-handed and haphazard way Police behaved when the coronavirus lockdowns were first put into place. New rules under the Public Health Act, rushed through Parliament in March as Covid-19 was spreading, were not only poorly communicated to the general public, they were enforced with a remarkable lack of consistency.
Erosion of public confidence in the force
Community trust in police has been eroding for many years in Australia, with the emergence of a 'us' and 'them' mentality that serves only to perpetuate tense and fractured relations between police officers and the people in the communities they serve.
And this 'great divide' will only continue to become worse until there is a marked culture change within the ranks – a zero tolerance police for macho behaviour, misconduct and abuse of power.
So, from a 'public perception' point of view, it's hard to see what Mick Fuller is doing any differently from his predecessors.
On the other hand, this is perhaps exactly why his own bosses seem to want to remunerate him so highly (he now earns more than Prime Minister Scott Morrison) because he – and his ever increasing staff numbers – are not intent on changing the current nature of policing, but simply continue to take a hardline stance, enforcing draconian laws which are designed to keep the public well under control.
Receive all of our articles weekly
Author
Sydney Criminal Lawyers
Sydney Criminal Lawyers®
is Australia's Leading Criminal Defence firm, Delivering Outstanding Results in all Criminal and Driving cases. Going to Court? Call (02) 9261 8881 for a Free Consultation.