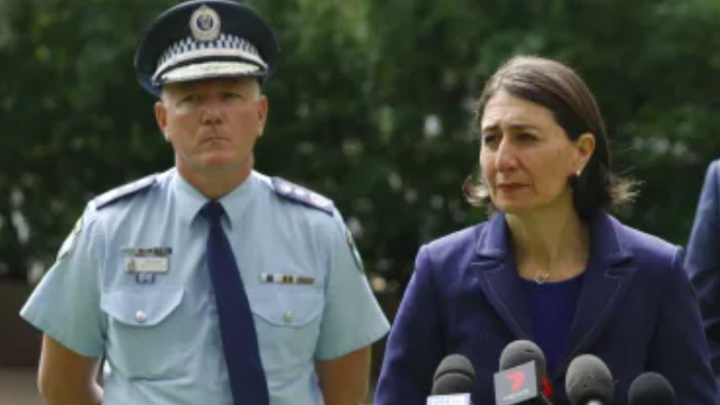 In a move that has caused a public backlash, New South Wales Premier Gladys Berejiklian has recommended – and also painstakingly defended – a pay increase for the State's Police Commissioner Mick Fuller worth a whopping $87,000.
The Statutory and Other Offices Remuneration Tribunal met late in March to reassess the police chief's salary, and agreed to raise his salary to $649,500 – an increase of at least $86,850 or about 15 per cent. What's more, the pay rise was backdated to 1 January 2020.
Both Labor and the Greens as well as t the Shooters, Fishers and Farmers party have questioned the pay rise –  particularly right now, when so many people are without jobs, or on reduced incomes, barely getting by.
But in response to comments by Greens MP David Shoebridge that the pay rise was 'offensive' and showing a lack of leadership on behalf of both the Premier for offering it and the Police Commissioner for accepting it, Ms Berejiklian said the crossbench should have better things to worry about.
"I think it says a lot about the crossbench members that that is the biggest issue they think is impacting NSW at this moment," Ms Berejiklian stated.
Show me the money
The pay rise means that the Police Commissioner is now one of the highest paid public servants in New South Wales. In fact, he now earns more than Prime Minister Scott Morrison. .
He also out-earns the state's highest paid secretary, Department of Premier and Cabinet secretary Tim Reardon ($629,100), and Supreme Court Chief Justice Tom Bathurst ($532,560).
Ex-Rural Fire Service chief Shane Fitzsimmons, who was recently appointed Resilience NSW Commissioner, earns much less too – somewhere in the range of  $345,551 to $487,050.
Irrespective of the backlash, Ms Berejiklian continues to justify the enormity of the pay increase,  by saying that the NSW Police Commissioner oversees the 'biggest police force on the planet.'
This isn't true. NSW police employs 21,080 officers and administrative staff, according to its most recent annual report.  In Victoria, the police chief commissioner, Graham Ashton, earns between $500,000 and $509,999, and oversees 21,292 officers and staff.
Meanwhile, elsewhere in the public sector, NSW Supreme Court judges have decided to forgo a potential salary increase, citing the "devastating effects" of the COVID-19 pandemic on the wider community.
Last month, New South Wales treasurer Dominic Perrottet announced he would make a recommendation to cabinet that the state's public servants forgo their annual 2.5 per cent pay rise, but with an exemption made for frontline health workers.
However, there is no certainty as yet, and rumours are now circulating that nurses too, could be denied a pay rise in the current environment, despite risking their own health every day to care for others during the COVID-19 pandemic.
Personal stories circulating on social media tell of the heartbreak facing some parents working on the pandemic's front line who have made the very difficult decision to send their own children to be cared for by friends or relatives so they continue to be of service, without risk of exposing their own children to the virus.
Skewed priorities
Irrespective of whether the pay rise proceeds, giving our health workers a 2.5% raise and the Police chief a 15 percent raise certainly indicates where the skewed priorities of the Berejiklian government lie.
In the 2018-19 year, the Berejiklian government delivered a record $3.9 billion budget for the NSW Police Force.
Then, only last month Minister for Police and Emergency Services, David Elliott, issued a press release  announcing that the government will spend $583 million to increase the New South Wales force by 1500 permanent police positions over four years, going so far as to say that more officers were needed to 'fight the war against COVID-19'.
This is a particularly odd statement to make given that COVID-19 is a public health risk – a pandemic which is  treated by medical professionals – doctors, nurses, and health workers, certainly not by police.
Receive all of our articles weekly