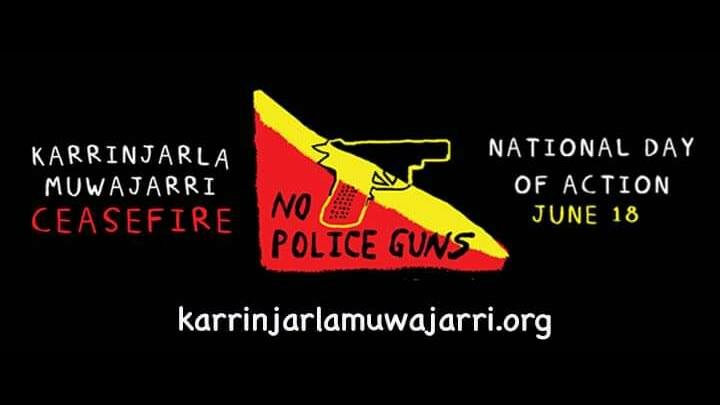 Remote First Nations communities across the Northern Territory are currently being patrolled by NT police armed with military-style weapons.
So, unarmed locals of tens of thousands of years are under the constant surveillance of settler officers with guns on their own land.
One such community situated about 300 kilometres northwest of Mparntwe-Alice Springs is Yuendumu. On 9 November 2019, NT police constable Zachary Rolfe shot 19-year-old Warlpiri man Kumanjayi Walker at close-range twice in the torso, while his partner was holding the teen down.
An all non-Indigenous jury found ex-army officer Rolfe, who'd served time in Afghanistan, not guilty of murder, manslaughter or committing a violent act causing death on 11 March this year, which led Warlpiri Elders to call Karrinjarla Muwajarri: an indefinite ceasefire and an end to police guns.
But just two months after the crushing court outcome for the Central Western Desert community, NT police minister Nicole Manison announced the largest ever territory law enforcement budget, which included extra funding for the policing of remote Aboriginal communities.
So, Warlpiri Elders immediately called a National Day of Action for 18 June to raise the volume on the guns out of remote communities message, so that the entire country is aware of its urgency.
Karrinjarla Muwajarri-Ceasefire
The Yuendumu community has released a statement of demands, which includes no police guns in remote communities, the defunding of NT police and Warlpiri-only governance and authority in their own communities.
The statement further calls for an end to the discriminatory Intervention laws and powers, restoration of structures that respect local community control, that the funding of punitive agencies be redirected to community-controlled organisations, and they want kids out of custody.
In response to reporting on the Rolfe trial, the community wants a Black Media Watch to stop racist reporting, that defamatory content about Kumanjayi Walker is removed, there should be elder approval of media visits to Yuendumu, culturally safe journalism and PTSD support available.
And in terms of the way the court operated during the proceedings, the community wants an end to racism in NT courts, a retrial of Zachary Rolfe in Alice Springs, an independent investigation into the shooting, and for Rolfe to face customary lore in Yuendumu.
Yapakurlangu Warnkaru Matters
When the Howard government launched the NT Intervention in 2007, it sent the army in to take control of 73 unarmed remote communities. The restrictions then imposed were unleashed on the basis of since proven false information propagated in the media.
At this point, law enforcement presence was heightened, along with the cashless debit card being rolled out and a successful employment program being replaced with work-for-the-dole. The Racial Discrimination Act 1975 (Cth) had to be suspended to facilitate the Intervention policy package.
Then Gillard passed the Stronger Futures in the Northern Territory Act 2012 (Cth), which effectively enshrined the Intervention in federal law. Yet, this legislation has a sunset clause expiring in July, which means Albanese will deliberate upon whether to end the Intervention at that time.
Sydney Criminal Lawyers spoke to Warlpiri Elder Ned Jampijinpa Hargraves about the effect having heavily armed police patrolling Yuendumu is having on his community, and why people across the continent should get out on the streets and show their support on 18 June.
Mr Hargraves, Warlpiri Elders from Yuendumu, such as yourself, have launched a campaign calling on NT police to stop the use of guns in remote Aboriginal communities in the Northern Territory.
How would you describe the policing situation in these towns at present?
It's a problem. We can be walking around and living in the community, and we're in fear. But we can't be in fear in the community when we belong to the community.
We do not want guns to be worn in our community, because it frightens us. It terrifies us. It terrifies our children when they see a gun.
We should never ever have guns in remote communities.
The Karrinjarla Muwajarri – No Police Guns, Ceasefire campaign is calling for broader changes to occur along with the removal of weapons. Can you talk about the wider reforms you're calling to accompany the removal of guns?
We want the police to put down their weapons and come clean. Why? Because our community has suffered. It has been suffering. We have been suffering. We are terrified of what it is doing to us.
We cannot live like this day-to-day, night after night. We cannot do this. We want to be able to be free and have our children living free and enjoying their lives.
We want to be able to enjoy life in whichever way we want. But we cannot live with guns surrounding us.
Would you say the police presence in communities is a heavy one?
Yes, it is. Every day in the mornings, there are police with guns.
And can I ask why the campaign has ceasefire in its title?
We are calling it Karrinjarla Muwajarri-Ceasefire because enough is enough. There have been a lot of black people shot by the police, and none of those police have been found guilty.
We want to see justice. We do not want to see guns floating around in the community right across central Australia to the Top End. We feel we have been manipulated, and we've had enough.
We want the police to come clean. No guns. Karrinjarla muwajarri meaning ceasefire.
The National Day of Action was called after NT police minister Nicole Manison announced the biggest ever territory police budget on 5 May.
The budget includes an extra $10 million to be funnelled in to the policing of remote communities. Can you speak on the communities' reaction to these developments?
When we heard this news, it brought fear to our community. It's a threat to our community.
When Zachary Rolfe was acquitted, it was a threat. Will it happen to us, what happened to that young fellow?
It has brought lots of fear. And also, it is a threat to the community.
So, what's the threat being made?
The threat is the police are always wanting to do something to our community and people. But we cannot allow that. We cannot have police violence towards our people and our children.
We cannot have that violence with police. We feel that we have been threatened by the police over and over again. We do not want that.
Enough is enough.
Warlpiri Elders state that violence towards First Nations people has always been part of the imposed system, but the situation has worsened since Howard launched the 2007 Intervention.
How has the Intervention impacted the region? And what should happen in regard to it?
The Intervention has torn us apart. It ripped us apart. We cannot allow that. We want the Intervention to be done away with.
Intervention hasn't given us an opportunity. Intervention hasn't given us freedom of will or our rights to carry on the way we want to live.
We want to run our community in the way that suits us. We want to run our community and to live in peace. We do not want the Intervention to control us and tell us what we should do.
We cannot do that. We have our rights. We want our rights back, and our lives back so that we can run our community in the way it suits us.
So, we want the Intervention to end.
The Intervention laws contained in the Stronger Futures Act expire in July. So, the new Albanese government can choose not to extend them. What would bringing it to an end mean?
What I see for my people is freedom. We want freedom. We want to be able to do anything. But we cannot have freedom when people are on top of us telling us what to do.
Why are yapa-Indigenous people put down? Why can't they have justice? When can we have our justice? We should have our justice. But we can't have it because there is no freedom for us to have it.
We don't want intervention and we don't want guns around.
We call upon our leaders, who are in government today, and we want them to support us. We do not want guns. Karrinjarla muwajarri-ceasefire.
The Karrinjarla Muwajarri – No Police Guns, Ceasefire National Day of Action is happening on 18 June. What will the day involve?
We want everybody from our communities to come and join us. To be the voice and to amplify the voice of our communities.
We want to stop this madness and brutalising of our community, our kids and our future children.
We want to be strong in every way we can. And we do not want to see another black woman, another black young girl or another black young boy or another black man shot by the police.
And lastly, Mr Hargraves, there has been a change of federal government since the Rolfe acquittal and the Stronger Futures laws sunset this year. So, what do you want to see happen after the National Day of Action?
We want to see our demands met. We want this government to see the purpose of our community right across the Top End to central Australia.
We want to see changes. We don't want to see the same old things that have kept us down and the government not following up on our requests.
We want them to be with us. To fight for us. Because we the people put them there. We the people put them there to fight for our rights, so that is what we want.
We want this government to change. We want to see changes for the better in our remote communities.
The Karrinjarla Muwajarri Ceasefire National Day of Action is set to take place at centres across the country on 18 June
Receive all of our articles weekly