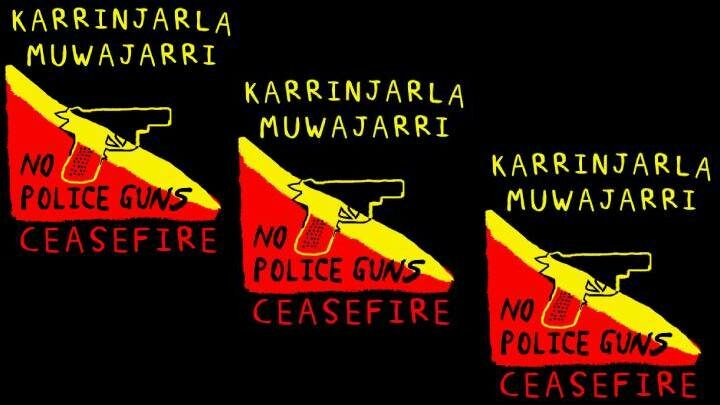 Just two months after NT police constable Zachary Rolfe got off scot-free over the shooting death of Kumanjayi Walker, whilst his partner was on top of the 19-year-old Warlpiri teen, the NT police minister Nicole Manison on 5 May announced the biggest territory police budget ever: $510 million.
And despite Warlpiri elders from Yuendumu calling for police guns out of their communities since the ex-Australian army officer was acquitted, Manison has set aside $10.1 million to increase policing in remote Aboriginal communities, with a further 21 police officers and 30 Aboriginal liaison officers.
The Warlpiri Nation was quick to release a statement with a list of demands in response. The community is calling for guns out of remote Aboriginal townships, and a police ceasefire –karrinjarla muwajarri – "indefinitely".
"We do not want any more consultations with governments who do not listen to us," the Warlpiri Nation outlines. "We demand our self-determination, our rightful decision-making authority, and our resources to be restored to us."
Further, the Warlpiri Nation wants funds redirected into "community-controlled alternatives" to policing. And the Warlpiri people want self-governance, stating, "Only First Nations police liaison officers, Elders and our community should have decision-making powers over policing."
Sunset of the Intervention
The statement asserts that First Nation's people "have experienced fatal and violent policing ever since colonial invasion", and it highlights the 1928 Coniston Massacre that targeted the Warlpiri community directly.
But Warlpiri Elders point out that issues have escalated ever since the Howard government unleashed the NT Intervention in 2007, which federal Labor then reinforced in law within its Stronger Futures in the Northern Territory Act 2012 (Cth).
According to the Warlpiri, these bipartisan laws have increased police numbers, powers, harassment and violence. They've led to the compulsory acquisition of lands, banned customary law, abolished community councils, and led to government controlling of incomes and widespread unemployment.
Stronger Futures, however, has a 10 year sunset clause, which means these laws come to an end this July. And the Warlpiri Nation is calling for the racist NT Intervention to be left to expire, so that community-control is restored, and these occupied people can determine their own futures.
Yapakurlangu Warnkaru Matters-Black Lives Matter.
The Warlpiri list of demands is thorough, as it should be when a sovereign people are campaigning for a return to self-determination on their own lands. The long list also underscores, the community wants "kids on Country, not in custody."
Warlpiri Elders are calling for a National Day of Action on 18 June under the campaign: Karrinjarla Muwajarri – No Police Guns, Ceasefire.
The Warlpiri Nation is further calling for the true story of young Kumanjayi Walker to be told, after he was demonised in the press, while the ex-military officer, who'd served in Afghanistan, was treated to bail and ultimately acquitted by an all-non-Indigenous jury.
The final demands are an end to racism in the Australian judicial system, that Rolfe is retried in Mparntwe-Alice Springs, closer to Yuendumu, where Walker lived and lost his life.
There's a further call for an independent investigation into the matter, and, lastly, that Rolfe face customary law at Yuendumu.
Karrinjarla Muwajarri – No Police Guns, Ceasefire rallies will take place at centres across the continent on 18 June in conjunction with Black Lives Matter groups
Last updated on
Receive all of our articles weekly