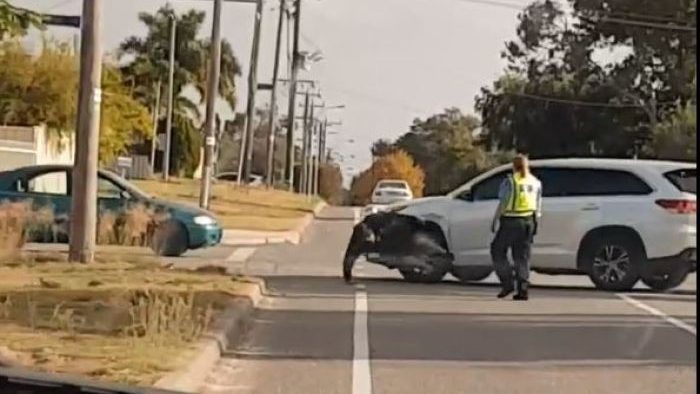 A senior police officer has been stood down after running down an 18-year old with a police car on a suburban street.
The incident occurred in Thornleigh in Western Australia and there is currently an internal investigation underway into the officer's actions, but footage taken by a passer-by clearly shows a white police four-wheel drive knocking down the man, while he was being followed by a female police officer on foot.
The passer-by says, "I just couldn't get my head around why he actually swerved the car into him, why the lady officer didn't grab him, or why they didn't pepper-spray him."
She says police handcuffed the man while he was convulsing on the ground.
The Indigenous man was walking along a suburban roadside when he came to the attention of police, after a member of the public reported suspicious activity.
Struck with a car for fleeing
Police claim that a scuffle occurred after they approached the young man in the area. They say he fled on foot and was run down by the car so he could be arrested.
The man, who has not been charged with any offence, was treated in hospital for bruising and will need to have a CT scan.
This is just the latest in a long line of incidents whereby WA police have been accused of using excessive force against Indigenous Australians.
'Disturbing' actions by Police
Spokesperson for the man's family, Mervyn Eades, who is a member of the Deaths in Custody Watch Committee, describes the video as "disturbing".
He points out that after the car hit the man, police officers did not appear to show any concern for his safety, let alone administer first aid take care in the way they moved him. This apparent disregard for the man's well-being was in the context of being hit by a car, launching forward and striking a hard surface, then convulsing on the ground. No regard appears to be shown for the possibility of a head or any other injury.
Mr Eades says he hopes the internal investigation will be fair and thorough, and that criminal charges will follow.
"It needs to send a clear message out to the force for those rogue officers that wish to do this sort of stuff, that it is not acceptable."
Systemic discrimination
While decades of studies and reports have repeatedly highlighted the discrimination Indigenous people suffer at the hand of police and the criminal justice system, the WA government has responded to the latest incident by simply saying it highlights the need for greater use by police of body cameras and dash cameras.
But given that body cameras can be turned on and off at the discretion of police officers, many feel they do little to protect members of the public and are more to do with police helping themselves where and when they feel it is necessary. There has also been criticism of the fact that footage is manually uploaded, including concerns only footage that assists police is being saved.
States which have spent millions of dollars on Body Worn Video (BVW) technology for officers, have found they are seldom used and that footage is rarely saved.
Enforce with excessive force, rather than 'protect and serve'
What is clear is that a trend is emerging in Australia whereby many police officers think they are 'above the law' and display an 'us against them' mentality when dealing with ordinary people.
This mentality stems in part from the fact police are largely left to 'police themselves' and are rarely disciplined for engaging in misconduct, and even less frequently criminally prosecuted.
Incidents of brutality have become so prolific in Victoria that the state's Legal Aid Commission now actively encouraging people to film and upload their own encounters with police as well as the encounters of others. The Commission has recognised that internal complaints rarely lead to action, and that social media is making more people aware of the situation.
But with a system that equips police with an artillery of weaponry against a predominantly unarmed population, then allows them to police themselves, and with oversight bodies such as Victoria's IBAC and NSW's LECC lacking resources and any real power to bring officers to account, and governments bowing to the every will of powerful police associations, it is feared little if anything will change any time soon.
Receive all of our articles weekly